George The Great – Handsome and Loving Pitbull Seeks Adults Only Home – Mill Valley CA
Hi, My name is George!
There is a $75 adoption/rehoming fee. All supplies will be included.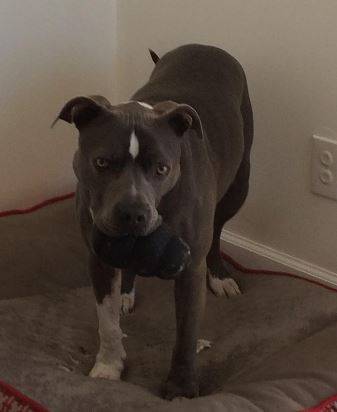 Does life get you excited? Me too!! I am so filled with "Joie de Vivre" that I tend to get a little carried away. I'm a great big ball of wiggles! I want to let you know just how much you are loved, and in the process I have been known to knock down children and make a bit of a nuisance of myself.
But don't get me wrong, there is not a mean bone in my body. I am a LOVE dog – all 80 pounds of me. My owners love me so much. They have enjoyed 7 years of my sheer joy, and are really sad to have to make the difficult decision to find me a new family to adore.
They have 2 small kids, and recently I accidentally knocked one of them down on a camping trip. It was a bad situation, because she ended up falling down in the water on rocks. Now she is terrified of me, and as much as my family has tried to make things better, nothing has helped. To make matters worse, they have 2 small dogs that have taken a dislike to me. They bark at me all the time, and make my life miserable.
I am looking for a loving new home with owners that will be able to handle all the excitement and love that I have for them. It would be great to find a wonderful family with teenagers, and a nice, big securely fenced yard for me to call my own. People who are active would be great – to help me burn off some of this energy.
Please offer me a loving, forever home today. I am a great big pussycat with so much love to offer. Let me show you what 80 pounds of wriggling unconditional love looks like!
Love and licks,
George
Location: Mill Valley, CA, 94941
Type of Pet: Dog
Breed: pitbull
Age: 7 years old
Color/Coat Type: gray
Size: approximately 70 lbs.
Health Issues: no
Behavior Issues: no
George is:
Neutered, Microchipped, Fully vaccinated, Crate Trained, Litter Trained, House Broken
George gets along with:
Older Children, Adults Only, Dogs
Personality
Fun loving, overly excitable, playful, energetic, protective
Reason For Rehoming
We have 2 young children, one of whom is 2 years old. On a recent camping trip, George got so excited about going in the water that he knocked the 2 year old down in water on rocks. The 2 year old is now terrified of him. It has been 7 years of trying to work with him, trying to train him.
Most of the time, we can't even pet him because he gets overly excited. We love him, we feel badly. He is a sweet dog. He is beautiful looking. But we have a family now and he is not a family dog. We also have 2 little dogs and they are constantly growling and barking at him. I fear that he feels isolated here because of kids and little dogs.