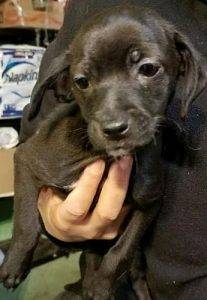 These Adorable Doxie-Poo Puppies Have All Been Adopted
Love Toy Poodles? How about Miniature Dachshunds? If you are looking for a loveable lap dog, these 10 week old puppies offer the best of both breeds. They have a little bit of terrier mixed in for good measure, giving these sweet pups the health benefit of Hybrid Vigor.
The five siblings have been named Hefty, Oddball, Scruffy, Twinkle Toes and Panther by their owners, but you can feel free to name your puppy whatever your heart desires.
Each pup will need their puppy shots and a vet visit, but the parents are very healthy, and have no inheritable diseases. The pups will need to be spayed/neutered when they are old enough to do so.
These pups are already house trained, and are very cuddly and sweet. They are looking for families with respectful children, couples or singles to offer them the very best homes. Their ideal homes will be with folks who love dogs and have lots of time to give them the attention, care, exercise and adoration they need and very much deserve.
Please adopt one (or two) of these adorable puppies today. They can't wait to wiggle their way into your heart.
---
Location: Stockton, Ca, 95215
Type of Pet: Dog
Breed: terrier,dachschund, poodle mix
Age: 10 weeks old
Color/Coat Type: 4 all black with white, 1 caramel brown
Size: 4-5lbs
Health Issues: No
Behavior Issues: no
Hefty, oddball, scruffy, twinkle toes, panther is:
House Broken
Hefty, oddball, scruffy, twinkle toes, panther gets along with:
Babies, Toddlers, Small Children, Older Children, Adults Only, Dogs, Cats, Small Animals, Pet Birds, Horses, Strangers
Personality
The pets are very affectionate and love to be cuddled. They are playful and energetic. Easy going temperament, gets along with other dogs exceptionally well.
Food and Diet
Hefty, oddball, scruffy, twinkle toes, panther is currently on Other
Ol' Roy Dry Dog Food Cheeseburger Flavor
Reason For Rehoming
We have 5 pups that we need to rehome because we cannot afford them. Our home is not conducive for 5 puppies since we already have four dogs of our own. Most concerning is the health hazard the puppies are creating for our disabled elderly mother and chronic allergic child who takes an inhaler.
Your help would be greatly appreciated. Although we are desperate to rehome these pups we will have the patience and are willing to do whatever it takes to find them a home where they are well taken care of and not abused or left for dead.