We are very happy to report that Maci has found her forever home.
Need to rehome a dog or puppy in Michigan?
Contact our pet rehoming team or request pet rehoming services now.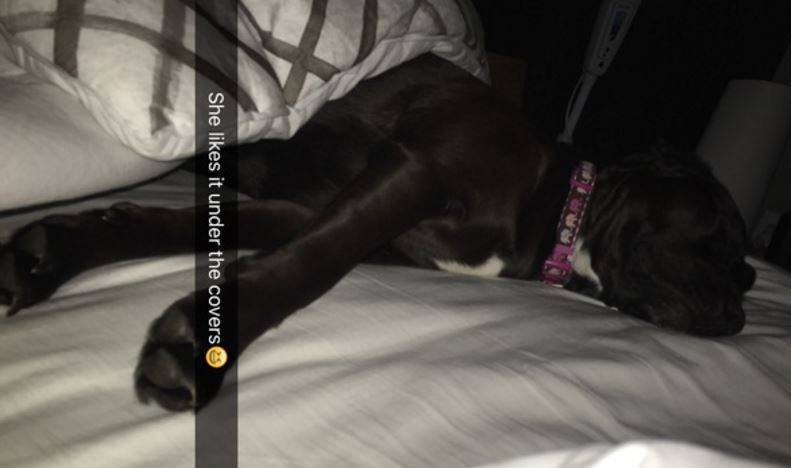 Maci loves to sleep with you – under the covers, no less!
Meet Maci – An Adorable Lab/Pitbull Mix Dog For Adoption Troy MI
Part dog, part clown, Maci is one of those pups that really makes an impression. This 65 pound cuddle bug is a nice mix of Black Labrador Retriever and American Pit Bull Terrier. She is just 2 years old, very healthy, fixed and up to date on her shots. Maci is very well behaved, and perfectly house broken.
Maci's foster owners rescued her from a terrible situation when she was 8 months old. She has since been given lots of love and positive reinforcement, and is now a sweet, funny, well behaved and beautiful dog. She is good with children and loves her people.
Maci has not been around other dogs or cats, so it would be best that she go to a home as an only pet. She is a wonderful, devoted companion that loves nothing better than to follow her favorite human around. She also loves to hunt bugs in summer and snowflakes in winter. She is a very special girl, and despite having had a very rough start in live, holds no grudges.
She always has a big smile on her face, and her happiness is infectious. She would be a great companion for someone with depression, as she is so good at cheering you up when you are feeling down.
Maci's foster owners would love to keep her forever, but all have jobs that require long hours. It just isn't fair to Maci to be home all alone for so many hours every day.
Her ideal home would be with a retired or stay at home couple – or a home school family with kids over 6 years old.
Maci deserves the best home ever. Please be part of her happy ever after, and offer her a loving home today. She can't wait to wag and wiggle her way into your heart.
---
All About Maci – Pitbull Black Lab Mix Dog For Adoption Flint Michigan MI
Name of Pet: Maci
Location: Troy, Mi, 48085
Type of Pet: Dog
Breed of Pet: Black lab pitbull mix
Sex of Pet: Female
Age of Pet: 2.5
Spayed/Neutered?: Yes
Health Problems: No
Up To Date on Vaccinations: Yes
Gets along with cats: Unknown
Gets along with dogs: Unknown
Good with Children?: Yes
House Broken or Litter Trained?: Yes
Crate Trained?: Yes
Accessories Included: Crate, food bin, treat bin and possibly a 15×15 ft pen for the back yard. She has never had a yard to run in and has always been in the pen so that's where she pottys and such.
Maci's Personality
Playful
Cuddle bug
Great friend/ side kick
Silly/ dramatic personality
She's always,happy
Maci's Current Home Environment
Loud at times and she's great when the crowds of kids come over then when quiet she great then too.
Maci's Current Family:
I'm one of 3 who live with her, a mom and 2 grown kids. Now all have full time jobs and super busy.
Maci's Favorite Toys, Foods, Activities?
She love to fetch, play catch and tug of war. She is food driven so she's easily trained in new tricks.
Cute Maci Story:
Maci came from an abusive home at 8 months old and was very grateful to find us. She was emaciated and full of fleas. Truly skin and bones. She was in a cage she couldn't stand up in or turn around for 12 to 14 hours a day so she was a handful but with time and patience she has become a very good girl. Now she's found love with catching snow flakes in the winter and bugs in the summer. If you ask her where's the bug she gets excited and looks up at the ceiling looking for it. Very cute!!
Why is Maci Being Rehomed?
I was a college student when I rescued her and now I've finished and have a full time job and want to give her a good life with a family who has time to give her.
Maci's Perfect Adoptive Home Will Be:
We would love for her to have a family with kids to play with. She loves people and we're hoping to find people who can spend more time with her.
Adopt This Gorgeous Black Labrador Retriever Pitbull Mix Dog Today
Maci is a beautiful female Black Labrador Retriever American Pit Bull Terrier mix dog for adoption in Flint Michigan near Maci is a beautiful female Black Labrador Retriever American Pit Bull Terrier mix dog for adoption in Flint Michigan near Burton Beecher Fenton Lapeer Owosso Waterford Howell Saginaw Auburn Hills Pontiac Wixom Rochester Rochester Hills South Lyon Novi Burton McGrew Junction Lapeer Heights Belsay Beecher Grand Blanc Mount Morris Rankin Genesee Swartz Creek Russellville Davison Flushing Atlas Rogersville Richfield Center and Newark MI. She is located within a reasonable drive of Detroit MI, Windsor, ON and Toledo OH. Adopt sweet Maci today!
Black Lab Rehoming – American Pit Bull Terrier Rehoming