REHOMED BORDER COLLIE! – Trump Found His Forever Home in Ohio
Trump has found his forever home on a 1000 acre ranch in Ohio. This beautiful red Border Collie caught the eye of his new owners, who had him transported all the way from Texas to Ohio. Congratulations on your new home, Trump!
Hi, My name is Trump!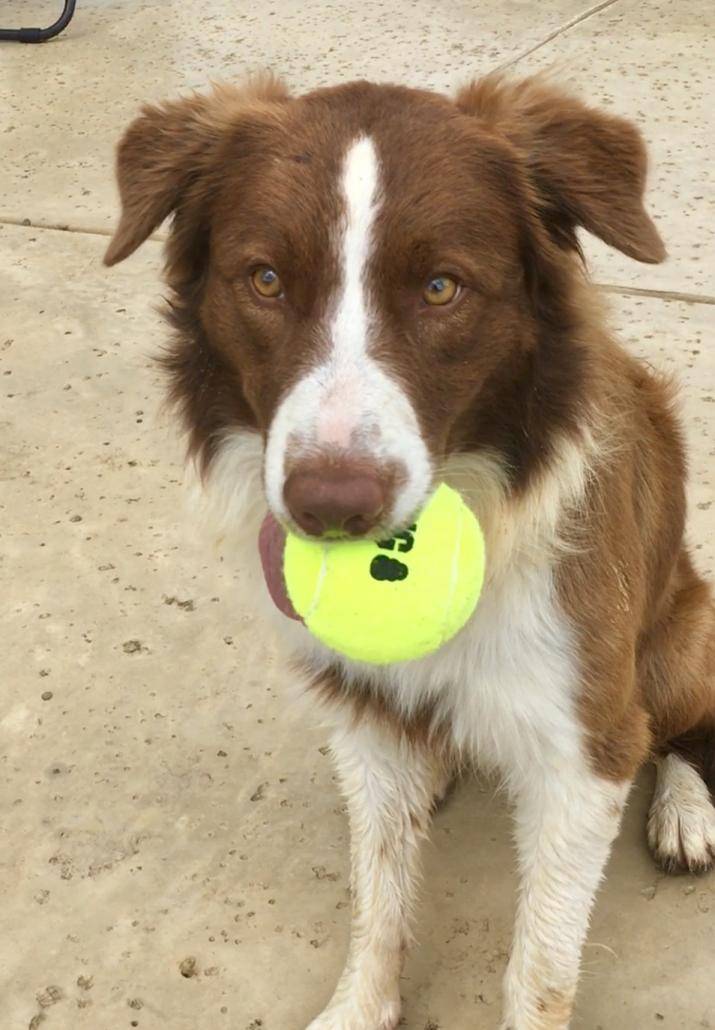 Trump is such a special dog! This 1 year old purebred Border Collie has a very unique red and white coat. He is super smart, very healthy, neutered, and up to date on shots. He is crate trained, house trained, leash trained and gets along with everyone. Trump has never met an animal or human being he didn't love. If anything, he loves too much!
Trump is still a puppy, so has some puppy behavior that one needs to keep in check. For instance, Trump is a shoe chewer. He loves shoes and will chew them up if given the opportunity. Trump is also very high energy and wants to be doing stuff all the time. He is anything but a couch potato, and needs to get lots of exercise and mental stimulation every day.
Trump's owner is a young man who is going through a very difficult time in his life. He had intended to be Trumps forever family, but circumstances have made it very hard to provide Trump with the time, attention, exercise and playtime he needs, and very much deserves. He is dearly hoping to find the right home for this amazing dog.
Trump's ideal home will be on a farm or ranch, or at the very least, a suburban home with a very big, securely fenced yard. He needs owners with lots of time and energy for him, who will be patient and give him the unconditional love and consistent training he needs to reach his full potential as the perfect family companion.
By the way, Trump is not opposed to moving into the White House, should the "other Trump" express an interest. 🙂
---
All About Trump
Location: Bowie, Tx, 76239
Type of Pet: Dog
Breed: Border Collie
Age: Approximately one year
Color/Coat Type: Red and white
Size: 30
Health Issues: No
Behavior Issues: No
Trump is:
Fully vaccinated, Crate Trained, House Broken, Leash Trained
Trump gets along with:
Toddlers, Small Children, Older Children, Dogs, Cats, Horses, Strangers
Personality
Trump is very active. He loves to run and play. His favorite thing is to play frisbee and fetch with a tennis ball. He loves to relax in the water often to cool off. He is aroukd cows and one other dog at this time. He is very sweet and gentle. He loves to cuddle with you.
He has been around children and does great with them. He is very smart and follows many commands. He has great potential to learn so much. He is still in his puppy stage and requires bones or chew toys. He is obsessed with his shadow and chasing flying insect.
Food and Diet
Trump is currently on Other
Reason For Rehoming
This sweet boy was my son's dog. He had to move for his job and left Trump with us. We can't care for him long term.
Border Collie Rehoming – Dallas Pet Rehoming