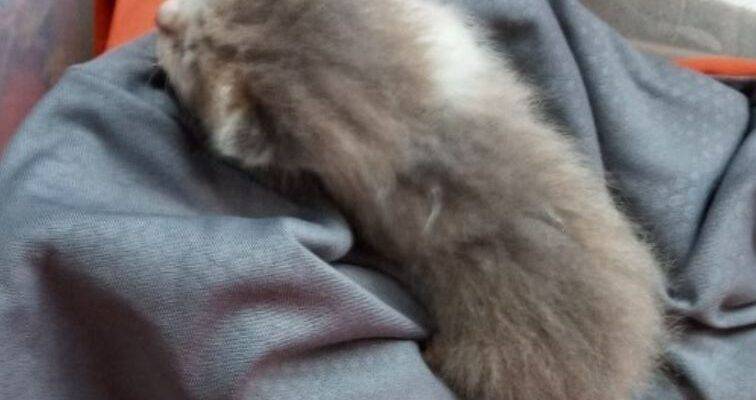 1 Week Old Kitten Desperately in Need of TLC 24/7 – Kinston AL – Adopt Fred the Kitten
Looking for kittens for adoption in Montgomery Alabama? Fred is a tiny gray kitten that was left behind by his Momma when she moved her family. Just over 1 week old, this tiny ball of fluff has been taken care of by April and Eric, who found him alone and in dire need of care. Currently being fed kitten milk through a dropper every few hours and kept warm and happy, Fred is in dire need of a foster home or forever home with cat lovers who are able to look after him properly during the first very important 8 to 12 weeks of life.
How To Adopt
Fred the Kitten in Kinston AL
If you are able to take on the awesome responsibility of caring for this cute little kitten, please reach out to April or Eric right away. Any supplies they have on hand for Fred will be included.
If you have questions about Fred the Kitten, please contact Eric and April in Kinston AL.  You can text or call (334) 475-1292
Meet Fred – A Kitten For Adoption in Kinston AL
Location: Kinston AL, 36453
Name: Fred
Breed: DSH Gray and White Kitten
Age: 1 week
Size: 1 to. 3 lbs
Color: Gray and white
Health Issues: No
Behavior Issues: No
Kinson is located near the following places in Georgia and Florida:
Enterprise AL,
Ozark AL,
Crestview FL,
Troy AL,
Dothan AL,
Niceville FL,
Wright FL,
Destin FL,
Fort Walton Beach FL,
Lynn Haven FL,
Eufaula AL,
Ferry Pass FL,
Panama City FL,
Montgomery AL,
Springfield FL,
Why is 
Fred

 Being Placed For Adoption

His mommy moved the litter and left this one behind. He has to have a lot of attention and I don't have enough for it and I've also got 3 dogs don't want them to hurt it. I feed him through a dropper.