Precious Yellow Lab Mix Dog Seeks Loving Home Near Atlanta GA – Adopt 10 YO F Amber Today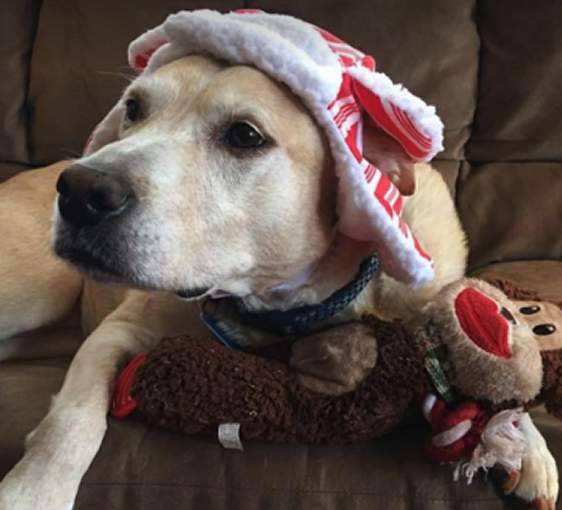 Meet Amber, Yellow Lab Mix Dog For Adoption in Austell Georgia
At 10 years young, Amber is a healthy, sweet and extremely devoted Yellow Lab mix. She has a heart of pure gold, and is such a fabulous companion. Amber is very good with children.
Amber is spayed and perfectly well behaved. She is house broken, and will be adopted with all supplies.
Amber's owners are relocating overseas and simply can't take her with them, as much as they would love to. They are dearly hoping to find Amber a very loving forever home where she will be kept safe, happy and healthy, and loved unconditionally.
This pretty dog is a great companion and deserves a good home. Please offer her a loving home today.
There is a $25 adoption/rehoming fee. Supplies and veterinary records will be included.
Questions About Amber?? Text "Amber" to (888) 833-2128 or email AdoptAmber@dog-lover.us. We look forward to hearing from you!
---
All About Amber – Yellow Lab Mix (Rescued in D.C.) Dog For Adoption in Austell Georgia
Name of Pet: Amber
Location: Austell, Georgia, 30168
Type of Pet: Dog
Breed of Pet: Yellow Lab Mix (Rescued in D.C.)
Sex of Pet: Female
Age of Pet: 10
Spayed/Neutered?: Yes
Health Problems: No
Behavior Issues: No Amber is a very well-behaved dog. She really just doesn't like other dogs or cats.
Up To Date on Vaccinations: Yes
Gets along with cats: No
Gets along with dogs: No
Good with Children?: Yes
House Broken or Litter Trained?: Yes
Crate Trained?: Yes
Accessories Included: Dog food, food bowls, beds, toys, leashes, vet paperwork.
Amber's Personality
1. She is very snuggly and soft.
2. She listens well and never have accidents in the house…even when I come home late from work.
3. She loves to play and we frequently do!
4. Her big brown eyes and how she has been a companion.
5. Her loyalty.
Amber's Current Home Environment
We live in a 3 bedroom home that is frequently bustling with activity because of our jobs. Amber is very flexible so even when we have to travel a lot and board her she does just fine. We have a fenced back yard with a privacy fence and lots of space for Amber to run and play.
Amber's Current Family:
It is just me and my spouse but Amber has been exposed a lot to the young children of all of our friends. She loves them!
Amber's Favorite Toys, Foods, Activities?
Ball, stuff toys she can sling around, pop corn, and carrots on special treat days.
Cute Amber Story:
As you can see from the photo Amber is very good at playing dress up. So frequently we do just that. One year we swaddled her in a big blanket and she became a very special part of a nativity scene.
Sometimes she can be sneaky (just with me and my socks) so when I'm not looking if she is feeling playful she will come and take one of my socks when I am getting ready for work.
Why is Amber Being Rehomed?
The only reason we are rehoming her is because we are leaving the country and moving overseas the first week of January. Rehoming Amber is gut wrenching, so I'm hoping we can find her a new, safe, and fun home!
Amber's Perfect Adoptive Home Will Be:
A home where she can run and play in a backyard, where her new owners will understand how much she loves them but doesn't like other dogs. An owner who will keep her healthy, would never consider hitting her for any reason, and will enjoy her company for years to come.
How To Adopt Amber
If you are interested in adopting this special Yellow Lab Mix Dog For Adoption in Austell Georgia, please fill out our online meeting request here. Once received and reviewed, our staff will ask the pets owner to reach out to you and arrange a meeting to determine for certain that Amber is a good match for you.
Questions About Amber?? Text "Amber" to (888) 833-2128 or email AdoptAmber@dog-lover.us. We look forward to hearing from you!
 Amber – Sweet Senior Yellow Lab For Adoption Near Atlanta GA
Amber is a senior Yellow Lab Mix dog for adoption in Austell Georgia, near , and close to .
Adopt this sweet older dog today.