Basset Hound for Adoption in Calgary Alberta – Supplies Included – Adopt Dean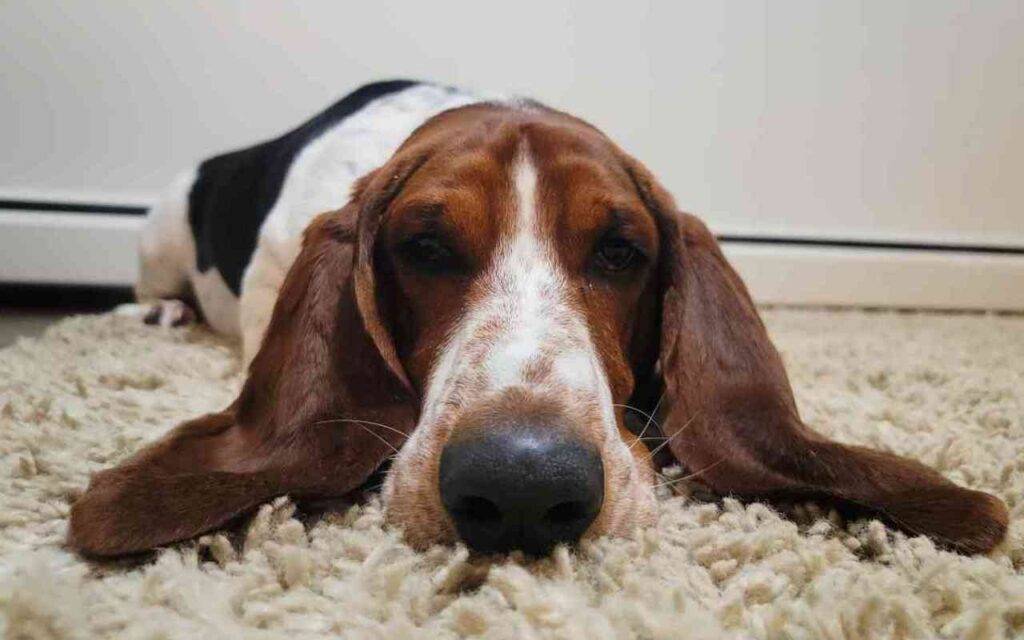 Meet Dean, a Basset Hound Dog for adoption by owner in Calgary Alberta.
Looking for a Basset Hound for adoption in Calgary Alberta and area? Just two years old and weighing 50 pounds, this handsome Basset Hound dog has been neutered, housebroken, and obedience-trained. Dean is good with adults and dog-friendly cats.
Dean's owners are very sad to have to rehome their beloved Dog. They are dearly hoping to find a wonderful new home for Dean with owners who will cherish and keep Dean safe, happy, and healthy.
If you have room in your heart and home for Dean, please complete our online meeting request form. Once received, our Calgary dog rehoming team will make arrangements for you to meet the owners and their adoptable Calgary Basset Hound Dog. Adopt Dean today!
How To Adopt Dean
If you are interested in this special Basset Hound For Adoption in Calgary Alberta, please fill out our online meeting request below. Once received and reviewed, our staff will ask the pets owner to reach out to you and arrange a meeting.
There is a $300 adoption/rehoming fee. Some supplies and veterinary records will be included.
Questions about Dean? Contact our Basset Hound Dog rehoming team today.
Text "DeanCalgary" to (888) 833-2128. We look forward to hearing from you.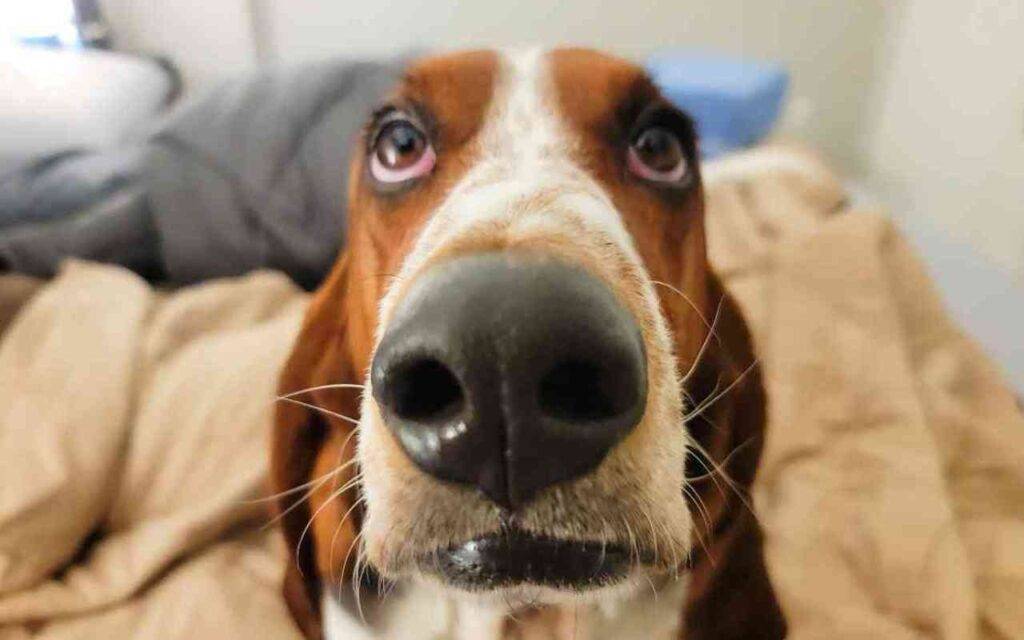 All About Dean – Basset Hound Dog For Adoption in Calgary Alberta
♥ Name of Pet: Dean
♥ Location: Calgary, Alberta, T2V 0X6
♥ Type of Pet: Dog
♥ Breed of Pet: Basset Hound
♥ Color / Coat Type: Brown, black and white circle spotting
♥ Age of Pet: Two years old, born June 24th, 2019.
♥ Size of Pet: 50LB
♥ Health Problems: Yes
1.) Allergies. Dean has developed redness, itchiness, scratching for the past three months. He was put in antibiotics and special prescription food. His redness is almost eliminated and looks great again. We are slowly taking him off prescription to see if it was just a bacterial infection or a protein allergy. Should know the verdict very soon.
2.) Not a health issue but worth noting: Dean's left leg, in the knee area, is slightly crooked and bent. We have had his leg assessed numerous times, including his checkups and the vets have said this is common with bassets and he is not in any pain nor is there anything to worry about but something to keep in mind – he must be on Glucosamine every day.
Otherwise, no health issues to report.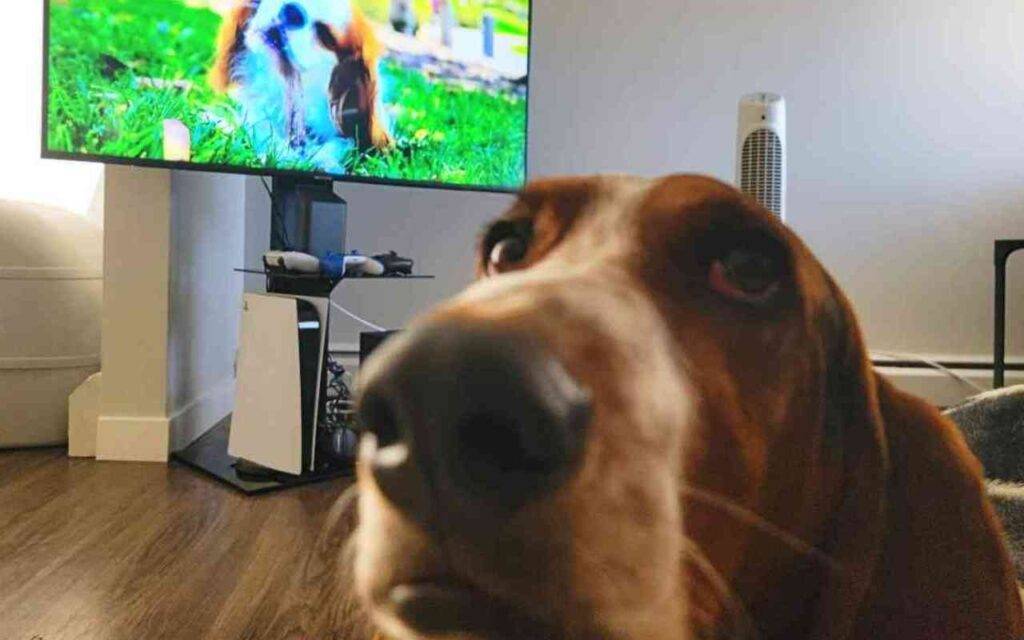 ♥ Behavior Issues: Yes
Sadly, Dean developed resource guarding issues with other dogs when he was an 8-week old puppy with toys, bones, and treats – he attacked our labrador. We didn't think anything of it until it happened two more times that were random and happened two months later.
Dean has attacked our labrador and mothers labrador dogs over water, toys, humans, even a spray bottle. He has never drawn blood before, nor any deep bite wounds.
He has also attacked a dog at a dog park over a stick, luckily we got him before he managed to get ahold of the dog.
After vigorously attempting to control his behaviour through good trainers, Dean was relatively stable with little to no resource attacks until February of this year – we noticed he started developing bad anxiety over the smallest things like a door closing or some larger sized humans (would bark, tail in legs, pee everywhere) and the resource guarding attacks resumed one day where he went for our labrador two times. It was then we had to gate and cordon our house to separate them.
We tried everything with Dean in regards to training – all positive, humane based and nothing worked.
After becoming overwhelmed, stressed and sad about the situation, we decided to book an appointment with one of the only veterinarians who also have a degree in animal behavior.
It was concluded that:
1.) This behavior with Dean is genetic and was inherited.
2.) His brain isn't fully developed yet, hence the sudden new anxiety which can be managed with medication
3.) He's extremely intelligent for a Basset Hound and his brain actually needs to slow down
4.) He must be put on Prozac so his brain can calm down and training can then start – please note I was told he must stay on Prozac for the rest of his life and that there are no issues in doing so. The Gabapentin is just initially and will most likely not be needed once the Prozac takes effect.
5.) Dean should not be around small children, dogs for the midterm, and preferably no teenagers either. Dean would probably do best with older adults with no children.
Dean is currently on 40mg of Prozac after going from 10-40 over the course of a month with 20mg of gabapentin. The medication is slowly starting to work and he's not as anxious/uptight as much, although not to the full therapeutic effect yet, will take another three weeks.
Dean needs a more quiet environment, lots of things can distract him and make him anxious at the moment – preferably with a nice gated backyard as he loves to walk around and sniff, lay in the grass.
Dean can be standoffish/growly with humans with, specifically, marrow bones and Kong-filled toys. Never to the point of worry but I would definitely advise observing his body language and distracting him with a treat if you want to take a said object (he's done it to me only twice, my wife six times).
Negative stuff aside:
1.) Dean is fully muzzle trained and enjoys putting it on as we have done major treat training with it.
2.) Dean loves the dog park at night time with no other dogs around, he can run pretty hard. You'd be surprised. He has a unique, fun personality.
3.) Dean is trained/house trained. He can sit, down, stay, etc. We have all the training papers and information ready to hopefully be handed down to the right person.
4.) Dean loves humans. He can be scared of very big/tall males sometimes but he warms up quickly. He was amazing with my five, six, and eight-year-old nephews and niece but unfortunately can't take that risk now. I'd advise letting him eat his food/bones/Kong's in peace and letting him fully finish it before taking it away.
Basically, Dean has anxiety and resource guarding aggression issues – we have begun medication therapy for him and are training him as best we can.
If Dean is by himself in a house with older individuals – you literally have nothing to worry about. He is an angel. It is when kids, other dogs get involved that the situation becomes tricky.
♥ Gets along with: Adults Only, Cats, Pet Birds, Horses
♥ Pet is: Neutered, House Broken, Obedience Trained
♥ Food: Other
Dean is currently on a prescription diet (X/Z Hills Science) while we determine if he's possibly allergic to a protein. If given the clear, we had him on Purina Pro Plan Sensitive Stomach Salmon.
Dean – Basset Hound Dog For Adoption in Calgary Alberta
---
Dean's Personality
Dean's personality is vibrant. He is very unique for a Basset Hound, in our opinion. I'll go into detail:
1.) In regards to humans, Dean is very affectionate. He loves cuddling and getting pets – he genuinely loves being close around the people he loves, although he can be overly needy sometimes although that's depending on the individual. He can get antsy, anxious, and overwhelmed when there are many, many people in the environment especially when children/dogs are thrown into the mix. He's much, much better with older adults in a quiet place. Highly recommended that he reside on a property that has a fenced backyard for him, he loves sniffing and laying down outside in the summer. Dean absolutely loves children (he's never been around someone 0-5 however) from our experience but unfortunately can't take that risk now (although there's never been an incident, it's still risky).
2.) Dean is energetic for a Basset Hound. For example, we take him to the dog park at night time with our labrador (he's never attacked him there) and he runs around with him frequently and sniffs as well. With that, he's playful, fun, curious and enjoys human interaction (he can even play half fetch!)
3.) Dean loves other dogs too. Unfortunately with his unpredictable behavior, it must be conducted in an extremely safe manner. Basically: He's very black and white in his way of thinking. He either doesn't mind a dog or despises the dog.
Example: When outside, Dean to this day has never attacked our labrador and he doesn't need a muzzle on but once inside is the polar opposite and will become aggressive… But has attacked our mother's labrador outside and inside. Overall, Dean is best suited to be an only dog.
4.) Dean is ok with cats – he can chase them around sometimes but he's never attacked – he's been thwarted around a couple of times by my mother's cat as a puppy so he's pretty respectful of them.
5.) Dean isn't very comfortable with crates. He's always been intimidated by enclosed objects, something we assume happened when he was a very young puppy.
6.) Dean is fully house trained. He can hold it while both my wife and I are at work. He's comfortable being left alone, even when our labrador is at my mom's house and he's by himself for up to 7-8 hours, on occasion. Very independent.
7.) Dean is quite smart for a Basset Hound. Very aware. Our vet thinks he's trained pretty decently for a dog who is anxious and can't turn his brain off – once the antidepressants take effect and as he retains the training better, the potential with Dean, who's an already amazing dog, is huge.
8.) He's so funny! Very playful. Loves running around with you, he's an expert fly hunter, loves when you throw the ball or a toy (like a plush duck) and he will play a weird form of fetch with you! He loves dogTV as well, he can't get enough of it. He enjoys walks the most, in particular big wide open grass areas. He has a high prey drive, be careful with squirrels, birds, and rabbits!
9.) Dean's leash manners are poor and need work. We tried every day but determined it's because of too many things happening outside – gets way, way too distracted. The vet said once the medication is fully therapeutic, leash training will be easy.
10.) Dean loves the snow. He gets a bit cold in the winter, needs a jacket.
11.) Dean prefers sleeping on a bed with you but we have him on a dog bed beside us at night.
12.) Dean likes water. He tries to swim in the river but we obviously don't let him with his short stubby legs.
13.) Dean can be scared of strangers at first, in particular bigger, taller males. He's never gone aggressive but instead is very anxious and has peed on the floor/howls. Once he's used to that person he will relax and become his normal self.
14.) Again, Dean can rarely be a little standoffish with bones and Kong's with humans. If given, let him eat it fully. If you need to take it away, distract with a treat. Never had an issue but just so you're aware.
15.) Dean is good with his nails being cut – he needs a treat every time you cut one of his nails as per the training we did.
16.) Dean is very good with having a bath – he loves being groomed. We've never had an issue although he is ridiculously hyper after the bath which is very, very funny.
17.) Dean is pretty quiet, he can bark sometimes at random people walking by at times.
Minus his resource guarding and anxiety that is getting better, he is an amazing, loving, friendly, affectionate, fun, caring dog who we are so, so, so sad to rehome.
All I want is for Dean, who really is a good dog with some issues that can be sorted, to be with loving people who will take good care of him. I'm looking forward to finding him a good place to call home.
Why is Dean Being Rehomed?
My wife is pregnant with our first child and she is due in January. We were optimistic that we could make things work out with Dean once the baby arrives but our regular veterinarian and Dr. Logan, the vet behaviorist have both advised my wife and me that Dean must be rehomed due to the risk of having a baby in the house.
It was tough news to hear and we can't begin to describe how sad this makes my wife and me but we know this has to be done and the right thing to do – Dean is such an amazing little guy and deserves to be with a good, kind, patient and understanding individual(s) who will give him all the love and attention he deserves.
Thank you for your interest in this deserving Basset Hound Dog for adoption in Calgary Alberta.