REHOMED! – Sweet 2 YO Tangerine Tabby CAT Nashville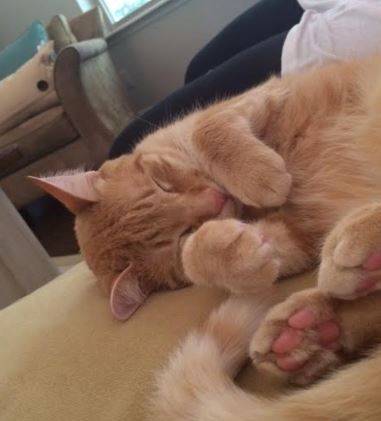 Biscuit has been adopted! This adorable Ginger Tabby Cat has found his forever home with Suzanne and her husband in Ashland City. Here's what Suzanne told us:
My husband and I have a nice home in Ashland City. We are a fairly quiet family of four. Our 14 year old cat Otis passed away in early January of this year and we were waiting to adopt the right cat. We actually were looking to adopt a kitten in May when my daughter was home from college to help pick him or her out. I was watching a video on Facebook this morning and Biscuit's video played right after that one so I watched it. I really loved him on sight and told my husband and kids about him and had them watch the video. He appears to be just what we are looking for. Our search criteria was a friendly, preferably male, orange cat that is cuddly and loves laps. Please consider us for adoption and we would love to meet him.
We are so happy and proud to have been able to find such a great home for this very special pet.
Need to Rehome a Cat in Nashville?
Contact our pet rehoming coordinator, or request Nashville Cat Rehoming Services now.
---
Here is how our Nashville cat rehoming team presented Biscuit to attract his new family!
Meet Biscuit!
If you are looking for the ultimate cuddle cat, Biscuit is waiting to meet you! This adorable 2 year old orange tabby cat has such a loving personality. He is very healthy, and has had all that expensive vet stuff done. He is neutered, up to date on shots and ready to love.
Biscuit's family love him so much. Unfortunately they are moving long distance, and taking Biscuit along is just not possible. They are dearly hoping to find Biscuit a loving home in the Nashville area where he will be cherished.
Biscuit gets along with other cats and is very good with children. He would be fine with cat-friendly dogs, as well.
Please offer Biscuit the loving home he needs and deserves. He can't wait to purr  and play his way into your heart!
All About Biscuit
Mt. Juliet, TN 37122
Name of Pet: Biscuit
Type of Pet: Cat
Breed of Pet: Domestic Shorthair
Sex of Pet: Male
Age of Pet: 2
Pet's Color and Coat Type: Orange Tabby
Spayed/Neutered?: Yes
Up to date on vaccinations?: Yes
Is pet microchipped or tattoed?: No
Does this pet get along with cats?: Yes
Does this pet get along with dogs?
Unknown
Is this pet good with children?: Yes
Is this pet house broken or litter trained?: Yes
Does Your Pet Have Any Health Problems?: No
Does Your Pet Have Any Behavior Problems?: No
Personality
Loves to be around people!
5 Best Things About Biscuit
So cute
Great personality
Loves to cuddle
Doesn't jump on counters
Great with kids
Current Home Environment
Calm and happy
Current Family:
My husband and I gave a ten year old daughter. We have a great family life!
Favorite toys, foods, activities?
Fancy feast florentine mix
Reason For Rehoming
We are moving long distance and cannot take him with us
Biscuit's Ideal Home:
Lots and lots of love and cuddles
Supplies Included:
We can supply litter equipment if needed