Hi, My name is Roxy!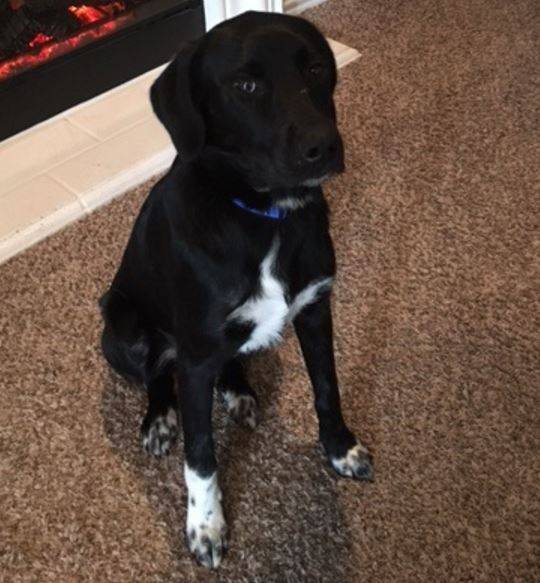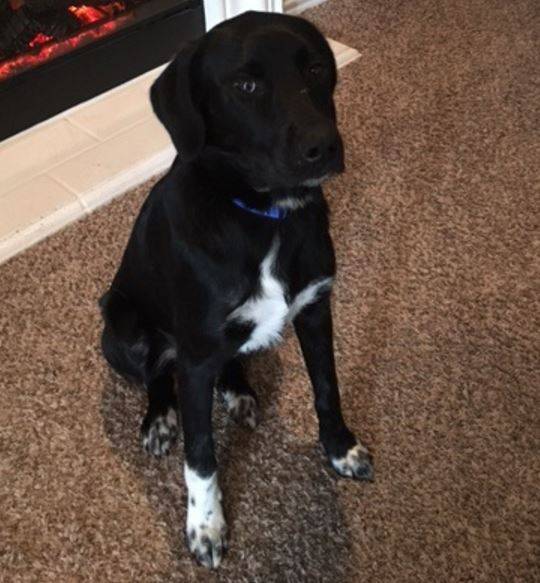 [button link="http://petrehoming.net/adopt-a-pet/" size="large" variation="hotpink" align="center"]Request to Meet Roxy Here![/button]
There is a $75 adoption/rehoming fee. All supplies will be included.
---
Location: Haslet, Texas, 76052
Type of Pet: Dog
Breed: Labrador and Collie
Age: 1 year
Color/Coat Type: Black and white, smooth
Size: 48lbs
Health Issues: Under treatment for Demodex mange
Behavior Issues: Chewing
Roxy is:
Spayed, Microchipped, Fully vaccinated, Crate Trained, House Broken
Roxy gets along with:
Small Children, Older Children, Dogs
Personality
Roxy is very sweet. She loves belly rubs, but other than that she doesn't like a whole lot of petting. She is very rambunctious in the mornings, and loves to play tug of war or chase. She also loves to take walks in the morning, and try to chase the rabbits. She does pull pretty hard on walks, but a harness has helped with that tremendously. She loves her bones, chews a lot (sometimes on illegal things, like children's toys). She knows the commands sit, stay, and lay.
She also knows come, but does not obey it well. After she plays hard in the morning she calms down and is fairly calm the rest of the day. She loves to be outside laying in the sun. She loves other dogs very much. She just gets a little over excited, and sometimes upsets the other dogs with her enthusiasm.
She does not play fetch well, instead she likes to pick up her toy and have you chase her around to try and get it. She is sweet with the kids, but does not seem to enjoy playing with them quite as much as she does with me. She seems to get tired of their loud and rough play sometimes, so I try give her a break from them on a regular basis.
She does like to wake them in the morning by licking them though. She goes into her crate with no problems at night time, but gets a little resistant if it is during the day and she knows we are leaving her at home. I have not had any issues with food aggression at all. She sits (when told) and waits for the okay to eat.
She may have a slight guarding issue with her toys, but it does not seem to be extreme. She loves to meet new people, and has never been aggressive toward visitors. She only barks on rare occasion if she sees a rabbit or hears someone on the other side of the fence. It is extremely rare for her to bark in the house.
She has stolen some food off of the table/counter, and she is very sneaky and quite about is. We are working on Leave it and drop it. She does like to dig, and will need a very secure fence. The digging is worse though if she is not exercised enough, and is left outside too long on her own (we have learned this through our own mistakes). Overall, her personality is very sweet and she seems eager to please. She really enjoys short training sessions with treats!
Reason For Rehoming
The cost of the treatments have been expensive, and we have gone into debt just to get her healthy. We cannot handle any other debt load at this time. My spouse also is not as supportive of having an animal as I first believed, and that is making the expenses harder to handle. I really feel that Roxy needs a large space to run and play.
She almost seems a little down even with walks and play time. We took her out of the city to visit family with a much larger space and wildlife, and she was extremely happy in that situation.
If you would like to consider offering Roxy a loving, forever home, please fill out our Request To Meet A Pet form here:
http://petrehoming.net/adopt-a-pet/
Once received, we will contact you to discuss your request and set up a mutually convenient time to meet Roxy and their owner in their home.