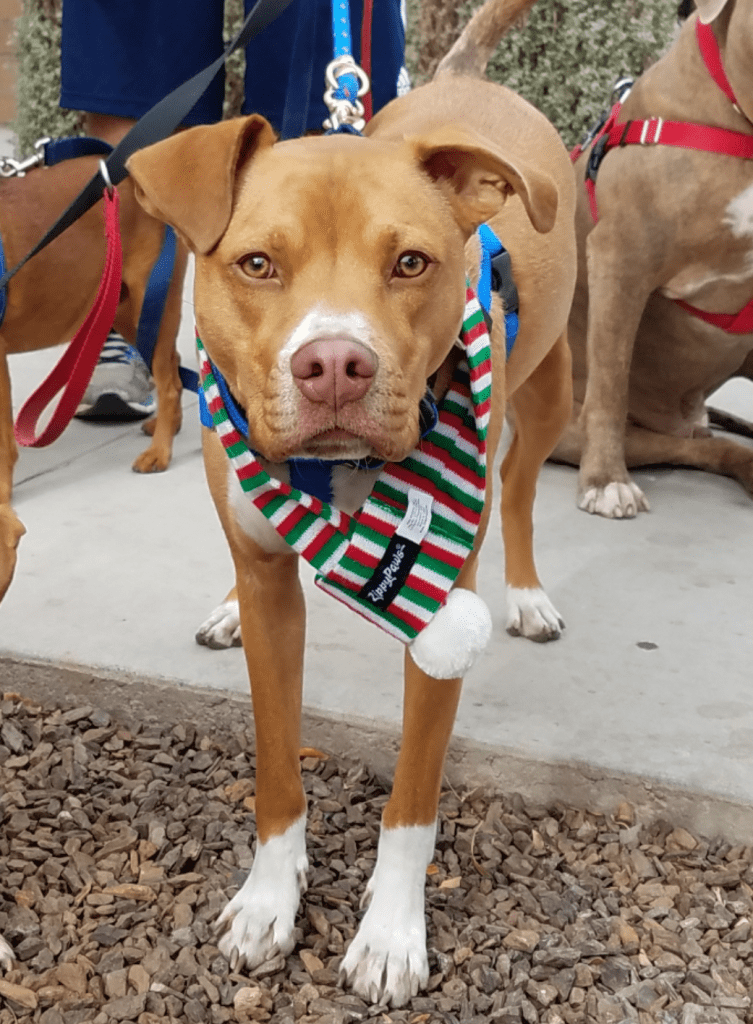 Meet Henry, Boxer Terrier mix Dog For Adoption in Chandler AZ
[button link="https://pet-net.net/adopt-a-pet" size="large" variation="purple" align="center"]Request to Adopt Henry Here[/button]
There is a $150 adoption/rehoming fee. Supplies and veterinary records will be included.
[one_half]
♥ Name of Pet: Henry
♥ Location: Chandler, AZ, 85249
♥ Type of Pet: Dog
♥ Breed of Pet: Boxer/terrier mix
♥ Sex of Pet: Male
♥ Age of Pet: 16 months
♥ Spayed/Neutered?: Yes
♥ Health Problems: No
♥ Behavior Issues: Yes
Henry gets anxiety around new people and will whine or bark. [/one_half]
[one_half_last]
♥ Up To Date on Vaccinations: Yes
♥ Gets along with cats: Unknown
♥ Gets along with dogs: Yes
♥ Good with Small Children?: No
♥ House Broken?: Yes
♥ Crate Trained?: Yes
♥ Accessories Included: Henry will come with his bed, crate, toys, bowls, harness, and 1 final paid session with his trainer to help new owners.
[/one_half_last]
---
All About Henry – Handsome Boxer Terrier Mix Dog For Adoption in Chandler AZ
[tabs_button][tab title="All About Henry"]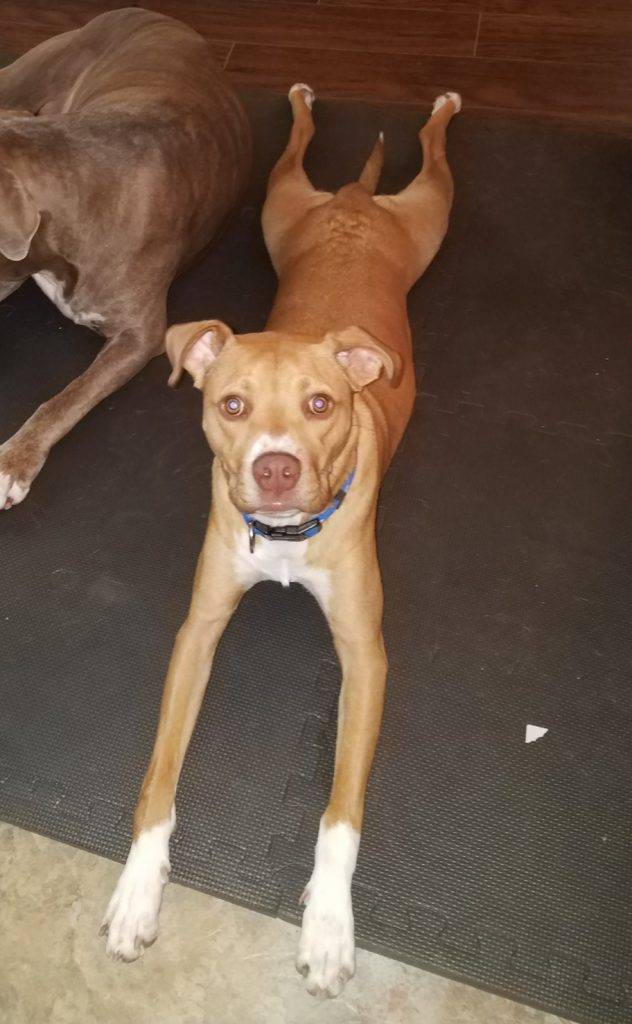 Henry is a 45 pound bundle of cuddles. This very smart and handsome dog is a nice mix of Boxer and Terrier, possibly Amstaff, American Bulldog or American Pit Bull Terrier. He is in exceptional health and has been neuturered, fully vaccinated, microchipped and is up to date on shots. He is an awesome companion, and in the right home, he will shine. He is 16 months old, and has undergone plenty of obedience training.
Henry's family love him so much. They had hoped to be his forever family. However, as Henry has matured, it has become apparent that he has a lot of anxiety in situations in which he is overwhelmed. With lots of teenagers coming and going in their home (and the associated bedlam) Henry has lots of opportunity to feel anxious.
Henry's trainer has adviced the family that they would be best to find him a quieter home where he will feel calm, safe and loved. His ideal home will be one with adults only, and where he can be an only pet. Then he can focus being the most devoted companiion on earth, and not be constantly on edge due to household commotion.
Henry will need a securely fenced yard to play in, and owners who can give him love, exercise play time and companionship he needs and very much deserves. He needs an owner that has time to dedicate time to help Henry grow into the awesome dog he is.
Thmedere is a $150 adoption/rehoming fee. Supplies and veterinary records will be included.
[/tab]
[tab title="Personality"]
Henry's Personality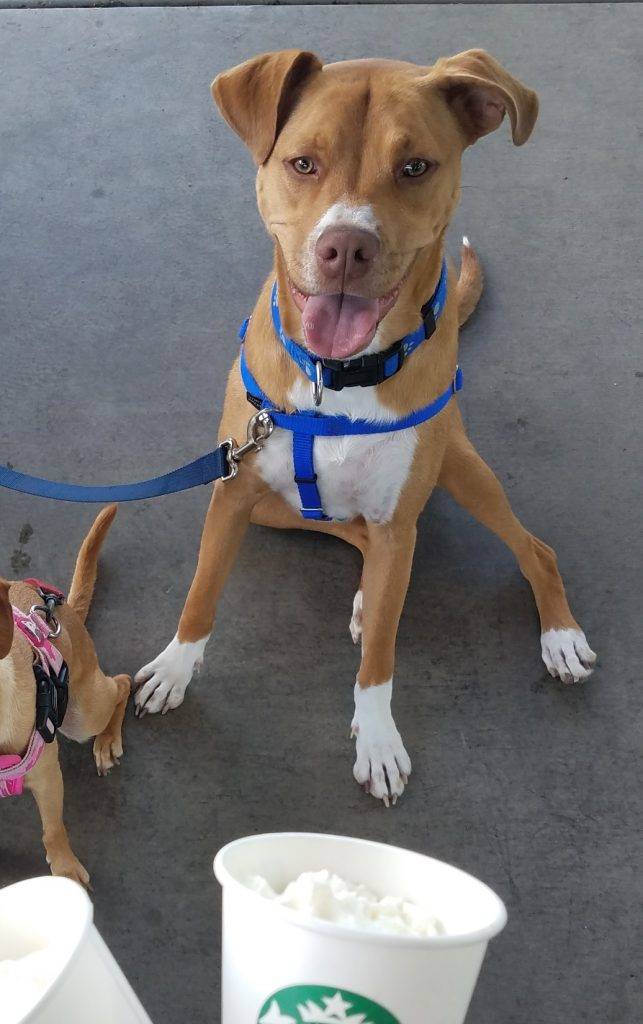 He takes treats so gentle
Brings his toys to you when he wants to play
Cuddles during naps
You can dress him up and he'll wear cute hats
He loves Pupcups from Starbucks
Henry's Current Home Environment
Henry is almost always with someone. My husband works from home. He lives with 3 other dogs. He has a pretty regular schedule. He goes for a daily walk, plays with his toys, naps, and eats 2xs/day. Overall the house is quite, unless our 11 ur old daughter is running in & out woth friends which causes Henry anxiety.
Henry's Current Family:
We are a family of 5, 2 teenage boys, and an 11 year old daughter. We love to relax and laugh. We have 4 rescue dogs.
Henry's Favorite Toys, Foods, Activities?
Henry loves his fox toy from PetSmart. He also likes to play with rope or ball.[/tab]
Cute Henry Story:
Henry likes to sit on the top of the couch like a cat.[/tab]
[tab title="Reason For Rehoming"]
Why is Henry Being Rehomed?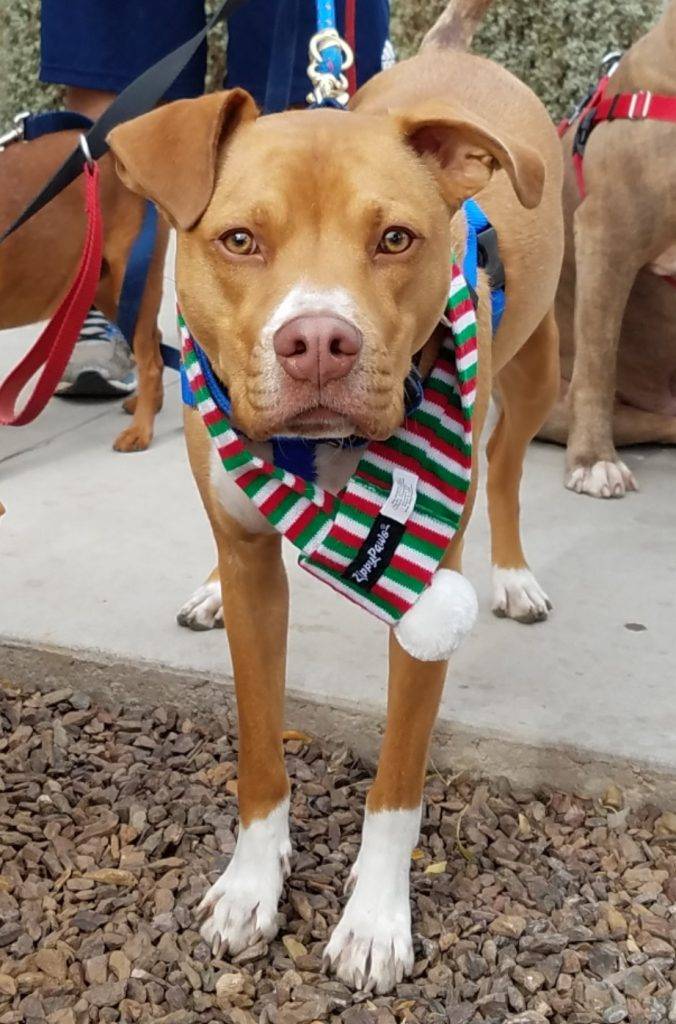 Henry is an awesome 1 yr old dog, but gets anxiety around kids/teens. The trainers we have hired for Henry agree that that he will benefit from someone who has no dogs and no kids. He needs a person that has time to dedicate time to help Henry grow into the awesome dog he is.[/tab]
[tab title="Adopt Henry"]
Henry's Perfect Adoptive Home Will Be:
Someone to take Henry in, be kind, have time to play with him, cuddle with him, and take him on his walks. Help Henry become a happy, confident dog.
How To Adopt Henry
If you are interested in adopting this special Boxer Pitbull mix For Adoption in Chandler AZ, please fill out our online meeting request here. Once received and reviewed, our staff will ask the pets owner to reach out to you and arrange a meeting.
If you have any questions about our careful pet rehoming process, feel free to get in touch.[/tab]
[tab title="Location"]
Henry – Boxer/terrier mix Dog For Adoption in Chandler AZ
Henry is a Boxer Terrier mix dog rehoming in Chandler, AZ. He is located near the following towns and cities in Arizona:
Gilbert, AZ
Mesa, AZ
Tempe, AZ
Scottsdale, AZ
Paradise Valley, AZ
Phoenix, AZ
Apache Junction, AZ
Fountain Hills, AZ
Glendale, AZ
Coolidge, AZ
Peoria, AZ
Casa Grande, AZ
Avondale, AZ
Goodyear, AZ
Sun City, AZ
The West Winds Trailer Court, AZ
Chandler Gardens Mobile Home Park, AZ
Green Tree Mobile Home Park, AZ
Elmwood Trailer Park, AZ
Wishing Well Trailer Park, AZ
Valley Mobile Homes Estate, AZ
Chandler Meadows Mobile Home Park, AZ
The Haciendas, AZ
Casas del Campo Mobile Home Park, AZ
Rancho de Chandler, AZ
Sunshine Valley Mobile Home Park, AZ
Evergreen Villa Mobile Home Park, AZ
Stonegate Crossing, AZ
Cedar Ridge, AZ
Pozo, AZ
Kon Tiki Mobile Home Park, AZ
Warner Park, AZ
Adopt this handsome and healthy Boxer Mix dog today.
Boxer Rehoming
Phoenix Dog Rehoming
[/tab]
[/tabs_button]