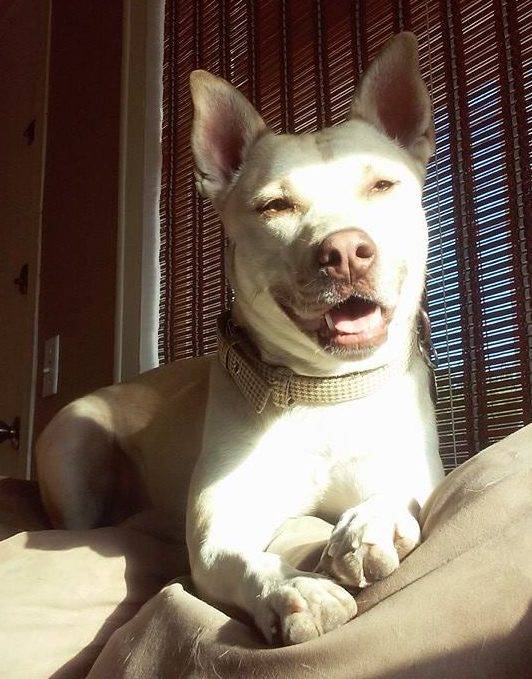 Meet Sativa – Pure Bred Wolf Mixed With Pure Bred Red Nose Pitbull Dog For Adoption in Kingman Arizona
[button link="https://pet-net.net/adopt-a-pet/" size="large" variation="hotpink" align="center"]Request to Meet Sativa Here![/button]
There is a $150 adoption/rehoming fee. Supplies and vet records will be included.
Questions About Sativa?? Text "Interested In Sativa" to (213) 297-7446 or email [email protected]
---
Location: Kingman, Arizona, 86409 (Near Henderson, NV)
Type of Pet: Dog
Breed: Pure Bred Wolf  – Pure Bred Red Nose Pitbull Mix
Age: Approx. 5 Years Old
Color/Coat Type: Tanish Gold/Medium Hair Length, Soft
Size: 58 lbs. Approx.
Health Issues: No – some food allergies, but not a problem if avoids trigger foods.
Behavior Issues: Well behaved
Sativa is:
Crate Trained
Sativa gets along with:
Babies
Personality
She is very happy, smiling all the time. Loves to say hello to people, socialize. Loves going to the store with me and help grocery shop. She loves to run around and play even though her injury has slowed her down. Seldom sometimes, which may be a result of spending to much time in my apartment while I work 12 hour shifts. I adopted a kitten for her to have a buddy, he mostly is annoying her these days while she is trying to sleep.
CRATE TRAINED< SPAYED<LEASH TRAINED<HOUSE BROKEN
GETS ALONG WITH:
BABIES
TODDLERS
OLDER CHILDREN
(WITHIN CONTROLLED ENVIROMENT)
PUPPIES
KITTENS
STRANGERS
Food and Diet
Sativa is currently on Other
I Believe that she has an allergic reaction to dry beef and chicken dog food, she throws up allot. I have purchased her no corn gluten meal dog food consisting of Lamb, it does not bother. Not sure if it is the corn.
Reason For Rehoming
I live in an apartment with a very busy life style, My youngest boy is allergic to dogs. I have raised her since a pup, short story short, she deserves to be loved more and a backyard to wonder, as well as more attention that I can not provide for her at this time. She is my baby, all I want for her is happiness.
How to Adopt Sativa
If you would like to consider offering Sativa a loving, forever home, please fill out our Request To Meet A Pet form here:
https://pet-net.net/adopt-a-pet/
Once received, we will contact you to discuss your request and set up a mutually convenient time to meet Sativa and their owner in their home.