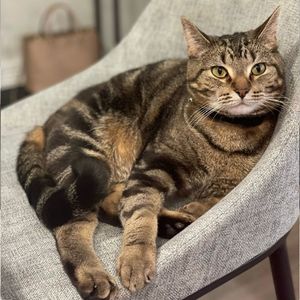 Brown Tabby Cat For Adoption in Edmonton AB – Supplies Included – Adopt Dax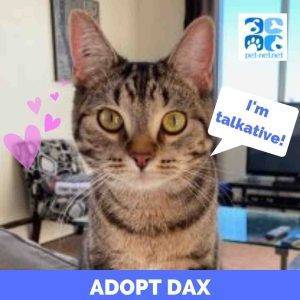 Meet Dax – Pre-Loved Brown Tabby cat For Adoption by Owner in Edmonton AB
Dax is a very handsome male brown tabby cat for adoption to a very loving home in or near Edmonton, AB.
This very special cat is 3 years old and weighs 12 pounds. He has been neutered, fully vaccinated, litter box trained and is a polite and very friendly cat that would fit in very well in to almost any home where he is given the attention, care and companionship that he thrives on.
He is good with children and  cat friendly dogs. Cat compatibility is not known, but given his laid back personality, he would likely do well with other cats of a similar ilk.
Dax is an Amazing Pet Because He:
He is incredibly snuggly and loves to crawl right up on your chest and sleep.
He loves being present and is typically in whatever room you find yourself in.
He is fine in settings where large groups are in the home, not typically intimidated by crowds. Very social instead.
He has many youthful traits and is always ready to play.
He suckles soft fabrics like blankets or sweaters when he "makes dough" and it is adorable.
He's curious and is always sniffing around the windows for fresh air and new smells.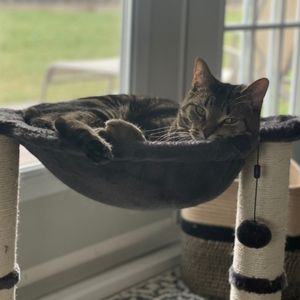 Dax's owner's situation has changed dramatically from being a bachelor to living with his partner and her dog. His partner works from home and has important virtual meetings daily. Dax has decided that he should have a say, and can be counted on to interrupt every meeting.
While most cat lovers might find this cute, it does not give the impression of professionalism that is important to his owner's partner's career. Despite many efforts to work around the situation, such as moving Dax into other rooms of the home while meetings are on the go, he still manages to adhere to his Nickname of "Interrupting Cat".
In addition, Dax's owner is having to travel frequently, and the costs of having someone care for Dax have become difficult to manage. He is dearly hoping to find a cat lover who will cherish Dax and appreciate his cute, quirky personality. He is a furry bundle of purrs, cuddles and meows, and will provide his new owner(s) with so much joy, laughter and companionship.
If you have room in your heart and home for this deserving Brown Tabby cat, then please offer Dax his  forever home today. Dax can't wait to show you the true meaning of unconditional love. Adopt this very special brown tabby cat today.
How To Adopt Dax
Please fill out our online meeting request below. Once received and reviewed, our staff will ask Dax's owner to reach out to you and arrange a meeting.
There is a $35 adoption/rehoming fee. Supplies and veterinary records will be included.
Questions about Dax? Contact our Edmonton cat rehoming team today.
Text "DaxAB" to (888) 833-2128
We look forward to hearing from you.
---
All About Dax – Tabby cat For Adoption in Edmonton AB
Name of Pet: Dax
Location: Edmonton, AB, T5R 4X5
Type of Pet: cat
Breed of Pet: Brown Tabby Cat
Sex of Pet: Male
Age of Pet: 3
Spayed/Neutered?: Yes
Health Problems: No Previous health issue was resolved with excellent prognosis.
He had surgery in 2021 on both hind hips due to necrosis of the hip joint. Since then has he fully recovered and the vet explained that he can expect to live a normal life because the procedure took place when he was so young. He has no difficulty with stairs in our two-level home, nor climbing or playing on his cat house, or in his general mobility. You likely wouldn't notice a difference in him without knowing the procedure took place.
Behavior Issues: No
Up To Date on Vaccinations: Yes
Gets along with cats: Unknown
Gets along with dogs: Yes
Good with Children?: Good With Children aged 8 and up
House Broken or Litter Trained?: Yes
Crate Trained?: No, Unknown
Accessories Included: We have a self-cleaning litterbox that uses crystal tray inserts (from Costco, Amazon, etc.), a 6 ft. tall cat tree, a smaller hammock-type bed/scratching post, laser pointer, food.
Dax's Personality
Incredibly loving and always wants to be around you, whether it's right alongside while you're going from room to room, on your lap while lounging. He thrived as the lone animal in the household when attention from myself and guests was solely on him.
Since having to compete for attention with a small dog now that our living arrangement is different, it's obvious Dax like's being the star of the show. He loves giving and receiving attention.
I think he would thrive with a single person again as he did when it was just he and I in my apartment, but I think he would also do just fine with a loving family around him. A senior cat lover who is looking for a very engaging and loving companion would be ideal. He will make you laugh every single day.
Dax's Favorite Toys, Foods, Activities?
He has a pyramid-shaped toy that allows him to swat a little, fixed ball around and around while he lays on his side.
He has toy springs that he will parade around the house with.
He also likes playing with our small dog by swatting and her and playfully engaging her, though to Dax's disappointment our dog isn't super interested in horsing around.
Dax eats a particular brand of dry food from the department store and has has grown to love "Greenie" treats.
Cute Dax Story:
A couple of times we have been looking high and low for him, all over the house, just to find him peacefully sleeping in a little nook or on a chair in a quiet corner. A cute and funny contrast to how much he wants to be the centre of attention most of the time.
Why is Dax Being Rehomed?
My girlfriend has started working from home and needs complete silence for long video conference calls. Dax is very persistent and vocal about demanding attention and is interrupting legal proceedings. We have tried placing him in different rooms throughout the house and there is nowhere he cannot be heard in the background.
In addition, we spend a lot of time traveling and out of the country, and finding boarding and care for him is both financially and emotionally exhausting. This is a consideration I didn't have when I got Dax as a single professional, before moving into a home with my girlfriend and another animal. We will miss him dearly but also know there is a person or family out there he will connect with to enrich both of their lives!
Dax's Perfect Adoptive Home Will Be:
A person or family that can afford Dax the love and attention he deserves, and perhaps a more youthful and playful animal than our small dog has been for him.
He will make a great pet for a single person looking for lots of snuggles and great company. I'm confident he would also enjoy a home with a family and other pets as well.
Dax – Tabby cat For Rehoming in Edmonton AB
Dax is a Tabby cat for private adoption by owner in Edmonton AB. He is located close to the following towns and cities in Alberta:
Saint Albert AB,
Sherwood Park AB,
Fort Saskatchewan AB,
Devon AB,
Spruce Grove AB,
Morinville AB,
Leduc AB,
Bon Accord AB,
Stony Plain AB,
Calmar AB,
Millet AB,
Lamont AB,
Tofield AB,
Wetaskiwin AB,
Westlock AB,
Adopt this deserving Brown Tabby cat in Edmonton AB today.