[margin10]
Bullet has found his forever home in Lethbridge with Jimmi, his new owner. She has been dreaming of owning a Goldendoodle for a long time, and was so thrilled to have the opportunity to offer a great home to Bullet. We are so happy for you, Bullet. Congratulations!
From Bullet's Original Owner:
Thank you for your services!  Today was a bittersweet moment for us.  It was difficult but I can just tell how happy
Bullet
will be with his new family!
Thanks,
Renai
---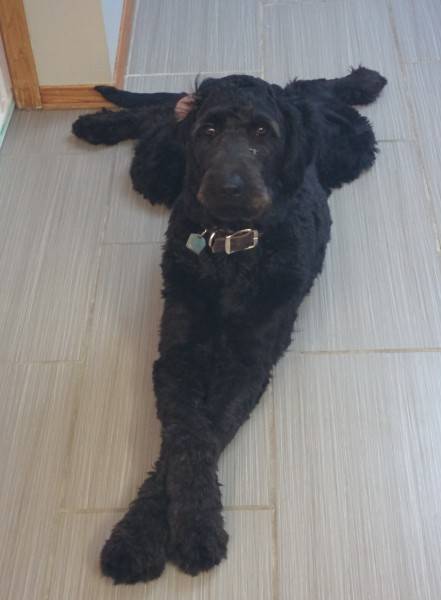 Meet Bullet!
If there were ever a dog more worthy of the phrase "bit off more than we could chew", it's Bullet. And there is no dog more worthy of the time and patience needed to help him reach his full potential as an obedient, well behaved family companion!
Bullet is a great big ole puppy. This 11 month old Goldendoodle is very BIG (85 pounds) and VERY intelligent.
He is very much loved by his family, but they realize that they are unable to provide him with the leadership, exercise, play and attention he needs and deserves.
Bullet needs an owner who can be FIRM with him. He jumps, is full of mischief, and basically does not recognize his Moms authority, despite having gone through some very expensive obedience training. Dad works much of the time, so it is Mom who must be the dog disciplinarian. Unfortunately, that just isn't going very well. Bullet is much too big for her to physically handle. It's just become too much for her and her young daughter to cope with every day.
They love this boy very much, and the family is hoping to find him a wonderful new home where he will get the guidance he needs as he matures into a more sensible dog.
The ideal home will have a large, securely fenced yard. His ideal owners will be experienced with large dogs, able to provide Bullet with strong behavior modification, plenty of love, and lots of attention.
---
All About Bullet
Location: Calgary, Alberta T3K 3X2
Name of Pet: Bullet
Type of Pet: Dog
Breed(s) of Pet: Goldendoodle
How old is your pet?: 11 mos
Does your pet have any health issues?: No
Does your pet have any behavior issues?: Yes
Jumps up, doesn't respond to commands often, have not had luck training him to stop play biting, sometimes can appear aggressive and will snap at me but I don't really think he would hurt me. He runs in front of you walking anywhere inside or out, have had no luck leash training or gentle leader, chews and eats everything and anything in sight and insists on being between your legs if you walk away from him.
Bullet is:
Neutered
Microchipped
Fully vaccinated
Crate Trained
House Broken
Obedience Trained
Bullet Gets Along With:
Small Children
Older Children
Dogs
Small Animals
Strangers
Why is Bullet Being Rehomed
Several reasons… He is extremely intelligent unfortunately, we just don't seem to have the amount of time required to train him properly. He is a larger dog about 85 lbs and needs room to run, or at minimum someone who is dedicated and able to walk him a couple of times a day….
I physically can't control him, I'm just not strong enough and my husband is rarely home. Also, he has become quite dominate over myself and my 8 year old daughter, though I think he's just playing it always gets more aggressive and ends with me having to subdue him and kennel him.
We love him so much and this is a very difficult decision but I believe he deserves a family that can give him the time and attention he deserves. He is smart as a whip and is bell trained to go outside and is kennel trained. We are also moving in a month to a new home that would further restrict his freedom of space.
Bullet's Personality:
See notes above. He is extremely playful considering he's still a puppy. He is loving and likes affection. He is the smartest dog I've ever owned but also very stubborn. He lives to chase other animals and is very friendly. He's had some expensive obedience training but I guess I was not consistent enough to make it stick. He is well socialized, never had a problem but he gets super excited. He will bark at anything out of the ordinary but he's a big softie for attention.