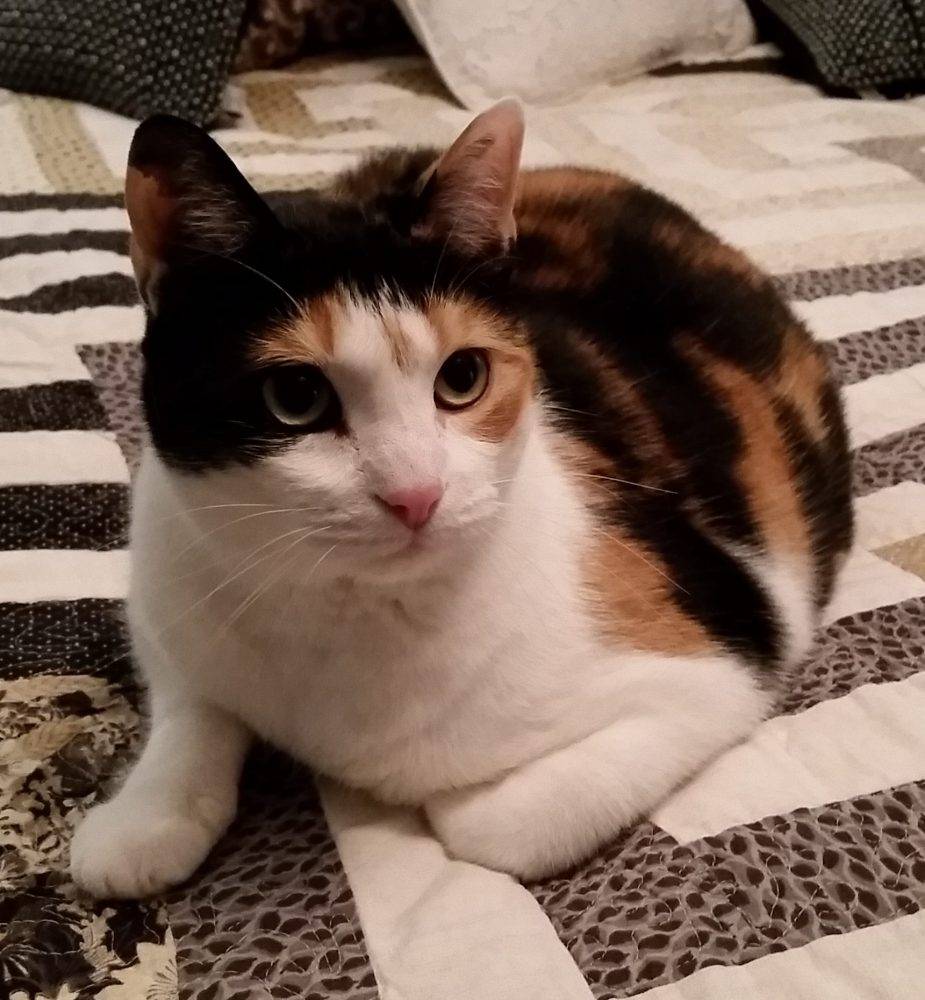 Meet Nautica – Calico Cat For Adoption in Walkertown NC
[button link="https://pet-net.net/adopt-a-pet/" size="large" variation="hotpink" align="center"]Request to Meet Nautica Here![/button]
There is a $25 adoption/rehoming fee. Supplies and vet records will be included.
If  you are looking for an all-round fabulous bundle of fur, they don't come any more fabulous than Nautica. This gorgeous 4 year old female Calico cat is as beautiful in the inside as she is on the outside. She is a real snugglepuss, with amazing green eyes set like jewels against her stunning calico markings.
Nautica is very healthy. She is spayed, up to date on shots and has impeccable litter box habits. She loves people, and gets along very well with children – even small kiddos. She is good with cat-friendly cats and dogs. Nothing much bothers this calm and gentle girl.
Nautica's owners have had to make the very difficult decision to find her a new home. They were recently approved to adopt a child, but, as luck would have it, the child in question has severe cat allergies. They are dearly hoping to find Nautica a new home where she will be cherished as much as she is now, and kept safe, happy and healthy for the rest of her life.
Nautical will be rehomed with all vet records, and any supplies the owners have on hand for her.
Please adopt this gorgeous young Calico today. She is sure to purr and play her way into your heart in no time!
---
All About Nautica – Sweet Calico Cat For Adoption in Walkertown NC
Location: Walkertown, North Carolina, 27051 (Near Greensboro)
Type of Pet: Cat
Breed: Calico
Age: 4
Color/Coat Type: Calico – Short
Size: 14lbs
Health Issues: No
Behavior Issues: No
Nautica is:
Spayed, Microchipped, Fully vaccinated, Litter Trained, House Broken
Nautica gets along with:
Babies, Toddlers, Small Children, Older Children, Cats
Personality
She is loving and adores our 4 year old, she cannot wait to jump in bed with him in the morning. Always read to eat, anything and playful with the yongest of our older cats. She is the most submissive of our cats. She doesn't tend to lay around for too long in one spot, she likes to keep moving.
Food and Diet
Nautica is currently on Blue Buffalo
Reason For Rehoming
We are in the final stages of adoption with a 4 year old boy. We are going to purchase and move into a house soon. We had 5 cats at one point and a feral cat community which we have paid to spay/neuter of about 16 cats outside.
A few of the 5 had some behavior issues and we re-homed one already. Our boy has severe cat allergies. We want them to have someone who can spend time with them and love on them. Our lives have overwhelmed us and we do not plan on taking cats into our new home. Nautica is a super loving rescue cat.
How to Adopt Nautica
If you would like to consider offering Nautica a loving, forever home, please fill out our Request To Meet A Pet form here:
https://pet-net.net/adopt-a-pet/
Once received, we will contact you to discuss your request and set up a mutually convenient time to meet Nautica and their owner in their home.
Nautica is a 4 YO Female Calico Cat For Adoption in Walkertown NC near Archdale,  Archdale,  Greensboro,  Lexington,  Reidsville,   Eden,  Asheboro,  Martinsville, VA Salisbury,  Burlington,  Dilhast,  Old Hollow Estates,  Abington,  Creekwood Acres,  Day Acres,  Chalk Level,  Smokerise,  Talleys Crossing,  Dennis,  Greystone Forest,  Guthrie,  Brinkley Estates,  Kynwood,  White Road,  Sedges Garden,  Kimberly Acres and   Timber Trails, NC.  Adopt Nautica today.