Meet LeRoy – Declawed Senior Tabby Cat For Adoption in League City Texas
[button link="https://pet-net.net/adopt-a-pet/" size="large" variation="hotpink" align="center"]Request to Meet LeRoy Here![/button]
Adoption fees waived for a good home. Supplies and vet records will be included.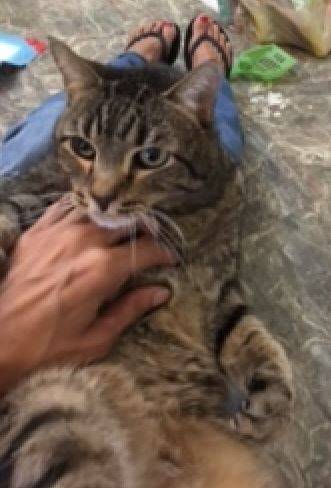 Sweet Ole LeRoy is a cute little tabby cat that is quite long in the whiskers, but still very deserving of love and care. At 16, he is healthy, but in need of a quiet home and lots of understanding as he lives out his senior years. LeRoy has been fixed and is litter trained. He has not been to the vet in a while, but his foster Mom is not aware of any health issues.
Tragically, his owner passed away. He has been cared for ever since by her daughter, but, unfortunately, due to severe allergies in the family and a recent divorce, she is no longer able to provide LeRoy with the safe, quiet, indoor home that he needs and deserves.
LeRoy isn't a high-maintenance kitty. He only needs a quiet home without other cats or small children. Ideally, he would love to be in the company of a retired cat lover with a sunny home conducive to lots of cat naps. He has a good appetite and his litter box habits are very good.
If you have room in your heart and home for this golden oldie, please offer LeRoy a loving home today. He still has plenty of quiet adoration to offer a loving owner.
---
All About LeRoy – Senior Tabby Cat For Adoption to Loving Home Near League City TX
Location: League City, TX, 77573 Near Houston
Type of Pet: Cat
Breed: Domestic Long Hair Tabby
Age: 16 years young
Color/Coat Type: Medium Haired Tabby Cat
Size: 15 lbs
Health Issues: No
Behavior Issues: No
LeRoy is:
Neutered, Litter Trained, Healthy
Personality
Nice cat that loves being gently petted by his foster mom. He only responds to me and avoids everyone else that comes upstairs to feed or care for him. He is 16 years old. He doesn't not like other cats.
He used to live with another cat and my dogs but he doesn't like them anymore. He was picked up by pound one time and he howled the entire time I would have thought he was being tortured. He is a loving cat but older and is picky. He has no front claws so he is somewhat defenseless against predators.
Food and Diet
LeRoy is currently on Hills Science Diet
he loves canned or packaged food with gravy. He will eat dry food but I give him both. He has food readily available at all times as he usually spend most days alone.
Reason For Rehoming
My husband and I are divorcing. He is allergic to cat. I do not have ability to take him with me to my daughter's house. He has front claws removed and cannot defend himself outside and he has always been an indoor cat.
He lived with my mother until her failing health required that I take him. I thought keeping him isolated upstairs was best choice after rehoming failed. My soon to be ex-husband is allergic as are most of my family members.
How to Adopt LeRoy
If you would like to consider offering LeRoy a loving, forever home, please fill out our Request To Meet A Pet form here:
https://pet-net.net/adopt-a-pet/
Once received, we will contact you to discuss your request and set up a mutually convenient time to meet LeRoy and their owner in their home.
LeRoy is a senior domestic mediumhair tabby cat for adoption in League City Texas near Houston, and close to Webster,  Webster,  Dickinson,  Seabrook,  Friendswood,  Santa Fe,   Alvin,  La Porte,  Pearland,  La Marque,  South Houston,   Deer Park,  Texas City,  Pasadena,  Baytown,  Galena Park,  Webster,  Nassau Bay,  Clear Lake City,  Dickinson,  Clear Lake Shores,  El Lago,  Kemah,  Taylor Lake Village,  Seabrook,  Bacliff,  Todville,  Friendswood,  Clifton Beach,  Olcott,  Surf Oaks,  Humble Camp,  Algoa,  TX.  Adopt LeRoy the senior Longhaired Tabby cat today.