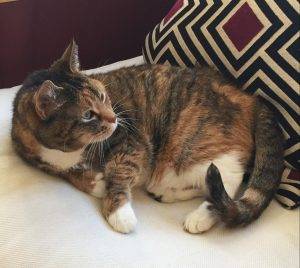 Meet Charlie – An Adorable Calico Tabby Cat For Adoption in Jamaica Plain MA Near Boston
Looking for a beautiful Calico cat to adopt near Boston? How about a Tabby cat? Charlie is a Calico Tabby – with gorgeous light green eyes and the fluffiest tummy you will ever rub.
She is 9 years young, very healthy, fixed and purrfectly litter trained. Charlie is no trouble to care for – she is self-feeding and not too demanding. She is cuddly, though, and is happy to snuggle up next to you after a long day at work.
Charlie's owner loves her so much, but an out of state move has made it necessary to find a new home for her. There is no way to take Charlie along, as much as she would love to.
Charlie can be shy at first, but once she gets to know you, she is very friendly and a great companion.
Charlie is best suited for a quiet home without small children or other pets. She would be a wonderful companion for a senior looking to share their home with a fluffy friend.
Please offer Charlie a loving home today. She can't wait to purr her way into your heart.
---
[button link="https://pet-net.net/adopt-a-pet/" size="large" variation="hotpink" align="center"]Request to Meet Charlie Here![/button]
There is a $25 adoption/rehoming fee. All supplies will be included.
---
All About Charlie – Calico Tabby Cat For Adoption – Boston Massachusetts
Location: Jamaica plain, Ma, 02130 Near Boston
Type of Pet: Cat
Breed: Calico Tabby Tortie Tuxedo Domestic Shorthair Cat
Age: 9 years old
Color/Coat Type: Brown mixed short fur
Size: Small
Health Issues: No
Behavior Issues: No
Personality
She is somewhat timid in new situations or with new people or in loud settings. Once she settles she is an incredibly sweet, kind, and easy cat. She loved to curl up and sleep and be around people and self feeds at her own pace. Uses litter box without issue.
Food and Diet
Charlie is currently on Other
Will fill her puzzle feeder and allow her to feed at her own pace.
Reason For Rehoming
I am moving out of the state in August and cannot take her with me.
How to Adopt Charlie
If you would like to consider offering Charlie a loving, forever home, please fill out our Request To Meet A Pet form here:
http://pet-net.net/adopt-a-pet/
Once received, we will contact you to discuss your request and set up a mutually convenient time to meet Charlie and their owner in their home.
Charlie is a very cute and charming tabby calico cat for adoption in Jamaica Plain MA near Boston and close to Brookline
Boston
Cambridge
Newton
Milton
Dedham
Watertown
Somerville
Needham
Belmont
Quincy
Chelsea
Waltham
Arlington
Medford
Forest Hills
Roslindale
Brookline
Brookline Village
Roxbury
Westbrook Village
Mount Hope
Bellevue
Roxbury Crossing
Beaconsfield
Reservoir
Longwood Station
Grove Hall
Mount Bowdoin
Clarendon Hills
Dorchester and
Coolidge Corner MA Massachusetts. Adopt this adorable Calico cat today.
Calico Cat For Rehoming in Boston