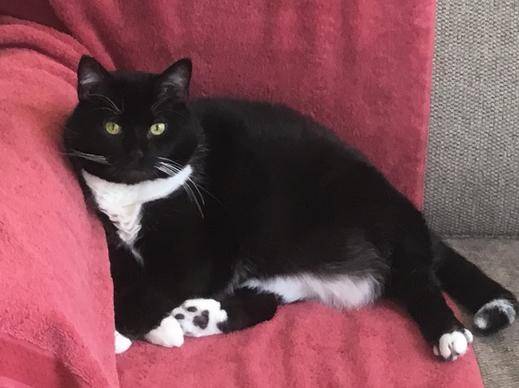 Meet Oreo – An Adorable Pudgy Black and White Tuxedo Cat For Adoption Near Baltimore and Washington DC
[button link="https://pet-net.net/adopt-a-pet/" size="large" variation="hotpink" align="center"]Request to Meet Oreo Here![/button]
There is a $25 adoption/rehoming fee. Vet records and supplies will be included.
Oreo is one of those cats that really makes an impression – both in size – and personality! This 20 pound bundle of love and purrs is 12 years old. She is in great health, spayed, and up to date on her shots.
Oreo is so pretty – with big green eyes and her very distinctive black and white tuxedo markings, accented with the cutest white tip on her tail.
Her favorite activities are eating, cuddling up and purring, and sitting on – or beside – shoes. She is a really cute girl, and is still playful – even at her size and age.
Oreo is looking for a loving new home with someone who likes to snuggle up by the fire, enjoys meaningful conversations, and doesn't mind a plus-sized body in their cat.
Oreo is a very sweet girl and she deserves a great home with someone who will cherish her and keep her safe, happy and healthy. In return, she offers unconditional love, perpetually warm footwear, and more cuddles than you can imagine. Please offer Oreo the loving home she deserves today! She can't wait to purr her way into your heart!
---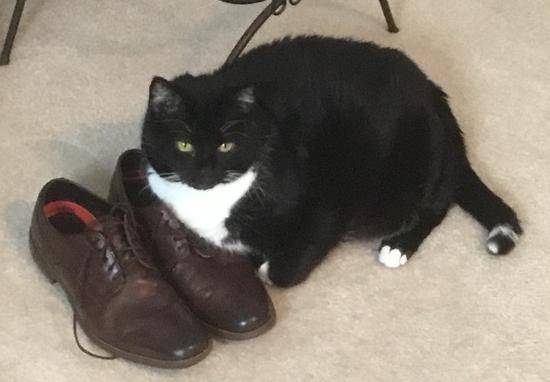 All About Oreo – Female Tuxedo Cat For Adoption in Bristow VA, Near Washington DC
Location: Bristow, Va, 20136
Type of Pet: Cat
Breed: Tuxedo Domestic Shorthair Cat
Age: 12
Color/Coat Type: Black and white, medium-length fur
Size: 20 lbs
Health Issues: No
Behavior Issues: No
Oreo is:
Spayed, Fully vaccinated, Litter Trained
Oreo gets along with:
Small Children, Older Children
Personality
She is affectionate and thrives on attention, loves sleeping on shoes and eating, sleeping, and grooming. Despite her age and size, she will still chase a laser light.
Food and Diet
Oreo is currently on Other
Purine One dry food, half cup a day; Friskies wet food, two-thirds of a can a day
Reason For Rehoming
Since getting married, Oreo's owner and his new wife are planning a move to a residence where cats are not permitted. As much as they love Oreo, they realize that they cannot take her with them and are dearly hoping to find her a good home where she will be cherished.
How to Adopt Oreo
If you would like to consider offering Oreo a loving, forever home, please fill out our Request To Meet A Pet form here:
https://pet-net.net/adopt-a-pet/
Once received, we will contact you to discuss your request and set up a mutually convenient time to meet Oreo and her owner in their home.
Oreo is a sweet and healthy 12 year old black and white Tuxedo cat for adoption in Bristow, VA, near Baltimore MD and Washington DC, and close to Manassas Manassas Manassas Park Centreville Lake Ridge Montclair Chantilly Dale City Fairfax Burke Woodbridge Dulles Lorton Oakton West Springfield North Springfield Colonial Acres Colvin Farms Woodlawn Farms Brent Turf Acres Johnson Woods Chevalle Moor Green Estates Lee Manor Country Roads Fostern Estates Nokesville Bataan Village Bloom Hill Rixlew Ashton Glen Brentsville Oxfordshire Virginia VA. Adopt this special Tuxedo cat today.