Precious Calico Cat For Adoption in Honolulu Hawaii – Supplies Included – Adopt Lucifer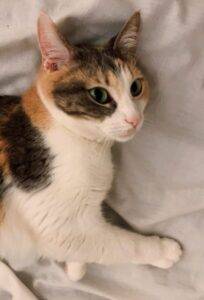 Calico Cat for Adoption in Honolulu, HI
Looking for a lovely Calico Cat to adopt in Honolulu, HI? Just 6 years old and weighing 13 lbs, Lucifer is a very special little cat looking for a very loving home where she can be a cherished only cat.
Lucifer has been fixed, fully vaccinated and litter box trained. She is gentle and sweet with babies and small children, older children and adults, and she loves her people with all her heart. Lucifer is not one to enjoy spending time with other cats. They frighten her, and she hisses at them. Lucifer is happiest playing with children, following you around the house, meowing her moral support and rubbing her sweet little body against your ankles as you do laundry, dishes, house cleaning and other daily chores.
In the afternoons, Lucifer loves nothing more than to bask in sunbeams and have a good, long cat nap. She is a snuggle bunny and loves to snuggle up with you in the evening and at night. She is anything-but an aloof cat.
Lucifer's owners are very sad to have to rehome their cherished cat. They are hoping to find a new home for Lucifer where this special cat will feel safe without the presence of other cats in the home. She may be OK with very laid back, cat friendly dogs, but that is not for sure.
How To Adopt Lucifer the Calico Cat in Honolulu
If you have room in your heart and home for Lucifer, please complete our online meeting request form. Once received, our Calico Cat Rehoming team will make arrangements for you to meet Lucifer and her owners. Adopt Lucifer today!
There is a $25.00 adoption processing fee. Supplies, accessories, and veterinary records will be included.
Questions about adopting Lucifer?
Text LuciferHONOLULU to (888) 833-2128. We look forward to hearing from you!
---
All About Lucifer – Calico Cat For Adoption in Honolulu HI
♥ Name of Pet: Lucifer
♥ Location: Honolulu, HI, 96826
♥ Type of Pet: Cat
♥ Breed of Pet: DSH Calico Cat
♥ Color / Coat Type: short hair calico
♥ Age of Pet: 6
♥ Size of Pet: 13 lb
♥ Health Problems: no
♥ Behavior Issues: yes
doesn't get along with other animals in household
♥ Gets along with: Babies, Small Children, Older Children, Adults
♥ Pet is: Fixed, Fully Vaccinated, Microchipped, Litter Box Trained
♥ Food: Other
IAMS adult dry chicken food
Lucifer – Calico Cat For Adoption in Honolulu HI
---
Lucifer's Personality
Super sweet, loves attention and to cuddle. She loves scratches and is playful. She is also very talkative and will constantly rub up against me. Her favorite time of day is afternoon when she can sun bathe in the window.
Why is Lucifer Being Rehomed?
I live in apartment with three other cats and she has not adjusted for a couple months. She hisses at our other cats and she is constantly very scared and hiding. I want her to be in a home where she feels safe, happy, and have the life she deserves
Nearby Locations
Lucifer is located in Honolulu, HI, close to the following towns and cities:
Aiea HI,
Kaneohe HI,
Waimalu HI,
Ahuimanu HI,
Pearl City HI,
Ewa Beach HI,
Kailua HI,
Waipahu HI,
Mililani Town HI,
Makakilo City HI,
Wahiawa HI,
Nanakuli HI,
Waianae HI,
Makaha HI,
Lanai City HI,
Thank you for your interest in this deserving Calico Cat for adoption in Honolulu HI.