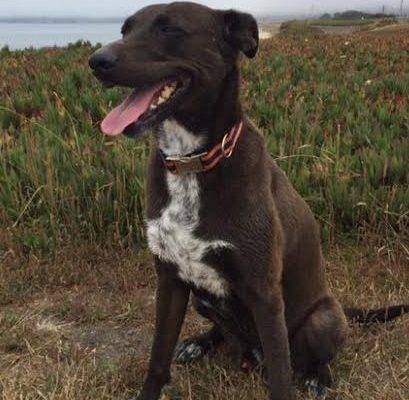 Charming Charlie – Devoted Lab/Pointer Mix Seeks Adults Only Home Near Redwood City – All Supplies Included
Hi, My name is Charlie!
[button link="http://petrehoming.net/adopt-a-pet/" size="large" variation="hotpink" align="center"]Request to Meet Charlie Here![/button]
There is a $75 adoption/rehoming fee. All supplies will be included.
---
I'm the dog who put the "D" in devoted! If you are looking for true blue best friend, let me show you the meaning of unconditional love.
I am a very handsome, smart and obedient Labrador Retriever / Pointer mix. I am just 7 years old and very healthy. I have been neutered, fully vaccinated and micro-chipped. I weigh 50 pounds. I am also crate trained and perfectly house broken.
I have a gorgeous smooth chocolate colored coat with cute spotted white chest and front paw. I am definitely one of nature's designer dogs. If you look closely, you will see that I actually have markings in the shape of the map of Italy on my chest.
My idea of the perfect day would be spent enjoying the great outdoors with my favorite human. I love going hiking and swimming. I love the fresh country air.
My owners love me so much. They adopted me from a shelter, and have been so great to me. I've had a great life with them, and they have given me lots of training and plenty of love and companionship. They are devastated to have to find me a good home.
Recently, they welcomed a new baby into our home. For some reason, the baby (and her nanny) cause me a lot of anxiety, and I bark at them all the time. They consulted with a dog behaviorist, and were told that it would be best to find me an adults only home, where I won't be around babies and small children.
The perfect home for me would be in a rural setting. I feel so calm and happy when I am not distracted by all the noise and strangers coming and going in the city. I would so love to find one or two adults who will cherish me, take me on my beloved hikes, and keep me safe, happy and healthy.
I am a really good dog and deserve a good home. I love snuggling, and I am good with cats and other dogs (as long as they like me). I would make a great ranch or farm hand, and will definitely do my part as canine security.
Please offer me a safe, happy and healthy home today. I can't wait to show you what a great boy I am.
Love and licks,
Charlie
If you would like to consider offering Charlie a loving, forever home, please fill out our Request To Meet A Pet form here:
http://petrehoming.net/adopt-a-pet/
Once received, we will contact you to discuss your request and set up a mutually convenient time to meet Charlie and their owner in their home.
There is a $75 adoption/rehoming fee. All supplies will be included.
---
More About Charlie
Location: Redwood City, CA, 94061
Type of Pet: Dog
Breed: Lab/pointer
Age: 7
Color/Coat Type: Brown
Size: 50
Health Issues: No
Behavior Issues: Anxiety around babies and small children.
Charlie is:
Neutered, Microchipped, Fully vaccinated, House Broken, Leash Trained, Obedience Trained
Charlie gets along with:
Adults Only, Dogs, Cats, Horses
Personality
Loyal, intelligent, loves the outdoors, active, loves to cuddle.
Reason For Rehoming
We recently had baby and he won't tolerate our baby or the nanny with the baby. Barks constantly at them.