Cockapoo for Adoption in San Antonio Texas – Meet Gorgeous Gus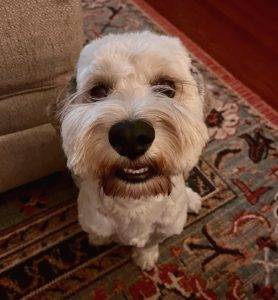 Looking for a Cockapoo dog for adoption in San Antonio, TX? Meet Gus, a pre-loved Cockapoo dog who is looking for a new home. This 1.5-year-old male dog weighs 22 pounds and is full of amazing qualities that make him an ideal companion.
Gus has a smile that can light up a room and he's very affectionate, always ready to cuddle up to his owner. He also loves to fetch and his owners love to watch him play.
When he's napping in his kennel, he puts one or both of his back feet up, which is just too adorable.
Gus's owners are sad to have to rehome their beloved dog, but unforeseen circumstances have made it necessary. They are hoping to find a loving home for Gus, where he will be safe, happy, healthy, and well-cared-for.
If you have room in your heart and home for this deserving dog, please consider giving Gus a forever home. He can't wait to show you the true meaning of unconditional love.
Read on to learn how you can offer Gus his forever home!
---
Meet Gus | About Gus | Personality | Why Rehoming? | Location | Adopter Requirements | How to Adopt
---
Meet Gus – Pre-Loved Cockapoo dog For Adoption by Owner in San Antonio TX
Gus is a Male Cockapoo dog for adoption to a very loving home in or near San Antonio, TX. This very special dog is 1.5 old and weighs 22.
5 Amazing Things About Gus:
The smile
The affection
The joy I see when he's fetching
The way he puts a back foot up (or both) when he's napping in his kennel
His happiness to see me is always 100%
Gus's owners are very sad to have to rehome their cherished dog, but circumstances beyond their control have made rehoming a must-do.
Gus's owners are hoping to find the right home for their cherished dog, where this deserving dog will be loved unconditionally and kept safe, happy, healthy and well-cared-for.
If you have room in your heart and home for this deserving Cockapoo dog, then please offer Gus a loving, forever home today. Gus can't wait to show you the true meaning of unconditional love.
---
How To Adopt Gus
Please fill out our online meeting request form via the button below. Once your application is received and reviewed, our staff will ask the pets owner to reach out to you and arrange a meeting.
[vcex_button url="https://pet-net.net/adopt-a-pet/" rel="nofollow" layout="block" align="center" font_padding="top:15|bottom:15″ font_size="d:18px|tl:18px|tp:18px|pl:16px|pp:16px" font_weight="semibold"]Request to Adopt Gus Here[/vcex_button]
There is a $300.00 adoption/rehoming fee. Supplies and veterinary records will be included.
Questions about Gus?
Contact our San Antonio dog rehoming team today. You can email us via [email protected] and a member of our rehoming team will respond ASAP. We look forward to hearing from you!
---
All About Gus – Cockapoo dog For Adoption in San Antonio TX
Name of Pet: Gus
Location: San Antonio, TX, 78249
Type of Pet: dog
Breed of Pet: Cockapoo
Sex of Pet: Male
Age of Pet: 1.5
Spayed/Neutered?: Yes
Health Problems: No
Behavior Issues: No
Up To Date on Vaccinations: Yes
Gets along with cats: Unknown
Gets along with dogs: Unknown
Good with Children?: Good With Children aged 8 and up
House Broken or Litter Trained?: Yes
Crate Trained?: Yes
Accessories Included: He has a crate he sleeps in; a couple bowls, a water dish/jug combo. Some balls and toys.
Gus's Personality
Gus is a smiley dog. He's super affectionate; wants to be with you always. He loves to fetch and I mean he LOVES it. He's young so he has lots of energy. He chases anything but loves his ball. He loves to play. I would describe him as energetic, not a lazy or sleepy bone in him but again, he's young. Very curious and enthusiastic.
I don't think he has behavior problems? But he has bitten my 4 year old son twice. My son has ADHD and is very impulsive, loud, and often doesn't take direction. He has intensely provoked the dog even though he wasn't trying to. My son is super high energy, loud, and all over. He makes me nervous! We would NOT be rehoming Gus if my son was able to behave properly with the family pet.
Gus's Favorite Toys, Foods, Activities?
Fetching, chasing the ball
Loves to chew up soft dog toys lol
Eats royal canin
Like chew sticks a lot
Cute Gus Story:
My favorite times with Gus are throwing his ball for him. I love watching him run and jump, he's pretty athletic. Sometimes it's hilarious. He brings that ball back and hands it to you. If you don't pay him attention, he'll come put the ball in your lap or even use his mouth to toss it your way. It's great. And he loves to cuddle between throws.
Why is Gus Being Rehomed?
Because my four year old son is not able to behave appropriately with a pet yet and Gus has bitten him twice in response to being provoked. I don't blame Gus but it's not the right time for us to have a dog.
Gus's Perfect Adoptive Home Will Be:
Just someone/a family who will love Gus's energy and throw the ball for him. Take him for walks. Keep him safe. LIVE INDOORS. Get cuddled daily.
---
Gus – Cockapoo dog For Rehoming in San Antonio TX
Gus is a Cockapoo dog for private adoption by owner in San Antonio TX. Gus is located close to the following towns and cities in TX, and can be adopted from anywhere within a reasonable distance.
San Antonio
Kirby TX,
Leon Valley TX,
Converse TX,
Live Oak TX,
Universal City TX,
Schertz TX,
New Braunfels TX,
Pleasanton TX,
Seguin TX,
Canyon Lake TX,
Hondo TX,
San Marcos TX,
Kyle TX,
Kerrville TX,
Lockhart TX,
Adopt this deserving Cockapoo dog in San Antonio TX today.