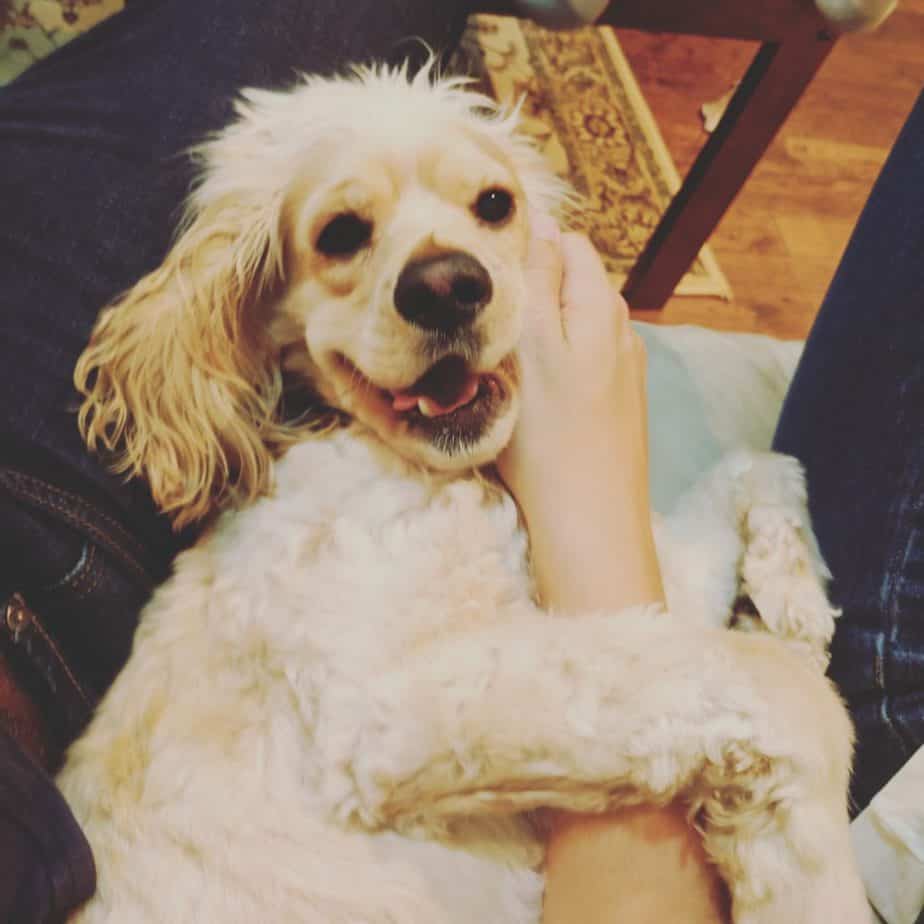 Meet Frankie, Cockapoo Dog For Adoption in Toronto ON
If you have been looking for a Cockapoo for adoption, Frankie is waiting to meet you in Toronto, Ontario, Canada.
Frankie is young and healthy. He is a handsome male dog with an apricot colored coat and big, beautiful brown eyes. He looks very much like a purebred Cocker Spaniel, although he is most definitely a mix of Cocker Spaniel and Poodle.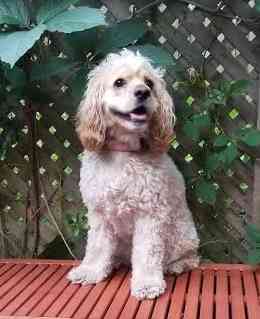 Frankie is looking for a very special forever home. He needs to be an only pet in an adults-only home. Frankie as about the sweetest dog you will ever meet, but he has some quirks that make him unsuitable for many situations. Frankie came from a rescue, and his owners were not informed that he has some behaviors that can be triggered in certain situations.
In a quiet home with a very strong routine, and with an owner who understands dog behavior, these issues should not be a problem. He has some fear aggression around children and other dogs.
He also has some food aggression, which just means he may nip if you try to take something away from him. Other than these issues, Frankie is the ultimate lap dog. He's smart, sweet and a wonderful companion.
If you have the right situation for Frankie, and would like to offer him his forever home, please reach out to us by filling out our request to meet a pet form below. We look forward to hearing from you.
[button link="https://pet-net.net/adopt-a-pet" size="large" variation="purple" align="center"]Request to Adopt Frankie Here[/button]
There is a $150 adoption/rehoming fee. Supplies and veterinary records will be included.
[one_half]
♥ Name of Pet: Frankie
♥ Location: Toronto, ON, M6S 3L6
♥ Type of Pet: Dog
♥ Breed of Pet: Cockapoo
♥ Color / Coat Type: Oatmeal/ blonde, we keep his coat relatively short
♥ Age of Pet: 3 years
♥ Size of Pet:10 -15 pounds
[/one_half]
[one_half_last]
♥ Health Problems: No
♥ Behavior Issues: Yes
We adopted him from a rescue. We were told that he bit a child at his previous home. We were told it was probably the child who was acting out of turn. In the year and a half we have had him we have experienced the following regarding his behaviour:
– he does not like to be pet by people he does not know
– it takes him time to warm up but once he knows you're his people he will cuddle up to you, ask for belly rubs, give you kisses, lick your hands..etc
– we had success keeping him with people using rover.com twice and then unfortunately on our third time, he bit the person who was looking after him.
– so generally speaking he trusts only my partner and I
– he does not respond well to change, if he is brought to a cottage for example he may regress and show signs of possessive aggressiveness as a result of being moved around ( we took away his bed for this reason, he bit my fiance while he moved his bed when we were at a cottage, he sleeps on a chair/ on the couch at our house now)
– this is not a bad dog by any stretch he just needs a very experienced owner, who doesn't have a lot of people coming and going and who most definitely will not have children in the home or when they do, Frankie will be crated.
♥ Gets along with:
♥ Pet is: Neutered, Fully vaccinated, House Broken, Leash Trained, Obedience Trained
♥ Food: Other
He eats twice a day, once in the morning an once at night. We feed him performatrin the pet valu brand of dog food, the small bite one for smaller dogs.
[/one_half_last]
---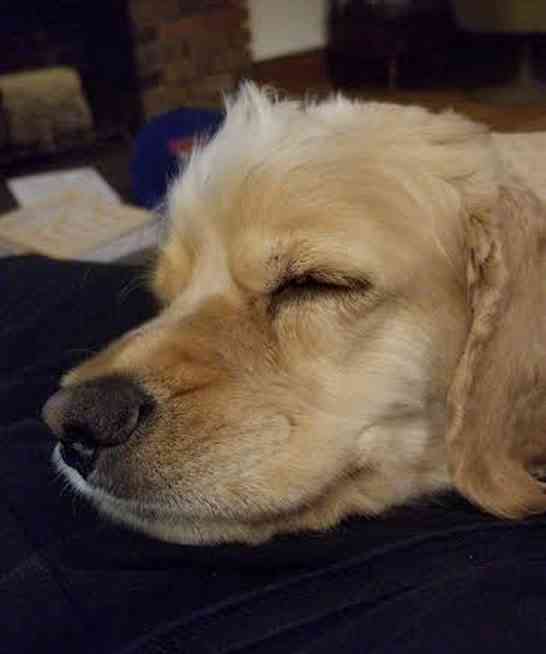 All About Frankie – Cockapoo Dog For Adoption in Toronto ON
[tabs_button][tab title="All About Frankie"]
There is a $150 adoption/rehoming fee. Some supplies and veterinary records will be included.
Questions about Frankie?? Contact our Toronto dog rehoming team. Text "Frankie" to (888) 833-2128 or email [email protected]
[/tab]
[tab title="Personality"]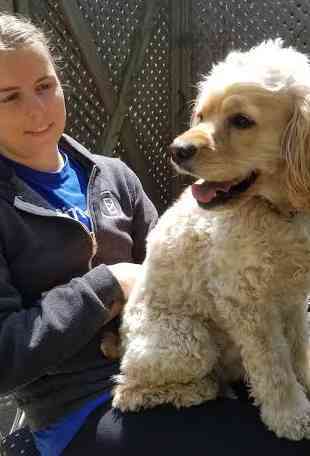 Frankie's Personality
Frankie is the kind of dog who can be sweet as pie and other times the complete opposite. At his core, he just wants to be with his people, sitting quietly on a couch snuggled up.
He does not like kids especially when they run towards him or are coming towards him on a scooter. He likes his walks and loves playing fetch. He likes to chase squirrels and play with his squeaky toys.
He is incredibly smart, and did well with some search and agility exercises we did with him. He would do very well at an intermediate agility course. Much of our time is focused on his triggers and how not to expose him to them, we cross the street if kids are coming towards us, we keep a safe distance with other dogs because he doesn't seem to like a lot of them , especially if they try to sniff his butt.
That being said I've seen him many times go into the play bow with other dogs and get along well with them. It all depends on the dog. He loves his belly rubs and treats – he is very food motivated.
In the right situation theres no reason Frankie wouldn't be a fantastic companion. I don't want anyone to be given the little information we were given by the rescue where we got him and feel misled, so we are being as honest as possible, in hopes that we will find his perfect forever home.
He deserves a forever home and his best chance at that is an owner who will love Frankie unconditionally, fully aware of his quirks. It's important to me that the future owners know his history and specifics about his temperament so that this doesn't happen again.
[/tab]
[tab title="Reason For Rehoming"]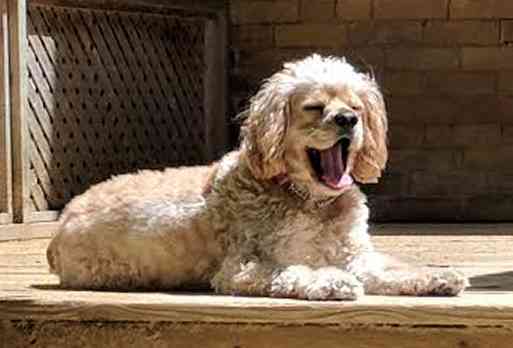 Why is Frankie Being Rehomed?
We have cared for him, taken him to two trainers over the past year and a half to try and support him and his behavior issues. While he finally started seeing us as 'pack leaders' listening to us more, we still can't take anything out of his mouth for fear of being bitten.
We are getting married and are considering having children and know that we do not feel safe having him around kids. We naively thought getting a trainer or two would be enough support for him but that's just not the case, he needs to be in a home that can better care for him and his needs because managing him has become very difficult for us.
[/tab]
[tab title="Adopt Frankie"]
How To Adopt Frankie
If you are interested in adopting this special Cockapoo For Adoption in Toronto Ontario, please fill out our online meeting request here. Once received and reviewed, our staff will ask the pets owner to reach out to you and arrange a meeting.
[/tab]
[tab title="Location"]
Frankie – Cockapoo Dog For Adoption in Toronto ON
Frankie is a Cockapoo Dog for rehoming in Toronto, ON. He is located near the following towns and cities:
Adopt this Cockapoo Dog today.
[/tab]
[/tabs_button]