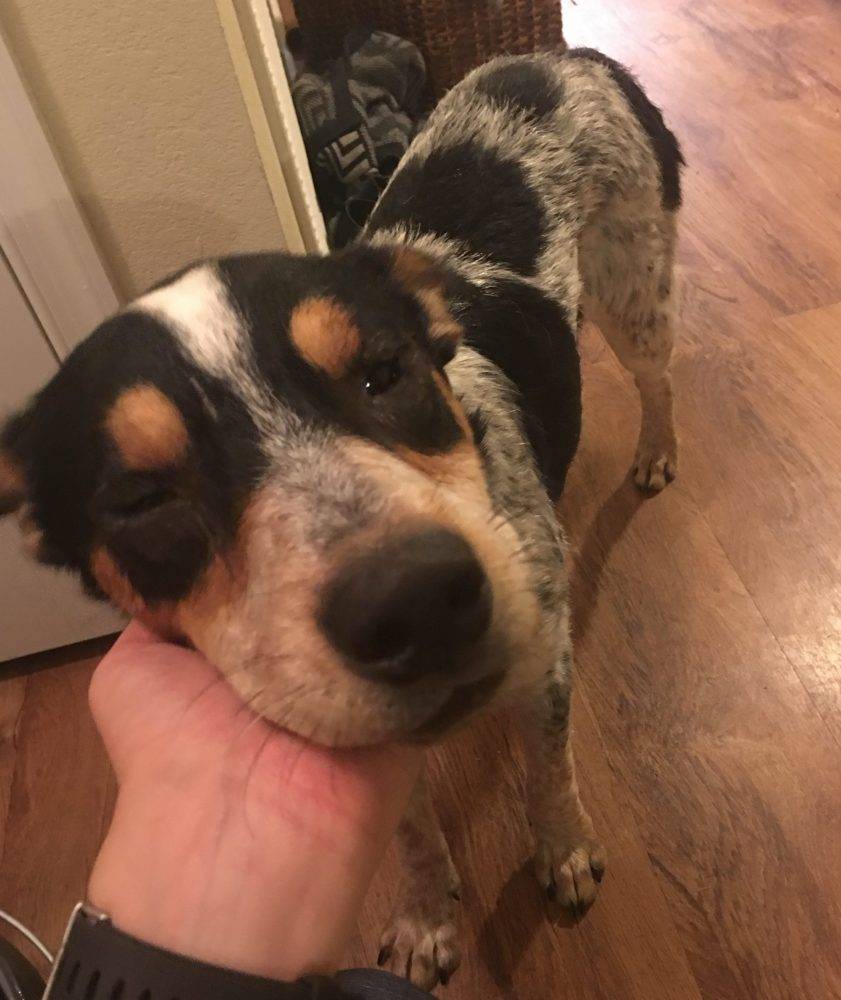 Meet Beau – Gorgeous 1 Year Old Male Blue Heeler Puppy For Adoption in Corpus Christi TEXAS
[button link="https://pet-net.net/adopt-a-pet/" size="large" variation="hotpink" align="center"]Request to Meet Beau Here![/button]
There is a $100 adoption/rehoming fee. Supplies and vet records will be included.
Questions About Beau?? Text "Beau" to (888) 833-2128 or email [email protected]
Beau is pure sunshine in the form of an adorable 12 month old male ACD puppy! Despite a very rough start in life, Beau holds no grudges, and is quite possibly the most affectionate and devoted dog you will ever meet.
At just 12 months of age, 35 pound Beau is healthy, house broken and crate trained. He has had a good bit of obedience training, and is wonderful with people of all ages, from babies to seniors. Beau loves to hang out with other dogs.
He is a charming little fellow with so much love and companionship to offer.
Beau had a very rough start. He was found by his foster Mom, a tiny, bedraggled puppy struggling to survive huddled in a little ball on the highway, obviously abandoned. Risking life and limb, she ran across 4 lanes of traffic to rescue him, and has since been his guardian angel.
She loves Beau SO MUCH, but as a young, single woman with another dog, she simply cannot afford to care for Beau ongoing. She is also strapped for time, and wants him to have the family he deserves – people who will give him lots of love and attention.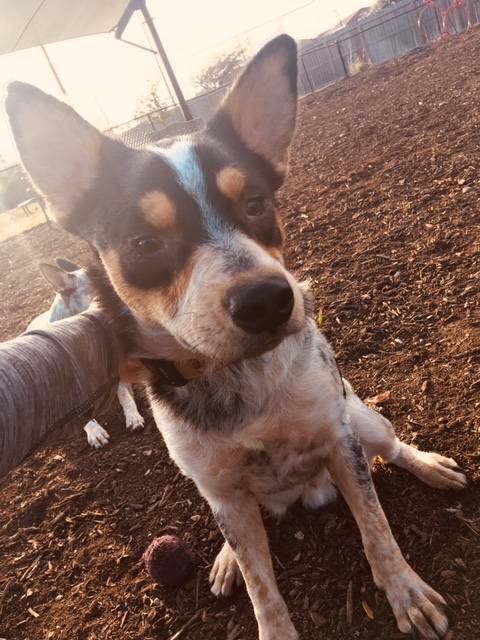 Beau is the kind of dog that would fit into so many situations;
He would make an AWESOME emotional support or therapy dog – his kindness is infectious!
He would be a great dog for a family looking for a wonderful canine companion.
He would be an ideal companion for seniors.
He would thrive on a ranch or farm where he could practice his Cattle Dog skills.
If you have been looking for a great dog, Beau is waiting to meet you. Adopt Beau today!
---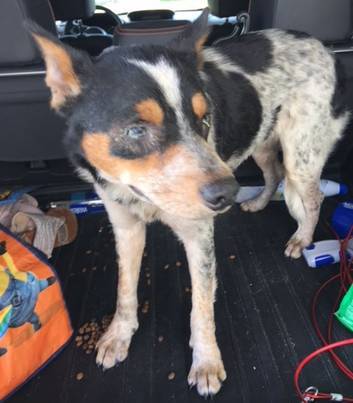 All About Beau – Blue Heeler Puppy For Adoption in Corpus Christi TEXAS
Location: Corpus Christi, TEXAS, 78414
Type of Pet: Dog
Breed: Blue Heeler
Age: 1 yo
Color/Coat Type: Merle gray, black spots with black mask
Size: 35 lbs
Health Issues: None currently known
Behavior Issues: None! He's an amazing dog!
Beau is:
House Broken, Leash Trained, Obedience Trained
Beau gets along with:
Babies, Toddlers, Small Children, Older Children, Dogs, Small Animals, Strangers
Personality
He is so kind and cuddly and sweet. He only barks when he wants to play outside and chase after his friend, Daisy. Beau has learned to sit, potty outside, and how to walk on a leash.
He is a little timid sometimes in new situations but all he needs is his owner to hold him, love on him and pet him and show him it's okay and then he relaxes completely.
He may need a few days to warm up to any new surroundings – it took him a few days to warm up to my place as well. When I first got him, he didn't know how to walk on a leash. He now is leash trained but hasn't been many places outside of my apartment complex. I will work on this with him so that he gets comfortable in new areas.
Having another dog really helped him so much because it shows him what is okay, and that he shouldn't be afraid. He isn't the type of dog that gets aggressive when scared- he will just try find safety. He walks by my side without a leash.
If he ever does get scared he will run just back to my apartment door where he knows it's safe. But he doesn't run away. He follows you. And if not he's going back to where he knows he is safe. Honestly, he is one of the easiest dogs I have ever known.
He will take some time to establish a potty routine but Once you get him on that in his new environment he will be perfectly fine. He loves bones and food. He doesn't quite get the tennis ball. But he loves to run after other dogs. He comes when called. Although he is potty trained, he is still a puppy, so he may (rarely) have an accident if it's been a little too long.
Any accidents he's had recently I take full responsibility for because I gave him water and under estimated that he needed to potty. His accidents are few and far in between. To let you know he needs to potty he will sit by the door. He is a wonderful dog and companion. He just sleeps all day.
He's such a good boy! He hasn't been around children but I am almost 100% positive he'd make a wonderful life long companion for a family with young children. He's so sweet and low maintenance.
Food and Diet
Beau is currently on Other
Beau wakes up each morning to potty at 6:30 am. He is currently on Rachel ray nutrish chicken and brown rice recipe.
He potty's at the dog park outside at 6:30-7 and will be fine throughout the day.
I do not feed him all day. I feed him and give him a big bowl of water in the morning and then again at night around 5-6 when I get home. We go to the dog park for about 30-1hr when we get home to play.
I give him food and water after the dog park. During the day dog stays in my living room with Daisy, and sleeps. Sometimes his eye still waters, and I have the name of the eye drop solution which can be purchased online on amazon for $11.
I occasionally will put this in his eye when I notice he's squinting a little bit from the ulcer he previously had. Beau is not neutered, he has not been updated on shots or tested for heartworms. He is on flea and tick preventitive.
I wish I could do more for him but unfortunately I don't have the money which is the main reason why I am rehoming him. 🙁 he seems extremely healthy, so I am hopeful that he does not have heart worms. However, only tests can tell.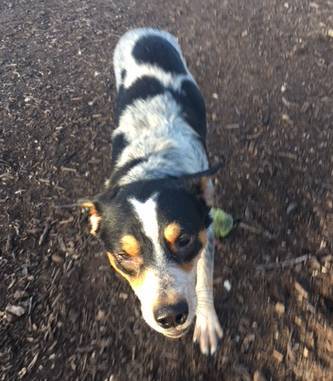 Reason For Rehoming
I rescued beau when I found him curled up underneath the high way around the beginning of December. When I found him he was in such shock he wasn't even moving. People had thrown food at him and he didn't even attempt to touch it.
I ran across four lanes of traffic to see if he was okay – he had two major infections in both of his eyes so badly that he couldn't see from all of the pus.
I thought he was going to die. He wasn't even moving. I pet him and immediately he just peed. I like to think of it as a sign of releif. He was the sweetest boy and within a few minutes he let me hold him in my arms and slowly take him to safety in my car.
As soon as I saw beau I knew he was special. He was so cuddly and sweet. At the vets office (first time) he didn't even flinch as the vet examined him, or when I picked him up in my arms. He just allowed us to care for him and he still is this way today.
I had no idea how he could've ended up where he was but I had to help him. After trying to take him to a no kill animal shelter, and being turned away, I took matters into my own hands and took him to my personal vet. Beau was treated for intestinal worms and parasites and for the infections in his eye.
After his first few nights at home with me, beau just slept in relief that he was finally somewhere safe. He would curl up in a ball and slowly as he regained strength he would start to follow me around unwrapping his personality layer by layer and becoming the sweet and amazing pup he is today.
I have another blue heeler named Daisy, and the first time I ever saw beau wag his tail was when he met her. He loves other animals. To say he is a loving dog is an under statement. As a young woman, I can't afford to have more than one dog, and as much as it breaks my heart because I don't want him to be confused and not to understand..
I know I need to find beau a home that will be able to care for him with no questions asked, showering him with love, treats, cuddles, and bones. I need a family to give him the life he's so deserving of.
This boy is a companion for life, and any family that gets the sweet puppy needs to be kind, compassionate, Adventurous, and most importantly, loving.
Because his favorite thing in the world is to just be hugged by you. Beau was rough around the edges when he first entered into our lives, but just in a short month he has learned how to walk on a leash and how to be potty trained.
His favorite things in the world include bones, treats, friends at the dog park, and snuggles. He also likes to play.tug of war with Daisy. He's goofy when he runs, and likes to pretend to heard like a real good boy!
I know he will make an amazing companion for someone who needs love and I hope he can gift you with that…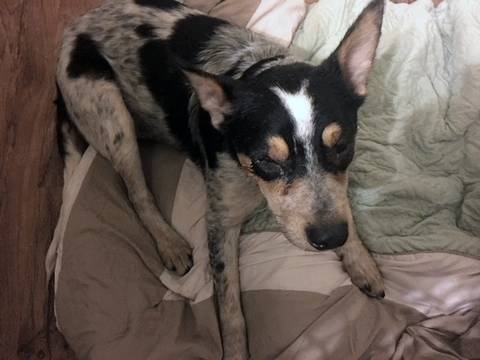 How to Adopt Beau – Awesome Young Male Australian Cattle Dog in Corpus Christi Texas
If you would like to consider offering Beau a loving, forever home, please fill out our Request To Meet A Pet form here:
https://pet-net.net/adopt-a-pet/
Once received, we will contact you to discuss your request and set up a mutually convenient time to meet Beau and his owner.
[button link="https://pet-net.net/adopt-a-pet/" size="large" variation="hotpink" align="center"]Request to Meet Beau Here![/button]
There is a $100 adoption/rehoming fee. Supplies and vet records will be included.
Questions About Beau?? Text "Beau" to (888) 833-2128 or email [email protected]
Beau is a Blue Heeler Dog For Adoption in Corpus Christi TEXAS. He is located within a reasonable distance of the following towns and cities in Texas:
Austin, TX
San Antonio, TX
Houston, TX
Portland, TX
Ingleside, TX
Robstown, TX
Aransas Pass, TX
Rockport, TX
Kingsville, TX
Alice, TX
Beeville, TX
Port Lavaca, TX
Victoria, TX
Raymondville, TX
Pleasanton, TX
Harlingen, TX
Edinburg, TX
San Benito, TX
North Beach, TX
Nueces, TX
Flour Bluff Junction, TX
Nueces Bayfront Colonia, TX
Nueces Bay Colonia, TX
Doyle, TX
Doyle Addition Colonia, TX
Portland, TX
Crescent Center, TX
Viola, TX
McNorton, TX
Clarkwood, TX
Peary Place, TX
Gregory, TX
Arlington Heights, TX
Ingleside On-the-Bay, TX
Caruthers Cove Colonia, TX
Adopt this handsome young Blue Heeler dog today.