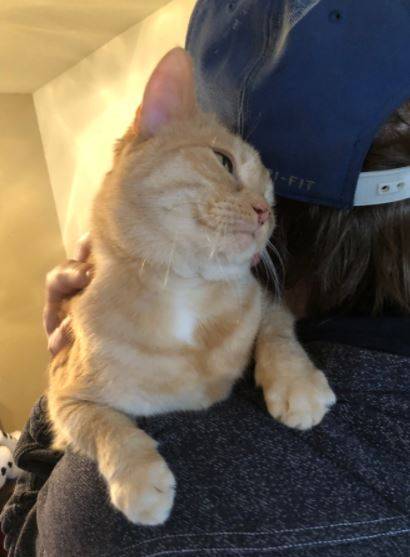 Meet Cinnamon – Orange Tabby Cat For Adoption in Nashville TN
Cinnamon is a very special 4 to 5 year old female orange tabby cat left behind by her family when they moved from an apartment. Her foster owner found her abandoned, and is hoping to find her a loving home. She appears to be in very good health, and has a very sweet, laid back personality.
As much as she would love to keep her, Cinnamon's foster already has two cats of her own, and just cannot manage three.
Cinnamon is good with children and adults, and will make a wonderful companion for a family hoping to adopt a cat. Please offer her the loving home she needs and deserves today.
There is a $25 adoption/rehoming fee.
Questions About Cinnamon?? Text "Interested In Cinnamon" to (213) 297-7446 or email [email protected]
---
Location: Nashville, TN, 37221
Type of Pet: Cat
Breed: Domestic shorthair tabby
Age: 4 or 5
Color/Coat Type: Orange and white
Size: 7-10lbs
Health Issues: No
Behavior Issues: No
Cinnamon is:
Spayed, Litter Trained
Cinnamon gets along with:
Older Children, Adults
Personality
She is the sweetest, most loving little chatterbox. She's very affectionate and gentle. She loves to be loved on and will give you a hug if you pick her up! She isn't needy at all. She just loves being around people. She is a little afraid of small children but would never harm anyone. She deserves a loving home that will love on her too!
Food and Diet
Cinnamon is currently on Other
I'm honestly not sure :(.
Reason For Rehoming
She was left behind in her owners apartment when they moved. I'd take her in an absolute heartbeat if I didn't already have two cats of my own.
Questions About Cinnamon?? Text "Interested In Cinnamon" to (213) 297-7446 or email [email protected]