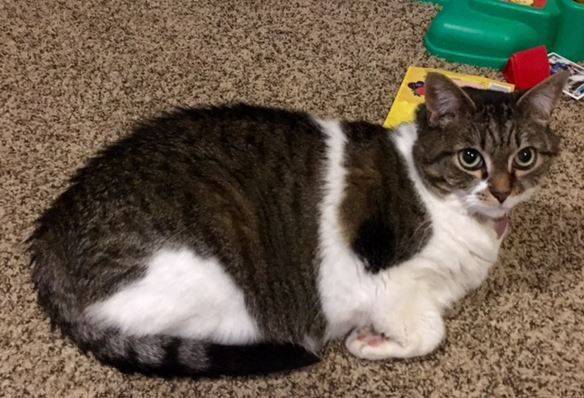 Emjay the LOVE Cat Needs a New Home Due to Cat Allergies – All Supplies Included – Kenmore WA
Hi, My name is Emjay!
Are  you looking for a LOVE cat? A gorgeous kitty that does not scratch or bite? A furry friend who loves to cuddle and snuggle? I would love to apply for the position of lap cat in your home!
I am a beautiful tabby and white domestic shorthair cat with gorgeous green eyes and the most wonderful purr you have ever experienced. I am only 7 years old and very healthy. I have been spayed, am up to date on my shots, and very healthy. I am well behaved, purrfectly litter trained, and ready to love. I live with my family in Kenmore, WA, north of Seattle.
Emjay, along with her sister cat Irwin, is being rehomed by her owners, who are heartbroken to have to make this very difficult decision. Unfortunately their two small children have been diagnosed with severe cat allergies.
The family is hoping to find a very loving home for Emjay and Ernie – ideally together, but they can also be adopted separately.
The ideal home will be a family with older children, adults or a single with lots of time to spend with these very loving, people-oriented cats.
All supplies will be included – food, dishes, litter boxes and treats. All you have to add is lots of love and a safe, happy environment for these precious pussycats.
If you would like to meet Emjay and Ernie, please fill out our online information form and the owners will call you to arrange a mutually convenient time to meet.
[button link="http://petrehoming.net/adopt-a-pet/" size="large" variation="hotpink" align="center"]Request to Meet Emjay Here![/button]
Rehoming fee waived for the right adopters. All supplies will be included.
---
All About Emjay
[one_half]
Name of Pet:
Emjay
Location:
Kenmore, WA, 98028
Type of Pet:
Cat
Breed of Pet:
American Short Hair
Sex of Pet:
Female[/one_half] [one_half_last]
Age of Pet: 7 years
Spayed/Neutered?: Yes
Health Problems: No
Up To Date on Vaccinations: Yes
Gets along with cats: Yes
Gets along with dogs: No
Good with Children?: Yes
House Broken or Litter Trained?: Yes
Crate Trained?:
Accessories Included: We will send Emjay with a full bag of her favorite daily dry food as well as some of her wet food. We will also send her food and water bowls and can send a little box as well.
[/one_half_last]
Emjay's Personality
She is very cuddly
She is friendly with most people
She does not scratch or bite
Emjay's Current Home Environment
We are a busy family of 4 with two small children (3 and 1). There are lots of toys and action going on all the time, although I believe the kitty's enjoyed our home more before the children came when it was calmer. We work during the week and the children are at school, so the kitty's are alone most of the day.
Emjay's Current Family:
See above. 2 adults, 2 little kids. We are busy and don't often have time to snuggle with the kitties anymore. Our children have both being diagnosed with cat allergies and we have not been able to keep up with keeping the house clean enough from the cat hair to keep them allergy free.
Emjay's Favorite Toys, Foods, Activities?
Emjay loves to snuggle. She would do it all day if she could. She loves a "treat" of wet food every day, but eats dry food (Pro Vita) daily. She tends to like balls as her favorite toy, but doesn't play with them that much (she also likes random things that fall to the floor, like bread ties and rubber bands).
Cute Emjay Story:
Emjay is a typical kitty. She is loving and sweet.
Why is Emjay Being Rehomed?
Our small children both have cat allergies that we have not been able to keep under control. Additionally it has been difficult to provide the love and attention our kitties deserve with two small children in the house and being working parents.
Emjay's Perfect Adoptive Home Will Be:
Ideally Emjay can be placed in a home with her "sister" kitty, Erwin. I believe that she would do best in a home with a single adult or couple rather than a family with children (although Emjay would likely do fine with older children in the home). She would do best in a home where she can get lots of cuddles and attention. She is a lap kitty and will jump right on when once she is comfortable with a person.
Additional Comments:
We are hoping to have both our kitties placed together in the same home, however if necessary they would do okay if they are separated. We would like to be able to check in with their new home for a little while after they are placed, but do not need to have long term contact.
Request to Meet Emjay Here
Request to Meet A Pet
To request an opportunity to meet a pet showcased on our website, please fill out the form below. Once we receive your request, our rehoming coordinator will contact you.

Please provide as much information as possible. This form is not intended to be intrusive, but ensures the safety and peace of mind of our families, who are inviting potential adopters into their homes. Thank you for your understanding. Should you and the pet's owner mutually agree to proceed with an adoption, there will be a rehoming fee required as listed on the pet's profile. This fee will be due and payable to Find My Pet A Home before this pet is transferred to your care.