German Shepherd Mix For Adoption in Rogers AR – Supplies Included – Adopt Tundra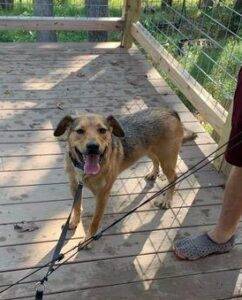 German Shepherd Mix Dog for Adoption in Rogers, AR
Looking for a German Shepherd Mix Dog to adopt in Rogers, AR? Just 4 years years old and weighing 47 lbs, Tundra has been fixed, fully vaccinated, and microchipped, and is good with babies and small children, older children, and new people.
Tundra is an amazing dog. He absolutely loves being around his people and making you laugh with his goofy smile. Tundra is still a puppy at heart and has lots of energy, so watch out for his "zoomies!" He has mastered some basic commands, but Tundra is incredibly treat motivated, so he will enjoy furthering his obedience training when yummy snacks are on hand. This handsome boy is great with people of all ages, but he doesn't care for other animals. For this reason, Tundra will want to be the only pet in his new home. Tundra has lots of love to give and can't wait to cuddle and kiss you – will you become this goofy guy's BFF?
Tundra's owners are very sad to have to rehome their cherished Dog. They are hoping to find a new home for Tundra where this special Dog will be cherished and kept safe, happy, and healthy for life.
If you have room in your heart and home for Tundra, please complete our online meeting request form. Once received, our Rogers Dog Rehoming team will make arrangements for you to meet Tundra and his owners. Adopt Tundra today!
There is a $150.00 adoption processing fee. Supplies, accessories, and veterinary records will be included.
Adopt Tundra by Deborah Moore
How To Adopt Tundra
If you are interested in adopting this special German Shepherd Mix in Rogers AR, please fill out our online meeting request below. Once received and reviewed, our staff will ask the pets owner to reach out to you and arrange a meeting.
Questions about adopting Tundra?
Text TundraRogers to (888) 833-2128. We look forward to hearing from you!
---
All About Tundra – German Shepherd Mix Dog For Adoption in Rogers AR
♥ Name of Pet: Tundra
♥ Location: Rogers, AR, 72756
♥ Type of Pet: Dog
♥ Breed of Pet: German Shepherd Mix
♥ Color / Coat Type: Mostly tan and a little black
♥ Age of Pet: 4 years
♥ Size of Pet: 47 lbs
♥ Health Problems: No
♥ Behavior Issues: Yes – He's one of the sweetest dogs normally, but he attacks my daughter's rescued dog every chance he gets. He needs to be the only pet in the family.
♥ Gets along with: Babies and small children, older children, new people.
♥ Pet is: Fixed, fully vaccinated, microchipped
♥ Food: Other – food from Tractor Supply.
Tundra – German Shepherd Mix Dog For Adoption in Rogers AR
---
Tundra's Personality
Tundra is so affectionate and loving! He even smiles! He wants nothing more than spending time with his human (by himself). He still acts like a puppy sometimes, like wrestling with a blanket, and running full speed around the yard. We have a wireless fence to keep the dogs in our yard so I'm not sure if he would go outside the yard. Truthfully, the logistics of our situation don't allow for much training: he knows how to sit…when HE wants to…and if there is a treat involved. He is VERY smart and he would make someone an awesome pet, as long as he is the only pet in the home. He's great with people, just not other animals.
Why is Tundra Being Rehomed?
Tundra can be other dog aggressive (but only with my daughter's dog Chow) and he is cat aggressive. We moved to the lake with our daughter and my brother and now have 3 other dogs for a total of 4 dogs and 1 cat. We try to keep them separate (Chow and Tundra) but it's very difficult and we're sure Tundra will hurt him.
Nearby Locations
Tundra is located in Rogers, AR, close to the following towns and cities:
Bentonville AR,
Springdale AR,
Bella Vista AR,
Fayetteville AR,
Siloam Springs AR,
Neosho MO,
Tahlequah OK,
Joplin MO,
Miami OK,
Carthage MO,
Webb City MO,
Van Buren AR,
Republic MO,
Nixa MO,
Fort Smith AR.
Thank you for your interest in this deserving German Shepherd Mix Dog for Adoption in AR.