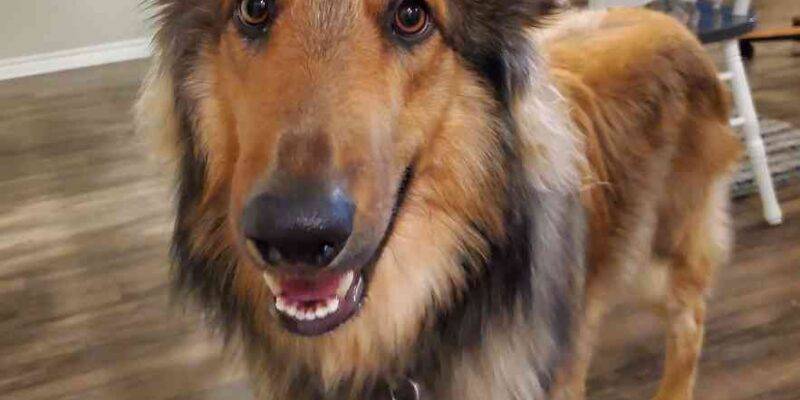 German Shepherd Collie Mix Dog For Adoption in Killeen Texas – Adopt Floki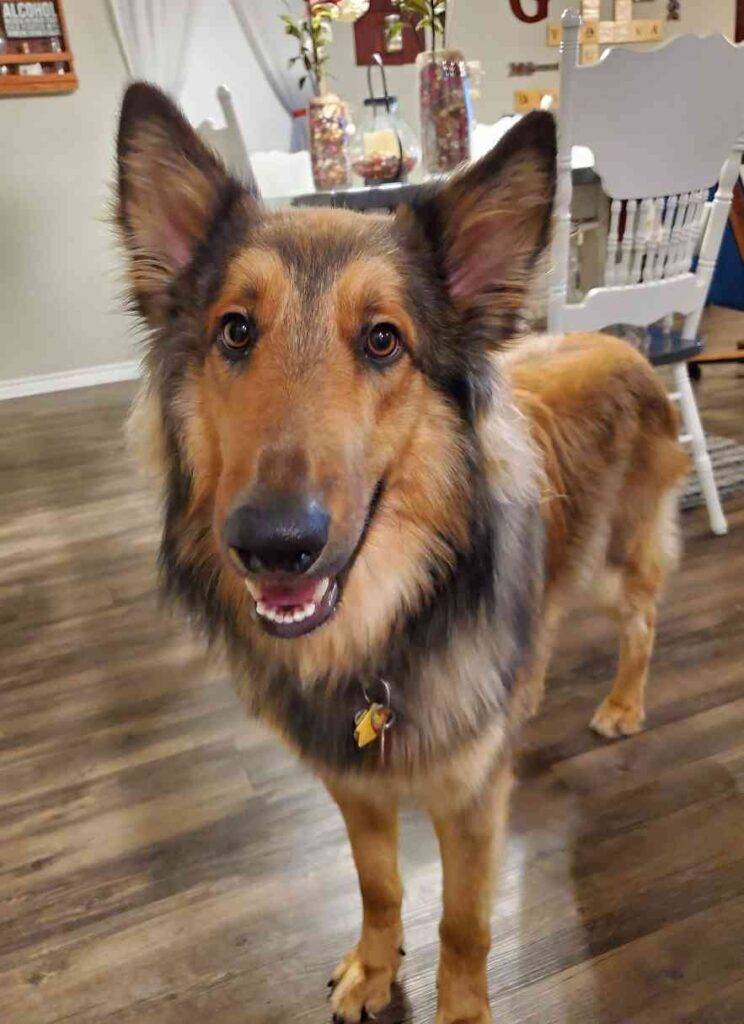 Wow! This beautiful boy is sure to turn heads at the dog park! Flokki is a very unique blend of German Shepherd and Collie for adoption in Killeen Texas.  This healthy dog has been fixed, fully vaccinated and micro-chipped. He is a good boy who loves playing fetch in the back yard and being everybody's best friend. He is being rehomed with all supplies and vet records, Adopt Flokki today.
Meet Flokki, German Shepherd Collie Mix Dog For Adoption in Killeen Texas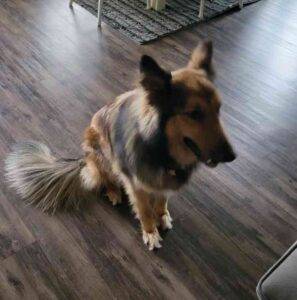 Have you been on the lookout for an amazing large-breed dog to adopt in Killeen Texas and vicinity? Pet Adoptions Network is pleased to present Flokki, a pre-loved German Shepherd Collie mix dog looking for his forever home. Flokki has been neutered, microchipped, Fully vaccinated and is ready to be your family's best friend.
Flokki's owners describe him as the ultimate love dog; affectionate, playful, loyal and obedient. He is also very handsome, and has the best qualities of both the Collie and the German Shepherd. He's like a combination of Lassie and Rin Tin Tin. Maybe he is even a Tik Tok or Instagram star-to-be.
Flokki's owners are facing very difficult times. His owner has become very ill, and as a result having to move close to where treatment is available. Unfortunately this means having to rehome their fur-babies. They are desperately hoping to find Flokki and Marley forever homes in which they will be cherished, loved unconditionally and given the care, playtime, exercise and nutrition they need to flourish in their new home(s).
Flokki will be rehomed with any supplies his owners have available for him. He would love to find a home with his best friend, Marley, but can also be adopted on his own. If you have room in your heart and home for this very deserving GSD Collie mix, please reach out and offer Flokki his forever home today. He can't wait to meet you.
How To Adopt Flokki
If you are interested in this special German Shepherd Collie Mix For Adoption in Killeen Texas, please fill out our online meeting request below. Once received and reviewed, our staff will ask the pets owner to reach out to you and arrange a meeting.
There is a $100 adoption/rehoming fee. Some supplies and veterinary records will be included.
Questions about Flokki ? Contact our Texas Dog rehoming team today.
Text "Flokki " to (888) 833-2128 or email [email protected]. We look forward to hearing from you.
---
All About Flokki – German Shepherd Collie Mix Dog For Adoption in Killeen Texas
♥ Name of Pet: Flokki
♥ Location: Killeen, Texas, 76549
♥ Type of Pet: Dog
♥ Breed of Pet: German Shepherd Collie Mix
♥ Color / Coat Type: Flokki tan and black.
♥ Age of Pet: Flokki 3 years Marley 5 years
♥ Size of Pet: Flokki 60 Marley 40
♥ Health Problems: No
♥ Behavior Issues: No
♥ Gets along with: Older Children, Adults
♥ Pet is: Spayed, Neutered, Microchipped, Fully vaccinated
♥ Food: Other
Purina one
Flokki 's Personality
Flokki is a big baby really lovable and playful. Marley is over protective lovable with people she knows and playful.
Our hearts are broken to giving them away to someone else but right now with my health issues and movie we can't take care them anymore.
Why is Flokki Being Rehomed?
We are moving. And I'm having health problems.
Flokki 's Perfect Adoptive Home Will Be:
Die hard dog lovers with the time, environment, financial ability and compassion to care for these deserving dogs. Owners would love to stay in touch, if that is something the new family's would be comfortable with.
---
---
Flokki – German Shepherd Collie Mix Dog For Adoption in Killeen Texas
Flokki is a German Shepherd Collie Mix Dog for rehoming in Killeen, Texas. He is located near the following towns and cities in Texas:
Harker Heights TX,
Copperas Cove TX,
Belton TX,
Gatesville TX,
Temple TX,
Georgetown TX,
Leander TX,
Hewitt TX,
Woodway TX,
Round Rock TX,
Taylor TX,
Cedar Park TX,
Robinson TX,
Waco TX,
Anderson Mill TX,
Adopt this German Shepherd Collie Mix Dog in Texas today.