ADOPTED | Golden Retriever For Adoption in Airdrie Alberta – Supplies Included – Adopt Sully

Sully is a very happy dog – like a ray of canine sunshine!
SULLY HAS FOUND A WONDERFUL NEW HOME. THANK YOU FOR YOUR INTEREST
Meet Sully – A Golden Retriever For Adoption in Airdrie, Alberta
Sully is a gorgeous Golden Retriever dog for adoption in Airdrie Alberta. Just 5 years old, Sully is in excellent health and has been neutered, fully vaccinated, and house broken. He is well behaved and has no behavior issues. Sully is good with other dogs and cats, as well as people of all ages and sizes. Everyone he meets is immediately considered his friend.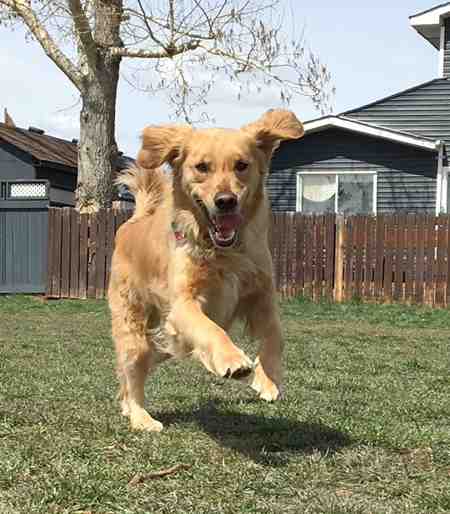 Sully is passionate about BALLS. He loves them and would gladly retrieve them all day and night if he could find someone to throw them for him. He has lots of energy, but is sensible about it. He loves to go to doggie daycare every day to burn off some of his energy chasing and running around with his dog friends. When he comes home, he is the perfect friend and companion.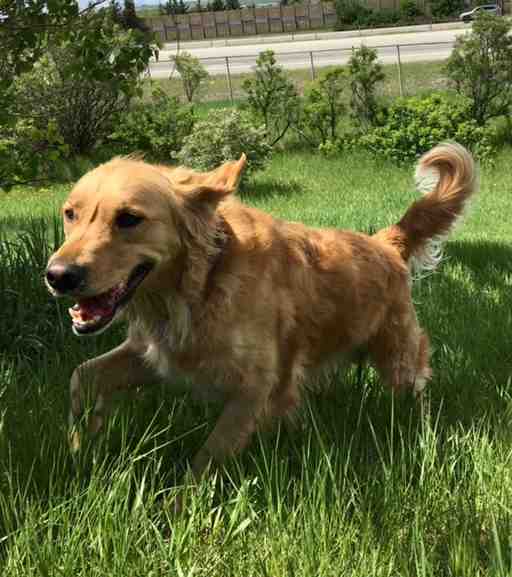 Sully's owner is devastated at having to rehome him. She is doing it for a very unselfish reason: she wants Sully to receive the time, attention and exercise that he needs and deserves. As a single Mom with a toddler, it is nearly impossible to provide Sully with what he needs to be happy and healthy.
She is dearly hoping to find Sully's perfect family – ideally, living on an acreage or ranch with some other great dogs to pal around with. He would be OK in a home with a large, securely fenced yard, providing that his family has lots of time to spend with Sully, and will commit to giving him lots of outdoor exercise, dog park visits, daily fetching and walks.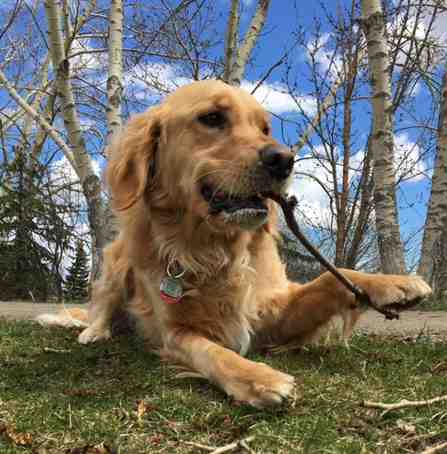 If you have room in your heart and home for this amazing Golden Retriever, please offer Sully his forever home today. He can't wait to show you the true meaning of unconditional love. Adopt Sully today.
How To Adopt Sully
If you are interested in adopting this special Golden Retriever for adoption in Airdrie, Alberta, please fill out our online meeting request form below. Once received and reviewed, our staff will ask the pets owner to reach out to you and arrange a meeting.
There is a $350 adoption/rehoming fee. Some supplies and veterinary records will be included.
Questions about Sully?  Text "SullyAB" to (888) 833-2128 
Facts About Sully
♥ Name of Pet: Sully
♥ Location: Airdrie, Alberta  T4B 0Z1
♥ Type of Pet: Dog
♥ Breed of Pet: Golden Retriever
♥ Color / Coat Type: Golden
♥ Age of Pet: 5
♥ Size of Pet: large
♥ Weight: 65
♥ Good with cats?: Yes
♥ Good with dogs?:Yes
♥ Good with small kids?:Yes
♥ Good with older kids?:
♥ Health Problems: No
♥ Behavior Issues: No
♥ Fixed: Yes
♥ Fully vaccinated: Yes
♥ House Broken: Yes
♥ Tattoed/Microchipped: Unknown
All About Sully
Sully's Personality
Very loving, gentle with children. Has lived with a cat before. Obedient. Does have high energy and barks lots in the backyard. Attends doggy daycare everyday so very well socialized. Would do great on an acreage or farm or with a family that has time to spend with him at the dog parks. Super friendly!
Amazing with children. Loves cuddles. Listens quite well. Gentle, loving, amazing dog….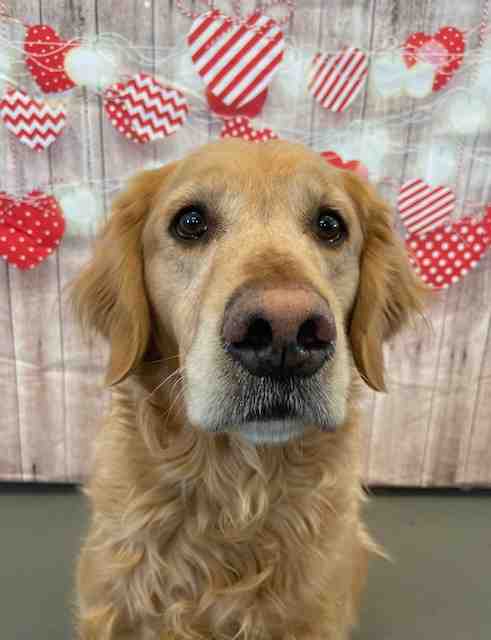 Sully's Favorite Toys, Foods, Activities?
Balls! Loves to run lots outdoors
Cute Sully Story:
When I brought my new baby home, he wouldn't leave her side for days. Wouldn't even go to doggy daycare (his fav place) when the van showed up to pick him up…He just laid beside her playpen for days
Why is Sully Being Rehomed?
Sadly as a single mom with a toddler, I don't find I have the time and attention anymore that he deserves. I got him as a puppy and he was my world; always out for walks and at the park together.
I had lots of time for cuddles and extra care at home. It was wonderful. However, I just find that I don't have the time and attention over the past 2 years to devote to him anymore. He deserves to be with a family who can have him as a focus.
He is such a loving, wonderful dog whom I'm going to miss incredibly, but, I'm being selfish keeping him. I'm not his best choice anymore and unfortunately,
I don't foresee that changing anytime soon. Lots of consideration has been given over the past year…I need to choose to do what's best for everyone.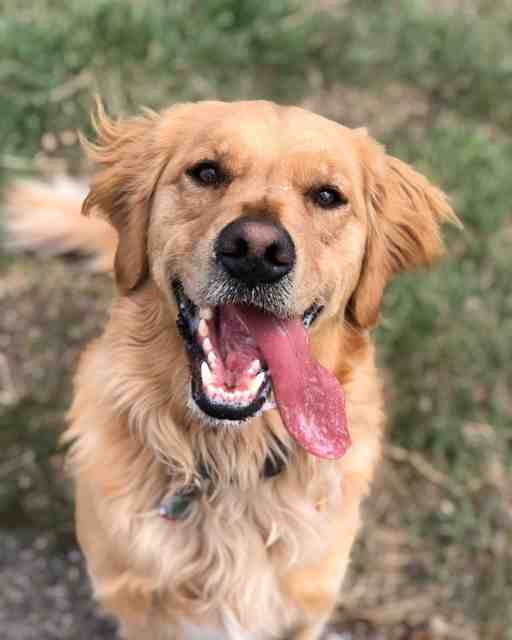 Sully's Perfect Adoptive Home Will Be:
He spends everyday at a doggy daycare as he has high energy. He needs to be on a farm or acreage or with a family that is devoted to ensure he gets the physical exercise he needs each day.
Additional Comments:
I think staying in touch would be too hard for me emotionally. It would also create confusion for my toddler. I do however insist on him staying with us until we find the right home for him. I am not in a rush for his to find the first family that is interested in him – I am interested in finding the BEST family for him.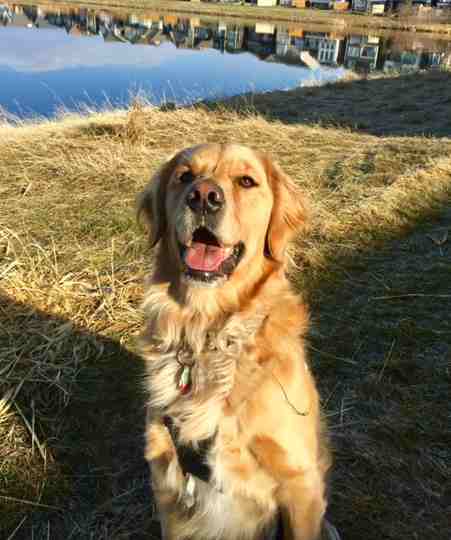 Sully's Location
Sully is located near the following towns and cities in Alberta.
Calgary AB,
Cochrane AB,
Crossfield AB,
Okotoks AB,
Irricana AB,
Black Diamond AB,
Strathmore AB,
Carstairs AB,
High River AB,
Didsbury AB,
Olds AB,
Nanton AB,
Sundre AB,
Three Hills AB,
Vulcan AB,
Thank you for your interest in this stunning Golden Retriever  for adoption in Airdrie Alberta