Handsome Grey Tabby Cat For Adoption in Fort Smith AK – Supplies Included – Adopt Issac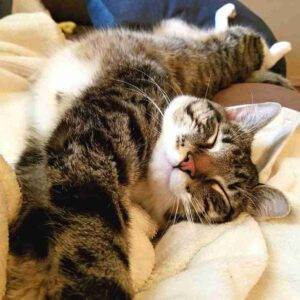 Adorable Grey Tabby Cat for Adoption in Fort Smith, Arkansas
Looking for a Grey Tabby Cat to adopt in Fort Smith, Arkansas? Just 6 years old and weighing 13 lbs, Issac has been fixed, fully vaccinated, housebroken, and microchipped. This very sweet tuxedo tabby cat is very affectionate, and will allow you to pick him up and cuddle him, once you have earned his trust.
Isaac is a unique cat who had a rough start in life – for quite some time, he was very anxious and his loving owners worked diligently with Isaac to help establish safety and predictable routines. With time, effort, and patience, Isaac has become a velcro cat, and absolutely loves being around his people. Once he feels comfortable, he will be stuck to you like glue and will come to ask for head scratches. Isaac promises to provide years of love and cuddles to come!
Isaac will require a home with a well established routine to help him acclimate to his new surroundings, and an owner who will spoil him rotten. Due to his anxiety, a home with no children is a must. He would also love to be the only pet in the home, and hopes that his new owner will be patient with him while he adjusts.
Issac's owners are very sad to have to rehome their cherished cat. They are hoping to find a new home for Issac where this special cat will be cherished and kept safe, happy, and healthy for life.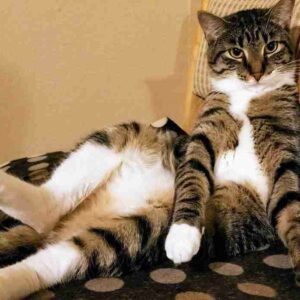 How To Adopt Issac
If you have room in your heart and home for Issac, please complete our online meeting request form. Once received, our Fort Smith Cat Rehoming team will make arrangements for you to meet Issac and his owners. Adopt Issac today!
There is a $25.00 adoption processing fee. Supplies, accessories, and veterinary records will be included.
Questions about adopting Issac?
Text IssacFortSmith to (888) 833-2128. We look forward to hearing from you!_
All About Issac – Grey Tabby Cat For Adoption in Fort Smith Arkansas
♥ Name of Pet: Issac
♥ Location: Fort Smith, Arkansas, 72916
♥ Type of Pet: Cat
♥ Breed of Pet: Grey Tabby
♥ Color / Coat Type: Short hair, Grey and black tabby stripes with white belly and socks
♥ Age of Pet: 6 years
♥ Size of Pet: 13 lb
♥ Health Problems: No
♥ Behavior Issues: Isaac has had anxiety issues since he came to us as a kitten. Over the years, I have worked very hard to correct this behavioral issue and increase his confidence and cat mojo, and Isaac has improved
dramatically. He is a completely different cat now than he used to be, and if you are one of his people,
he is very sweet, affectionate and trusting. He still struggles with anxiety in an uncertain environment
where he feels like he isn't in control, or uncertain factors in his environment such as the other cat doing
something out of the ordinary, new experiences, etc., and can quickly lose confidence if he feels
threatened.
♥ Gets along with:
♥ Pet is: Fixed, Fully Vaccinated, Housebroken, Microchipped
♥ Food: Other – Purina One Natural Dry Cat Food in the morning and Fancy Feast "Natural Beef Recipe in Gravy". He'll eat other Fancy Feast versions in gravy.
Issac – Grey Tabby Cat For Adoption in Fort Smith Arkansas
---
Issac's Personality
Isaac is not a lap cat, but he is a people cat. He loves to always be in the same room with his people and
will follow you around the house (or twine himself between your legs as you walk…), then plop down in
a comfy spot where he can be near you and keep an eye on things. If I'm not paying enough attention to him or eating something that looks tasty, he will jump up in my lap and demand affection, briefly becoming a lap cat! 🙂
He is highly motivated by Temptations cat treats, so if you are a treat source, he will be your best friend
forever. He also loooooves head scratches…they are his absolute favorite. He will rub against you and
purr and let you head scratch him for 10 minutes if you are willing to! And if you are one of the people
lucky enough to have earned his love and trust, when you pick him up he will just melt in your arms and
purr. He is medium energy — he loves a good play session with colorful feathers, but for the most part,
he is very happy to hang out in a sunbeam or snuggle in a comfy blanket.
Isaac is not aggressive, but he still has anxiety issues that will make him defensive and scared in
uncertain situations (another cat doing something weird, kids chasing him, etc.). Some cats run away in
these situations, but Isaac lacks the confidence to do this and tends to hunker down and become
melodramatic until whatever is "threatening" him backs off. Having a couple of high cat purchases
where he can escape really helps improve his confidence, so this is highly recommended. He is a "let
him come to you and build trust" kind of cat, but once you are in, he is a silky snuggle bug and a very
chill cat. He now does fine with visitors and new people as long as he has his own space and is able to
interact on his own terms, but he probably won't be affectionate towards new people unless they also
put in the effort (aka bribe him with treats).
I think Isaac would do really well in a single cat home with experienced cat owners who are willing to put
in the effort to earn his love and trust and become his new people. His love is extremely rewarding and
worth the effort!
Why is Issac Being Rehomed?
Two reasons:
1. We have a newborn baby who will quickly become a cat-chasing toddler, and Isaac is not the kind of
cat who would enjoy being around children. Isaac gets scared and defensive in situations where he feels
like he isn't in control, so unfortunately a home with very small children is no longer a comfortable space
for him.
2. We have 2 cats (both male). The cats have been good friends over the years, but their play is
unpredictable, so we had to give them their own space (a huge room full of toys, scratching posts, things
to climb on, and a giant window for Cat TV) for a time when we brought our son home so we could
introduce them slowly to the change. We visited them and played with them each day, but it has been a
stressful situation for them to not be able to roam free and be around us. Unfortunately, the two cats
had a fight (Isaac was not the aggressor, but he got hurt during play and became very defensive, which
triggered the other cat's hunting instinct), and they are now separated. With the new baby and how
small our home is, we don't have the time and space available to reintroduce them and supervise them
carefully together over the next ~6 months. And even if we did, I realized that having two cats that
could potentially get into a fight again was not safe for our baby.
Nearby Locations
Issac is located in Fort Smith, Arkansas, close to the following towns and cities:
Van Buren AK,
Tahleguah OK,
Fayetteville AK,
Siloam Springs AK,
Springdale AK,
Muskogee AK,
Rogers AK,
Bentonville AK,
Russellville AK,
Bella Vista AK,
Okmulgee OK,
Broken Arrow OK,
Bixby OK,
Harrison AK,
Claremore OK.
Thank you for your interest in this deserving Grey Tabby Cat for Adoption in Fort Smith Arkansas.