Brownie is a male smooth coat tri-color Beagle Jack Russell Terrier mix dog for adoption to a very loving home in or near Silver Spring Maryland. This very special Dog is 3 years old and weighs 15 pounds.
Brownie needs a home where he can be the only pet, with owners who have lots of time to spend with him. He is best suited for an only pet home. Brownie is good with respectful children.  Brownie will be rehomed with supplies and veterinary records. Please offer this special Jack Russell Terrier mix a loving home today.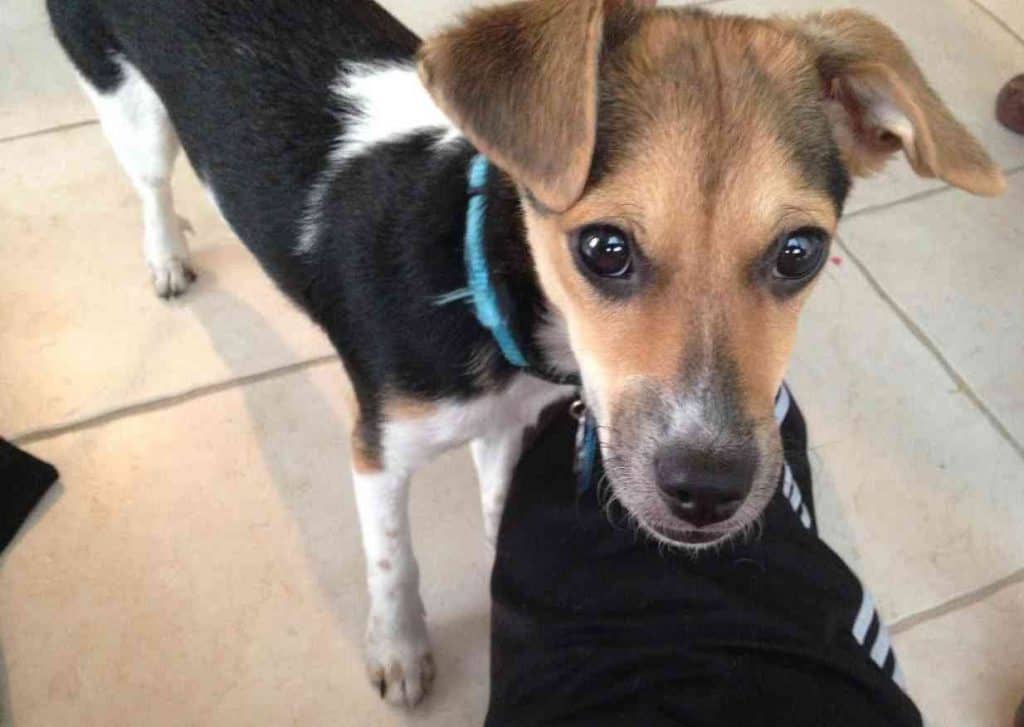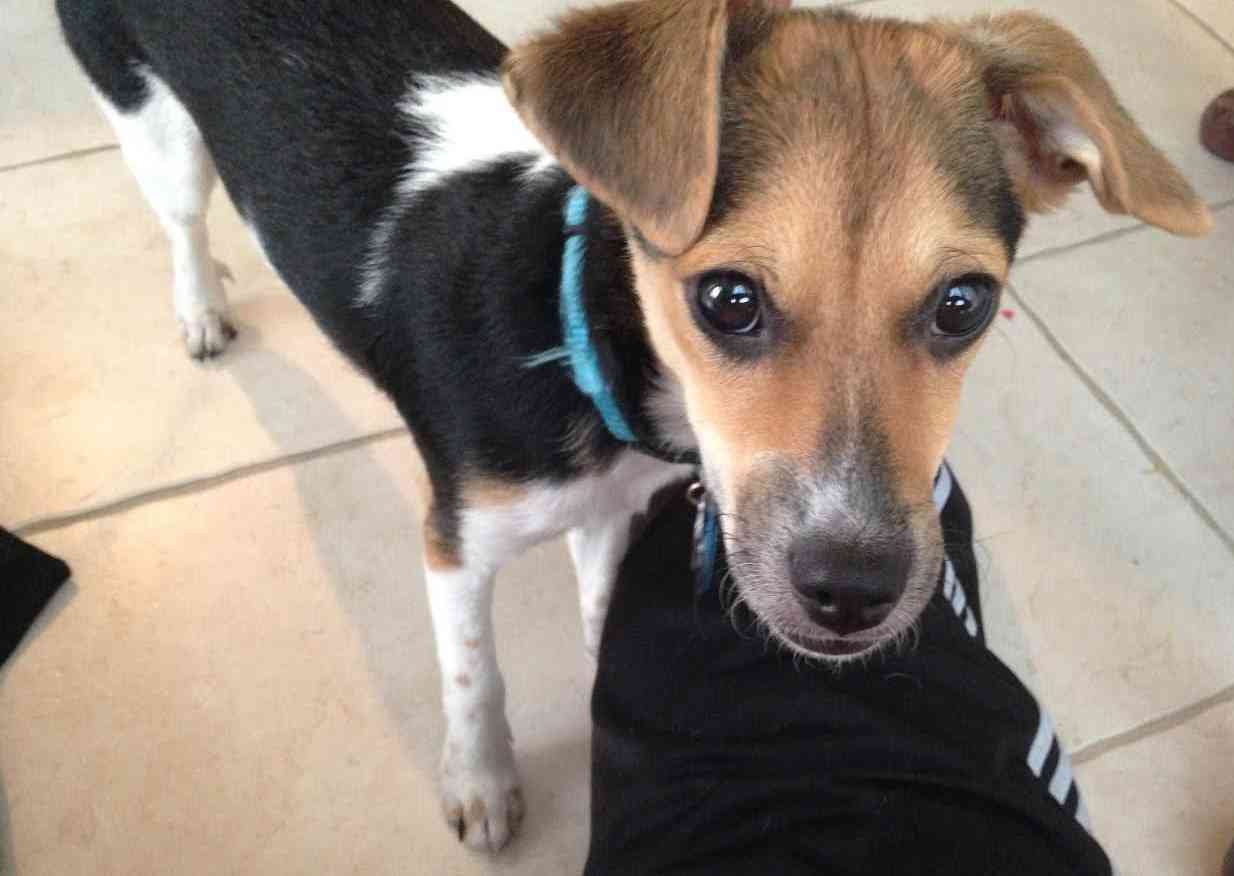 Meet Brownie, Jack Russell Terrier Dog For Adoption in Silver Spring Maryland
[button link="https://pet-net.net/adopt-a-pet" size="large" align="center"]Request to Adopt Brownie Here[/button]
There is a $150 adoption/rehoming fee. Supplies and veterinary records will be included.
Questions about Brownie? Contact our Maryland dog rehoming team today. Text "Brownie" to (888) 833-2128 or email [email protected]. We look forward to hearing from you.
Name of Pet: Brownie
Location: Silver Spring, Maryland
Type of Pet: Dog
Breed of Pet: Beagle Jack Russell Terrier Mix
[toggle title="About Beagles"]
Beagle Dog Breed Information
The Beagle is a breed of small hound that is similar in appearance to the much larger foxhound. The beagle is a scent hound, developed primarily for hunting hare. Wikipedia
Hypoallergenic: No
Life span: 12 – 15 years
Temperament: Even Tempered, Amiable, Determined, Intelligent, Excitable, Gentle
Weight: Male: 10–11 kg, Female: 9–10 kg
Height: Male: 36–41 cm, Female: 33–38 cm
Did you know: Beagle is the eighth-most popular dog breed by registrations (53,938) worldwide. wikipedia.org
[/toggle]
[toggle title="About Jack Russell Terriers"]
Jack Russell Terrier Dog Breed Information
The Jack Russell Terrier is a small terrier that has its origins in fox hunting. It is principally white-bodied and smooth, rough or broken-coated but can be any colour. The Jack Russell is frequently confused with the Parson Russell terrier and the Russell terrier, which is a shorter-legged, stockier variety. Wikipedia
Life span: 13 – 16 years
Mass: 6.4 – 8.2 kg (Adult)
Height: 25 – 38 cm (Adult, At the withers)
Origin: England
Temperament: Stubborn, Fearless, Energetic, Athletic, Intelligent, Vocal
Colors: White, Black & White, White & Tan
[/toggle]
Color / Coat Type: Tri Color Smooth Coat
Age of Pet: 3
Size of Pet: 15 lbs
Health Problems: No
Behavior Issues:  Not good with other dogs or cats.
Up To Date on Vaccinations: Yes
Gets along with cats: No
Gets along with dogs: No
Good with Children?: Yes
House Broken or Litter Trained?: Yes
Crate Trained?: Yes
Accessories Included: Leash, harness, cage, blankets, food bowl, kibble, kibble container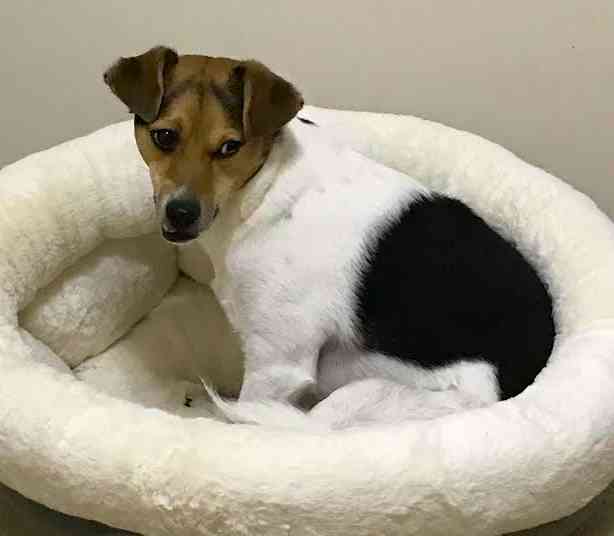 [tabs_button][tab title="All About Brownie"]
All About Brownie – Jack Russell Terrier Dog For Adoption in Silver Spring Maryland
Brownie's Current Home Environment
4 adults, 1 child, 1 other dog
Brownie's Current Family:
We are often out of the house, with work, school, and other events brownie does not get as much attention as he deserves. I love brownie, as well as my other dog, diamond. We all do in my family.
Brownie's Favorite Toys, Foods, Activities?
Brownie loves to lay in the sun. He often can be found next to the window as the sun is coming in just laying there and sleeping. He loves to be comfy as well. We found out that he does not like hard surfaces at all unless you give him a treat. Couches, beds, and blankets aren't his favorite things. He likes squeaky toys sometimes; he really likes anything except for tennis balls. He never learned how to catch a ball- maybe that's why.
Cute Brownie Story:
We got brownie as a rescue- he was the runt of the litter and no one had wanted him because his tooth was sticking out, he was smaller than the rest, whatever reason. But as soon as I saw him I knew he was going to come home with me that day. I took him home and it took him a while to get used to everything but eventually he did and he loved it. He loved playing in the snow when winter hit, he loved running in the backyard, loved sleeping especially. He's such a special little dog
Additional Comments:
Brownie was out first dog, intended to be a therapy dog for me. Me rehoming him will be one of the most difficult things I have ever done. I just want him to go to a good, loving home and will hopefully be able to keep in touch with him. I understand if that is not possible. My heart is heavy as I type this but it would not be an ideal environment to have brownie in our family as he continues his revue today behavior.
There is a $150 adoption/rehoming fee. Some supplies and veterinary records will be included.
Questions about Brownie?? Text "Brownie" to (888) 833-2128 or email Adopt [email protected]
[/tab]
[tab title="Personality"]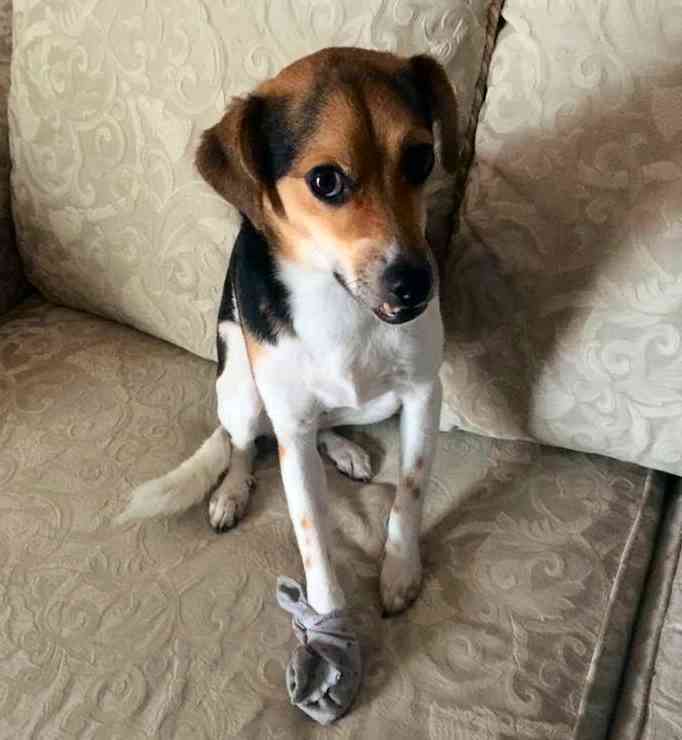 Brownie's Personality
Brownie is always there for me when I'm feeling upset or sad; he knows when I am and comes to me and lays with me.
He is playful and tries to take the socks off my feet and run around with it randomly but is a joy to have around.
He's so cute; we got him as a rescue and was the only one left in his little family
Very gentle and loving when not with other dogs
He is protective and tries to keep me and others away from danger
[/tab]
[tab title="Reason For Rehoming"]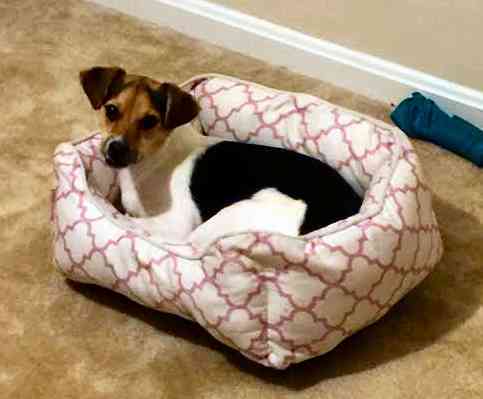 Why is Brownie Being Rehomed?
Our other family dog, Diamond, was an addition to the family about two years ago. We have had brownie for three years. And at first the two got along fine, but eventually brownie started getting aggressive toward her, snapping and growling and about a year ago trying to bite her.
We took him to training because we thought that if this was a behavior thing we would get it fixed and he could stay with us. And it worked for sometime; he didn't try to bite diamond or anything, they played together and things were okay. Until about a few months ago when he started doing it again only this time, if someone were to get in his way he wouldn't stop.
He has not majorly hurt anyone, just a couple of nips and bruises, but still bad in the sense that if he did not stop for us, what would he do to diamond if they were alone. This is our last resort as they have both been through training but brownie is just aggressive and territorial or myself and other family members and does not want their attention to deviate from him. He's a good boy, just likes attention.
[/tab]
[tab title="Adopt Brownie"]

Brownie's Perfect Adoptive Home Will Be:
A family who does not have another dog. That's a major thing because brownie does not get along with other dogs. He's good with all age groups, but would probably work better with someone who is able to be home more often than not to give him affection, take him on walks, and care for him like I could not. A family who would love brownie unconditionally and be responsible for his well fare like he is their own child.
How To Adopt Brownie
If you are interested in adopting this special Jack Russell Terrier Beagle mix dog For Adoption in Silver Spring Maryland, please fill out our online meeting request below. Once received and reviewed, our staff will ask the pets owner to reach out to you and arrange a meeting.
[/tab]
[tab title="Location"]
Brownie – Jack Russell Terrier Dog For Adoption in Silver Spring Maryland
Brownie is a Jack Russell Terrier Dog for rehoming in Silver Spring, Maryland. He is located near the following towns and cities in Maryland and DC:
Takoma Park
Langley Park
Chillum
Adelphi
Hillandale
White Oak
Friendship Village
Bethesda
Mount Rainier
College Park
Hyattsville
East Riverdale
Colesville
North Bethesda
Washington, DC
Sligo
Silver Spring Park
Blair Portal
North Gate, DC
Shepherd Park, DC
North Takoma Park
Colonial Village, DC
Sligo Park Hills
Rock Creek Gardens, DC
Rosemary Hills
South Woodside Park
Woodside
Rock Creek Gardens
Woodside Park
Goodacre Knolls
Highland View
Takoma Park
Adopt this Jack Russell Terrier Dog today.
[/tab]
[/tabs_button]
Jack Russell Terrier Mix For Adoption – Silver Spring MD – Adopt Brownie
---