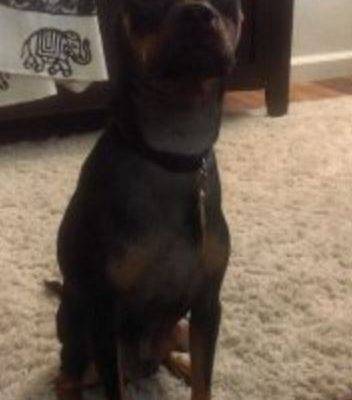 Miniature Pinscher Puppy For Adoption in Chula Vista – Adopt Jet The Minpin Puppy Today!
Hi, My name is Jet!
[button link="http://petrehoming.net/adopt-a-pet/" size="large" variation="hotpink" align="center"]Request to Meet Jet Here![/button]
There is a $100 adoption/rehoming fee. All supplies will be included.
ALL ABOUT JET THE MINIATURE PINSCHER PUPPY
I am an adorable 1 year old purebred Miniature Pinscher puppy for adoption in Chula Vista, California, near San Diego. I am as sweet as pie and love attention. I am good with other dogs and respectful children. I am not a big fan of cats, and I like to chase them (it's a Min Pin thing!). I have been neutered, am up to date on shots, micro-chipped and ready to love. I will have all supplies sent to my new home with me.
I am looking for a new home with people who will have lots of time to spend with me and lots of love to offer. I am a wonderful little guy and can't wait to find my forever home!
Location: Chula Vista, CA, 91910
Type of Pet: Puppy
Breed: Miniature Pinscher
Age: 1 year
Color/Coat Type: Short haired; black with brown face & paws
Size: 15lbs
Health Issues: No
Behavior Issues: No – Just wants ALL the attention – ALL the time! 🙂
Jet is:
Neutered, Crate Trained, House Broken
Jet gets along with:
Small Children, Older Children, Adults, Dogs
Personality
He loves being around people and wants all attention to be on him. When I take him to the dog park, he plays with the people more than the dogs. He is extremely high energy; even after spending an hr at the park he still comes home fully energized.
I like to call him "emotionally demanding" because he will cry to get other people to pet him and if that doesn't work, he'll resort to barking. But because he's so aggressive with his affection, some people mistake his eagerness for hostility. He's extremely loving and a big cuddlebug.
Very excitable that comes off as shaky nervous energy. For example, when he knows he's going for a walk he will sit and shake in anticipation to the point where he's sometimes had accidents while I'm putting his leash on him. He likes being held and needs constant stimulation.
Reason For Rehoming
I'm in the process of a separation & will be moving soon. I would love to have him around, but with all the changes on top of the behavior it's emotionally /financially exhausting.
I feel he will do so much better with a bigger family who has the energy space and time to dedicate to him because I know in the upcoming months I won't be able to.
If you would like to consider offering Jet a loving, forever home, please fill out our Request To Meet A Pet form here:
Once received, we will contact you to discuss your request and set up a mutually convenient time to meet Jet and their owner in their home.