Long Coat German Shepherd Dog For Adoption in Atascadero California – Adopt Isabella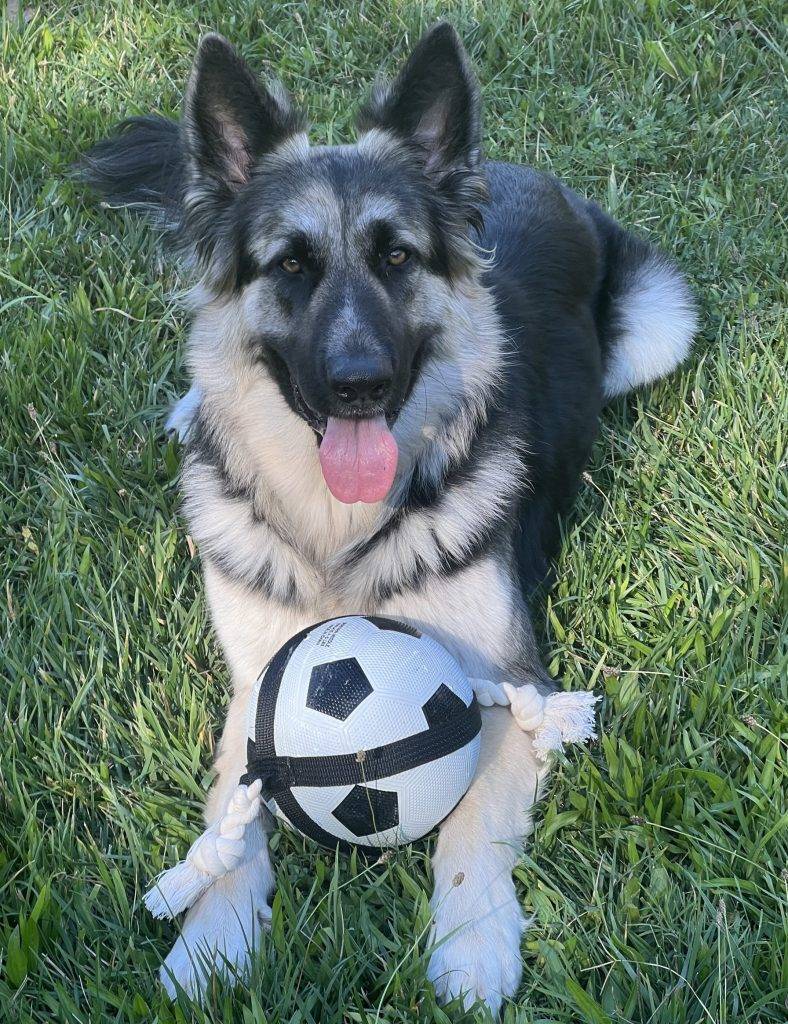 Looking for a Long Coat German Shepherd dog for adoption in Atascadero, California and area?  It's time to meet your new best friend!
Introducing Isabella, a stunning Long Coat German Shepherd who's eager to share her love and devotion with you.
With her majestic beauty and intelligent gaze, Isabella is not only a head-turner but also the perfect furry companion for anyone seeking a loyal, protective, and affectionate family member.
Her playful nature and innate ability to learn new tricks will keep you entertained for hours on end, while her gentle cuddles are sure to melt your heart.
If you're ready to embark on a lifelong adventure with this captivating canine, then don't waste another moment – read on to learn more about Isabella and start the adoption process today.
Say yes to the love, joy, and companionship that only a remarkable German Shepherd like Isabella can provide!
Meet Isabella Bambini | About Isabella Bambini | Personality | Why Rehoming? | Location | Adopter Requirements | How to Adopt
---
Meet Isabella Bambini – Pre-Loved German Shepherd dog For Adoption by Owner in Atascadero CA
Isabella Bambini is a Female German Shepherd dog for adoption to a very loving home in or near Atascadero, CA. This very special dog is 2yrs. 3 months old and weighs 70 – 80 lbs..
5 Amazing Things About Isabella Bambini:
Her beauty
Her loyalty
Her playfulness
Her patience
Isabella Bambini's owner is very sad to have to rehome their cherished dog, but circumstances beyond her  control have made rehoming a must-do.
Isabella Bambini's owner is hoping to find the right home for her cherished dog, where Isabella will be loved unconditionally and kept safe, happy, healthy and well-cared-for. Isabella needs a home with lots of space to run and play in. She ideally needs owners who are familiar with the German Shepherd dog breed and their care requirements.
If you have room in your heart and home for this deserving German Shepherd dog, then please offer Isabella Bambini a loving, forever home today. Isabella Bambini can't wait to show you the true meaning of unconditional love.
---
How To Adopt Isabella Bambini
Please fill out our online meeting request form via the button below. Once your application is received and reviewed, our staff will ask the pets owner to reach out to you and arrange a meeting.
[vcex_button url="https://pet-net.net/adopt-a-pet/" rel="nofollow" layout="block" align="center" font_padding="top:15|bottom:15″ font_size="d:18px|tl:18px|tp:18px|pl:16px|pp:16px" font_weight="semibold"]Request to Adopt Isabella Bambini Here[/vcex_button]
There is a $250 adoption/rehoming fee. Supplies and veterinary records will be included.
Questions about Isabella Bambini? Contact our Bakersfield dog rehoming team today.
Email [email protected] and one of our rehoming team members will get back to you asap. We look forward to hearing from you!
---
All About Isabella Bambini – German Shepherd dog For Adoption in Atascadero CA
Name of Pet: Isabella Bambini
Location: Atascadero, CA, 93422
Type of Pet: dog
Breed of Pet: German Shepherd
Sex of Pet: Female
Age of Pet: 2yrs. 3 months
Spayed/Neutered?: No
Health Problems: No
Behavior Issues: No
Up To Date on Vaccinations: Yes
Gets along with cats: No
Gets along with small animals?: No
Gets along with dogs: Yes
Good with Children?: Yes
House Broken or Litter Trained?: Yes
Crate Trained?: No
Accessories Included: Bed, leashes, her toys. I would be willing to keep her insurance up for six months.
Isabella Bambini's Personality
Happy, responsive, and eager to please.
Isabella Bambini's Favorite Toys, Foods, Activities?
Stuffed animals
She will eat just about anything! I feed her dehydrated food and add cooked pork.
I live on 23 acres; she runs with my other dog, I throw her balls, and she loves prancing around with very large branches.
Why is Isabella Bambini Being Rehomed?
I am 77 years old and not in good health. I feel like I am not giving her what she needs. She is brilliant and requires more mental stimulation than I can provide. She would do well with someone who is active and can be with her most of the time.
Isabella Bambini's Perfect Adoptive Home Will Be:
Isabella needs lots of exercise, as I wrote, she runs each day in the forest where I live. She would not do well in a neighborhood where she could not exercise. It would be nice to find someone who could take her with them during the day as a companion to work.
I want someone familiar with German Shepherds.
---
Isabella Bambini – German Shepherd dog For Rehoming in Atascadero CA
Isabella Bambini is a German Shepherd dog for private adoption by owner in Atascadero California. Isabella Bambini is located close to the following towns and cities in CA, and can be adopted from anywhere within a reasonable distance, including Los Angeles, Glendale, Modesto, Bakersfield, Fresno, San Jose, Fremont, and Sacramento.
Atascadero CA,
Morro Bay CA,
San Luis Obispo CA,
Pismo Beach CA,
Grover Beach CA,
Arroyo Grande CA,
Santa Maria CA,
Avenal CA,
Coalinga CA,
King City CA,
Lompoc CA,
Greenfield CA,
Taft CA,
Soledad CA,
Lemoore CA,
Wasco CA,
Adopt this deserving German Shepherd dog in Atascadero CA today.