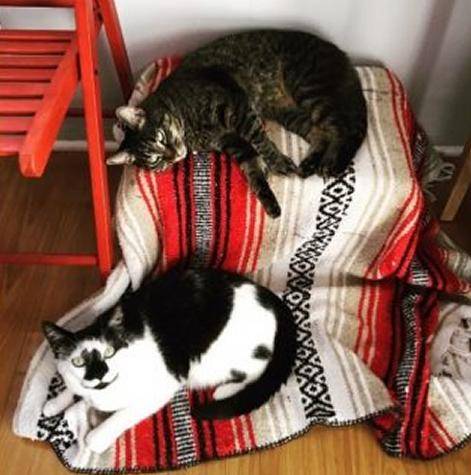 Meet Henry Rollins & Johnny Thunders – Bonded Cat Sisters For Adoption to Loving Home in LA Area
Thinking of adopting a sweet, healthy female cat? Why not consider 2! Henry Rollins and her sister, Johnny Thunders are such great freinds and wonderful companions. They are just 5 and 6 years old, spayed, fully vaccinated and very healthy. Both girls are well behaved and have impeccable litter box habits.
They are playful and full of fun, but also cuddly and affectionate. They are good with respectful children, and get along well with other cats, dogs and pets of all kinds.
Their foster owner is dearly hoping to find these beautiful pre-loved cats the home they need and deserve. She took them in when an aquaintance (their original owner) was about to surrender them to a local shelter. She is unable to keep them herself forever, but is determined that the girls will find a very good home with people who will cherish them.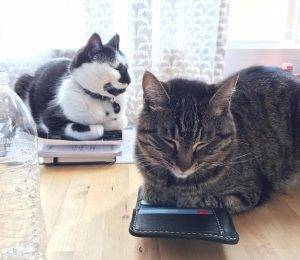 These cats would be well suited for many different homes because they are so adaptable. Whether a family with children wanting a pair of kid-friendly cats, or a cat lover in a quiet home in need of some whiskered companionship – these cats would fit in nicely.
Henry and Johnny will be rehomed with all supplies and vet records. They are ready-to-love cats and are waiting to purr and play their way into your heart. Please offer them a loving home today.
[button link="https://pet-net.net/adopt-a-pet/" size="large" variation="hotpink" align="center"]Request to Meet Henry Rollins & Johnny Thunders Here![/button]
There is a $40 adoption/rehoming fee to adopt both cats together.
Supplies and vet records will be included.
---
All About Henry and Johnny – Female Tuxedo and Tabby Cats For Adoption in Los Angeles
Location: Los Angeles, CA, 90027
Type of Pet: Cat
Breed: Tuxedo cat – tabby cat
Age: 6 & 5
Color/Coat Type: black & white, medium & tabby grey & black, medium
Size: 12lbs & 8lbs
Health Issues: no
Behavior Issues: no
Henry Rollins & Johnny Thunders are:
Spayed, Neutered, Microchipped, Fully vaccinated, Crate Trained, Litter Trained, House Broken, Leash Trained
Henry Rollins & Johnny Thunders ges along with:
Babies, Toddlers, Small Children, Older Children, Adults , Dogs, Cats, Small Animals, Pet Birds, Horses, Strangers
Personality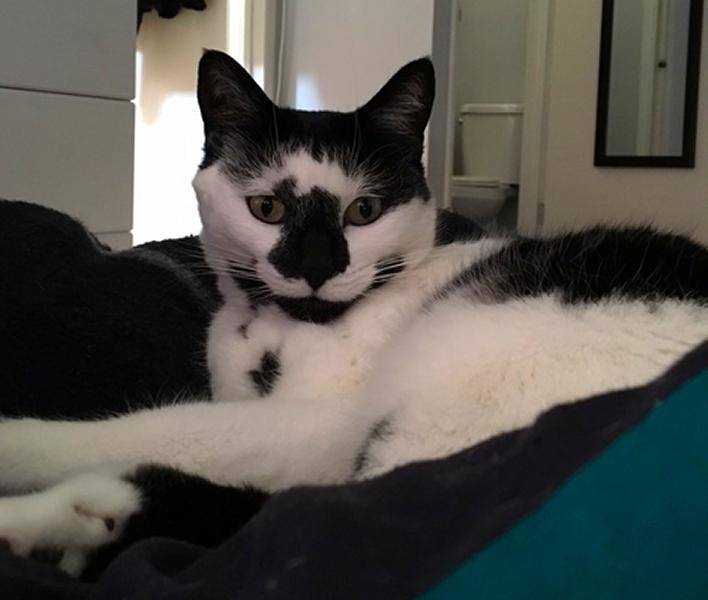 Henry is 6 years old and enjoys chasing hair ties, eating and taking naps. She has a very social personality and loves attention! She will cuddle with you, follow you around and force you to pay attention to her. Henry is a very loving cat. Not high energy or anything like that but loves playing with toys. She does not like getting her nails cut but is great at the vet. She had a teeth cleaning over 1 year ago and did great. She has zero health issues.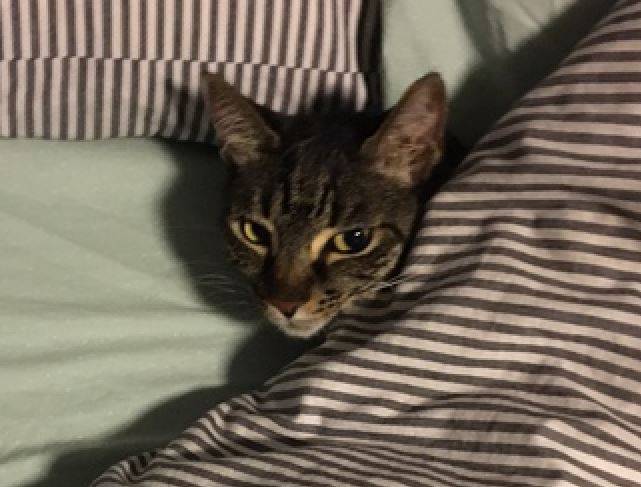 Johnny is 5 years old and loves being a cat! She loves cat food and cat nip. Johnny is the smaller of the two and Henry treats her like a daughter. Johnny is shy but loves her attention on her terms, she loves cuddling at your feet when your sleeping and loves sleeping on backpacks, luggage or anything else you have lying around. She is a lover and but can be spooked easily. She loves the laser pointer like no other cat, she will chase it and leap up walls!
The two cats can not be separated, they have been together Johnny's entire life. They are both female cats with male names. No health issues and up to date on all vaccinations. Litter trained, spayed and well behaved kitties.
Food and Diet
Henry Rollins & Johnny Thunders  are currently on Other
Beyond dry and wet food. They eat once in the morning both wet and dry food. They both eating the dry food through out the day. Henry tends to eat most of the food so I'll make sure Henry starts first.
Reason For Rehoming
Financial reasons, someone I knew was going to just release them to a shelter and I took both Henry Rollin and Johnny Thunders in a quick decision not wanting them in a unsafe environment.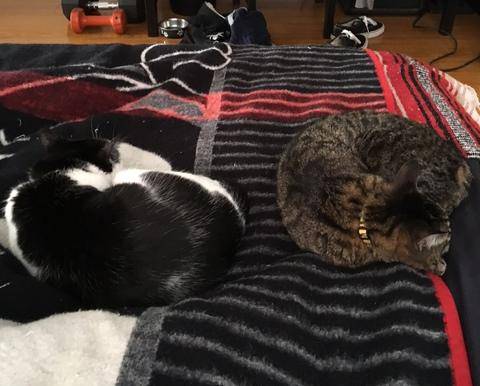 How to Adopt Henry Rollins & Johnny Thunders
If you would like to consider offering Henry Rollins & Johnny Thunders a loving, forever home as a bonded pair, please fill out our Request To Meet A Pet form here:
https://pet-net.net/adopt-a-pet/
Once received, we will contact you to discuss your request and set up a mutually convenient time to meet Henry Rollins & Johnny Thunders and their foster owner.
Henry Rollins & Johnny Thunders are a Tuxedo cat and Tabby cat For Adoption in Los Angeles CA near East Los Angeles,
Huntington Park,
Maywood,
Walnut Park,
Commerce,
Bell,
Glendale,
South Pasadena,
Monterey Park,
South Gate,
Cudahy,
West Hollywood,
Alhambra,
Bell Gardens,
Westmont,
Glendale,
Long Beach,
Anaheim,
Santa Ana,
Riverside,
San Bernardino,
Little Tokyo,
Old Chinatown,
Naud Junction,
New Chinatown,
Aliso Village,
Mission Junction,
Taylor Junction,
Pico Gardens,
Angelino Heights,
Brooklyn Heights,
Glendale Junction,
Butte Street Junction,
Dayton Avenue,
Boyle Heights,
Lincoln Heights,
Wyvernwood,
and Ninth Street Junction, CA. Adopt these sweet, loving and beautiful cat sisters today!