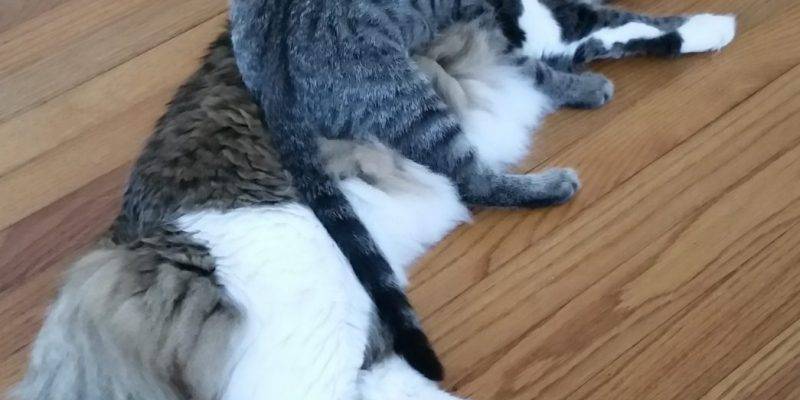 Maine Coon Mix & Tabby Cats For Adoption in Montgomery AL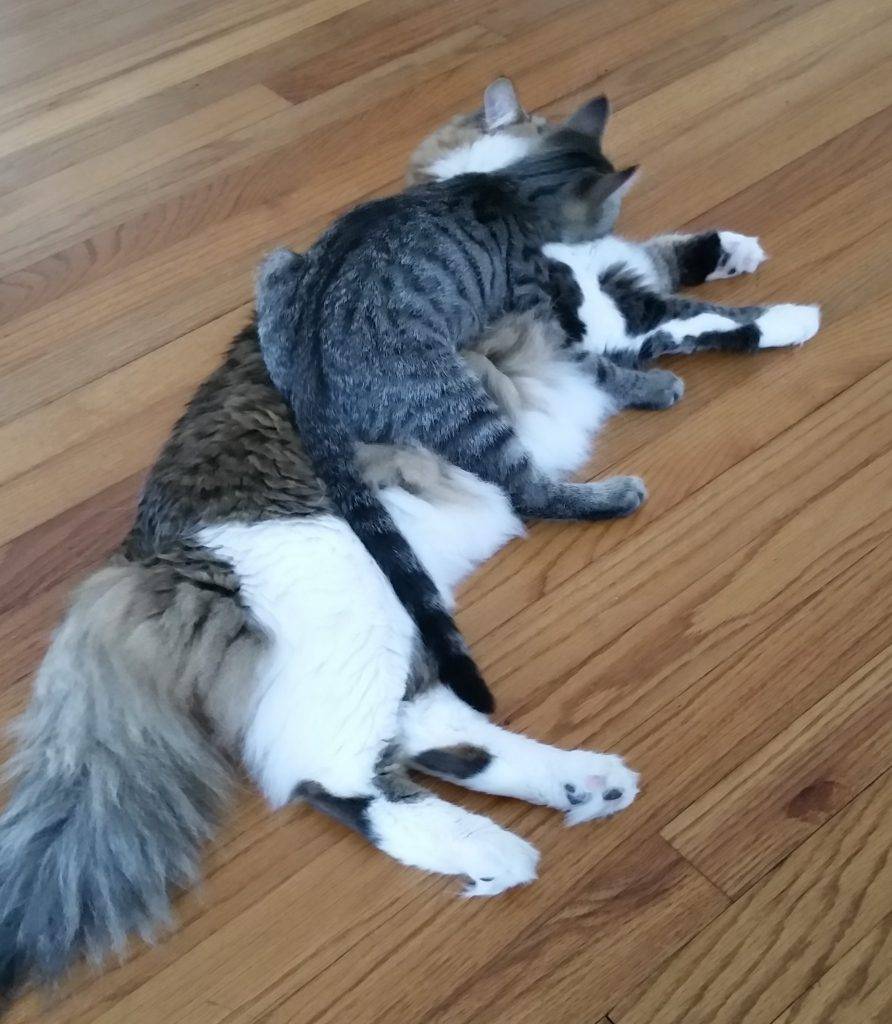 Meet Barney and Blue, A Maine Coon mix and Shorthair Tabby Cat For Adoption in Montgomery AL
With his luscious long tabby and white coat and amazing bushy tail, Barney is one very handsome Maine Coon mix cat. He and his little brother Blue, a sweet domestic shorthair tabby cat are looking for a very special home together anywhere within a reasonable distance of Montgomery, Alabama.
Both boys are in excellent health. They are neutered, up to date on their shots, litter trained and very well behaved. Barney is the older of the pair, and at 5, prefers to sunbathe and nap, while Blue is more into playing and prowling his home. They are very good together, and keep each other company when their owner can't be with them.
Very affectionate and great companions, the cats are very shy when they first meet someone new. They can be reliably expected to run and hide when their owners have visitors. Once they get to know you, they are very sweet.
Their owner, Brande, is single and in the military. She is being relocated to California, and will not be able or allowed to take the cats with her. As much as it breaks her heart, she needs to find her precious cats a loving home in Alabama, before she leaves for California at the end of May.
These handsome and very special boys will be rehomed with veterinary records and any supplies the owner has on hand for them. They are looking for a quiet, adults only home without other pets. They are terrified of children, and would be very stressed in a busy family. They really would do best with just one or two adult cat lovers to cherish them.
If you have room in your heart and home for these sweet bonded cats, please offer them a loving home today. They can't wait to purr their way into your heart and home.
[button link="https://pet-net.net/adopt-a-pet" size="large" align="center"]Request to Adopt Barney and Blue Here[/button]
There is a $50 adoption/rehoming fee. Supplies and veterinary records will be included.
Questions about Barney and Blue?? Contact our Montgomery cat rehoming team. Text BarneyBlue to (888) 833-2128 or email [email protected]. We look forward to hearing from you.
All About Barney and Blue – Maine Coon Mix and Tabby Cat For Adoption in Montgomery AL
[one_half]
♥
Name of Pet:
Barney and Blue
♥
Location:
Montgomery, AL, 36106
♥
Type of Pet:
Cats
♥
Breed of Pet:
Maine Coon Mix and DSH Tabby
♥
Color / Coat Type:
Long Mackerel Tabby with White and Shorthair Grey Tabby
♥
Age of Pet:
5 and 1
♥
Size of Pet:
12 lbs and 10 lbs
[/one_half] [one_half_last]
♥
Health Problems:
no
♥
Behavior Issues
: no
♥
Gets along with:
Adults
♥
Pet is:
Neutered, Fully vaccinated, Litter Trained
♥
Food:
Other
Iams Dry and Friskies Wet
[/one_half_last]
---
There is a $50 adoption/rehoming fee. Veterinary records and some supplies will be included.
Questions about Barney and Blue?? Text "Barney and Blue" to (888) 833-2128 or email [email protected]
Barney and Blue's Personality
Both cats have all shots and are up to date with the vet
Barney is mellow and Blue is more of a young adult and rambunctious. Both are neutered Males and are not declawed. Both come from a home without other pets or children. They will hide initially and will take time to get used to a new family but will eventually be fine. They are both super sweet once they get used to you.
Why are Barney and Blue Being Rehomed?
I have to move cross country due to a military reassignment and can not travel with my two cats. I need to rehome them into good families and will pay for each. They can be separated.
Barney and Blue's Perfect Adoptive Home Will Be:
How To Adopt Barney and Blue
If you are interested in adopting this special bonded pair of Maine Coon and Tabby cats in Montgomery AL, please fill out our online meeting request here. Once received and reviewed, our staff will ask the cats' owner to reach out to you and arrange a meeting.
Barney and Blue Maine Coon and Tabby Cats For Adoption in Montgomery AL
Barney and Blue are a bonded pair of cats for rehoming in Montgomery, AL. Barney is a beautiful long haired mackerel tabby with white Maine Coon mix, while blue is a delightful shorthair tabby cat. The cats are located near the following towns and cities in Alabama:
85 miles to Birmingham, AL
Within 75 miles of:
Millbrook, AL
Prattville, AL
Tuskegee, AL
Selma, AL
Troy, AL
Alexander City, AL
Auburn, AL
Sylacauga, AL
Opelika, AL
Alabaster, AL
Pelham, AL
Helena, AL
Valley, AL
Ozark, AL
Talladega, AL
Cloverdale, AL
Oak Park, AL
Washington Park, AL
Clisby Park, AL
Hillwood West, AL
Hillcrest, AL
Capitol Heights, AL
Cloverland, AL
Rosemond Estates, AL
Edgemont Heights, AL
Western Hills, AL
King Hill, AL
North Montgomery, AL
Normandale, AL
Carver Park, AL
McGehee Estates, AL
New Town, AL
Adopt this bonded cat pair in Montgomery Alabama today.