Hi, My name is Meatball!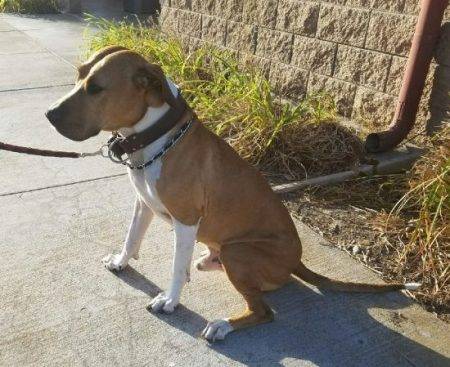 [button link="http://petrehoming.net/adopt-a-pet/" size="large" variation="hotpink" align="center"]Request to Meet Meatball Here![/button]
There is a $75 adoption/rehoming fee. All supplies will be included.
---
All About Meatball
With a name like Meatball, you know this has to be one great dog! This 71 pound sweetheart is a Boxer mix with a heart of pure gold. He has such a sunny personality, and has the unique ability to make everyone he meets feel very special.
Meatball is 8 years young, healthy as a horse, and up to date on his vaccinations. He is neutered, and has been crate trained. Meatball is a real gentleman – perfectly house broken and very well behaved. He gets along with everyone, from the tiniest toddler to Grandma and Grandpa. He is also sweet and gentle with other dogs and cats – small animals, too.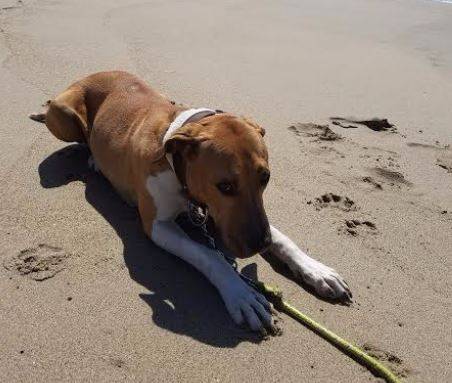 Meatball's family love him so much. They have recently fallen on very hard times, and have moved to the LA area from Texas. Currently living in an RV, their situation is not good for a 71 pound dog who is used to having a nice big back yard to play in. As much as it breaks their hearts to do so, they realize that it is essential to find Meatball a better situation with a family who will give him all their love, and who have the right type of environment for Meatball.
Meatball's wish list includes dog lovers who own their own home with a big, securely fenced back yard. Someone he can follow around and who would love to bask in the glow of his undying devotion, and folks who will cherish him, keep him safe, happy and healthy for the rest of his days.
Meatball's family would love to keep in touch and know how he is doing, so hopefully that would be OK with you.
So please, if you have room in your heart and home for this big, beautiful Boxer mix, fill out our online meeting request form at http://petrehoming.net/adopt-a-pet. Once we receive your information, we will ask Meatball's owners to contact you to arrange a mutually convenient time to meet.
Location: Port hueneme, Ca, 93044
Type of Pet: Dog
Breed: Boxer mix
Age: 8
Color/Coat Type: Short hair tan
Size: 72 pounds
Health Issues: No
Behavior Issues: No
Meatball is:
Neutered, Fully vaccinated, Crate Trained, House Broken, Leash Trained
Meatball gets along with:
Babies, Toddlers, Small Children, Older Children, Dogs, Cats, Small Animals
Personality
He is a very sweet dog that likes to run around in the yard and follow you around while he's in the house.
Reason For Rehoming
We have recently moved to California from Texas. He used to have a yard to play in but now we are staying in an rv until we can find an apartment. He is miserable.
If you would like to consider offering Meatball a loving, forever home, please fill out our Request To Meet A Pet form here:
http://petrehoming.net/adopt-a-pet/
Once received, we will contact you to discuss your request and set up a mutually convenient time to meet Meatball and their owner in their home.