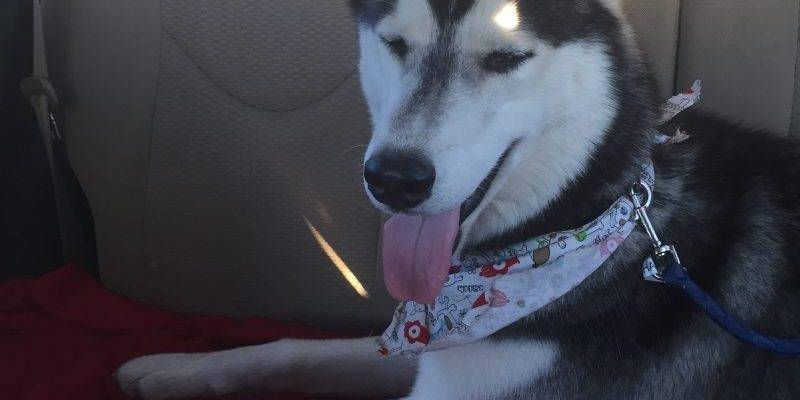 ADOPTED – Misha – Amazing 2 YO Siberian Husky Daphne Alabama
Hi, My name is Misha!
All About Misha
Misha is a gorgeous purebred Siberian Husky. At just 2 years old, Misha is very healthy and full of life. He has been neutered and vaccinated. He has been micro chipped and completely house broken. Misha is very smart. He can even talk – clearly saying "I Love You" on command! He is good with children, but could accidentally knock over smaller kids. He is good with most other dogs, but has not been around cats.  Misha lives in Daphne, Alabama, near Mobile
I am a Black/Gray and White- Full coat Male Siberian Husky Dog. I am 2 years old and weigh 49 pounds. I live in Daphne, AL. (Near Mobile)
[one_half]
Name of Pet:
Misha
Location:
Daphne,
AL
, 36526
Type of Pet:
Dog
Breed of Pet:
Siberian Husky
Sex of Pet:
Male[/one_half] [one_half_last]
Age of Pet: 2 years
Spayed/Neutered?: Yes
Health Problems: Minor Healthy Problem: He has a sensitive stomach. He needs grain free food (he eats grain free, limited ingredient blue buffalo basic) and he cannot eat any other food once he gets settled in what type of food he's eating. He cannot have too many treats, or his stomach can get upset and his stool becomes loose.
Up To Date on Vaccinations: Yes
Gets along with cats: Unknown
Gets along with dogs: Yes
Good with Children?: Yes
House Broken or Litter Trained?: Yes
Crate Trained?: Yes
Accessories Included: A kennel, some toys, a bag of food. Heart worm/flea chews for about 8 months. His collar and leash.
[/one_half_last]
Misha's Personality
He's smarter than any other dog I've met.
He's very playful.
When he acts like a lapdog.
He LOVES treats (because he doesn't get them that often, due to his sensitive tummy) and shows off when he thinks he'll get them.
He talks, and it's hilarious.
Misha's Current Home Environment
Misha has lived in both an apartment and a house. While in the apartment, he was the only dog, and he was walked regularly, and taken to a dog park for exercise in the morning and at night. He was in doggie daycare all day so he got all of his energy out with other pups.
Now, he's in a house with three other dogs, and has access to a dog door. He loves to go out and run with the other dogs. There was an adjustment period, but he gets along with them very well now. He gets walked once a day now, and gets his exercise with the other dogs throughout the day.
Misha's Current Family:
I live with my mother before I move for my new job. She has three dogs, so it's a full house.
Misha's Favorite Toys, Foods, Activities?
Misha loves bananas, peanut butter, yogurt, and pretty much anything you offer him. He also loves peanut butter flavored Kong treat.
He has a light up pumpkin that he LOVES. I can get him to walk on the treadmill if he knows he'll get the pumpkin after.
He loves to run, and play. He likes to be taught new commands, because he gets treats after.
Cute Misha Story:
I had him in the little dog park at my apartment complex. A lady was bringing her dog towards the fence to come inside, and Misha had never met the pup so I decided to go ahead and bring him inside since it was cold and he was done with going potty. When I went to grab his collar to put his leash on, Misha started screaming like a human, and began saying, as loud as he could, 'I LOVE YOU!' over and over again. It was the only thing I'd taught him to say. He stared at the dog and jumped around, and ran towards the dog on the other side of the fence, continuing to profess his love. He really, really wanted to play with him.
Why is Misha Being Rehomed?
I'm starting a new job, and it will involve 18 months of training, during which time I often won't be able to come home for days at a time. My mother cannot keep him during this time, not just because she has dogs of her own to take care of, but also because she works over 12 hours a day when it's her business's busy season, and she won't have time to take care of four dogs, especially not for a year and half. I don't want Misha to have to be boarded while I'm away, and I couldn't afford to board him even if I wanted to. I want him to have dogs to play with and a family that can spend more time with him.
Misha's Perfect Adoptive Home Will Be:
People that can discipline in a positive way, so that Misha can learn without feeling like he's being punished. A firm voice, but loving hand. Misha loves kids, but it would be better if they were older, just because he's so large. He doesn't jump unless he's really excited, but it's better to be safe than sorry. Someone who will give Misha the physical outlets he needs, and the physical affection he needs.