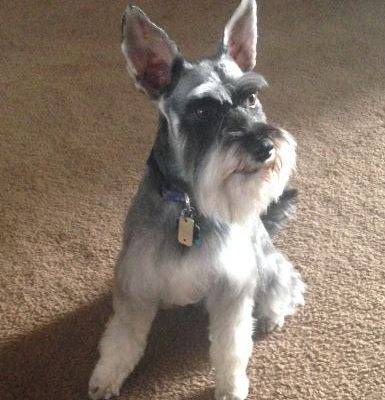 REHOMED – Fritzie – Adorable Female Miniature Schnauzer – Shalimar, Florida
Fritzie found her forever home in 2 hours! Beth and her husband from Winter Garden, Florida fell in love with Fritzie the moment they saw her photo, and reached out to our rehoming team right away.  We received so many great offers of homes for this sweet girl, but felt that Beth was the very best fit. Fritzie will be joining her new family shortly, and is sure to be a very beloved little dog. Congratulations, Beth!
Here is how our rehoming team presented Fritzie to attract her new family:
---
Hi, My name is Fritzie!
Looking for a the cutest dog on earth? Here I am! I am a gorgeous 4 year old purebred Miniature Schnauzer. I am a female and weigh 15 pounds. I have a silky salt and pepper coat, with big brown eyes that gaze up at you adoringly under my very distinctive eyebrows.  My ears are very big and perky – sooooo cute!  I have been spayed and am up to date on my shots. I am very healthy, house broken and crate trained.
When it comes to being cuddly, I take first prize. I love to snuggle. I am friendly, affectionate and a great companion. I am outgoing and love to go exploring, on car rides, walks and treks along the beach. I am a seasoned water traveler, and love going for boat rides.
I get along very well with other dogs. I have never been around children or cats. I would probably be fine with both, but my preference is to be in a home with adults who have tons of time to spend with me. I want to be the center of your universe!
My owner loves me so much. Unfortunately her job in the Air Force leaves her with very little time to spend with me. I am so lonely. I thrive on human companionship, so being all by myself much of the time is not a good situation for me. My owner wants the best for me, and is dearly hoping to find me a loving home with active retired people who will cherish me and take me with them wherever they go.
I am very well behaved, and a joy to be around. Please offer me the loving home I need and deserve today!
---
All About Fritzie
[one_half]
Name of Pet:
Fritzie
Location:
Shalimar, Fl, 32579
Type of Pet:
Dog
Breed of Pet:
Miniature Schnauzer
Sex of Pet:
Female[/one_half] [one_half_last]
Age of Pet: 4
Spayed/Neutered?: Yes
Health Problems: No
Up To Date on Vaccinations: Yes
Gets along with cats: Unknown
Gets along with dogs: Yes
Good with Children?: Unknown
House Broken or Litter Trained?: Yes
Crate Trained?: Yes
Accessories Included: Crate, toys, leashes, food storage container, pet bed.
[/one_half_last]
Fritzie's Personality
1. Loves to cuddle. 2. Loves to explore. 3. Very friendly. 4. Well behaved. 5. Likes to go on adventures and car rides
Fritzie's Current Home Environment
Single. No children or any other pets. No roommates.
Fritzie's Current Family:
No family or roommates. Live alone with dog.
Fritzie's Favorite Toys, Foods, Activities?
Loves to eat baby carrots and treats. Occasionally will have peanut butter as a special treat or peanut putter flavored ice cream for dogs. Loves to play with her kong animals, chase balls in the yard, chase frisbees, and loves to tug on her rope toy.
Cute Fritzie Story:
Fritzie is very adventurous and loves to explore so she can be a bit over zealous and frequently is startled by leaves blowing across the street. Fritzie enjoys going on boat rides and is not afraid to jump right in
Why is Fritzie Being Rehomed?
I am in the Air Force and the job I have currently is too demanding for me to take care of Fritzie in the way that she deserves.
Fritzie's Perfect Adoptive Home Will Be:
A loving home with someone who will love her and give her the attention and care that she needs.