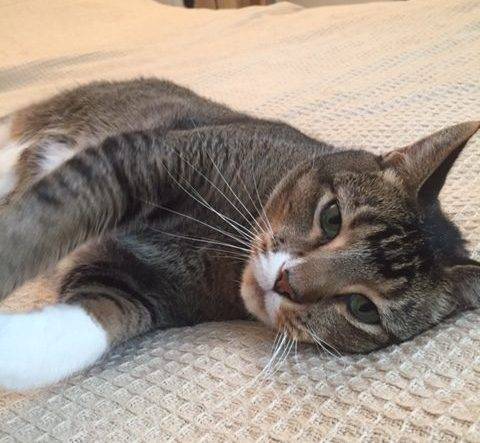 Male Tuxedo Tabby Cat For Adoption in Dallas Texas – Adopt 9 Year Old Mosi Today!
Are you looking for a large and handsome male tabby cat for adoption in Dallas, Texas? Mosi is a healthy, fixed and fully vaccinated 9 year old male tuxedo tabby looking for a loving new home. He is best suited as an only pet in an  adults only home. Mosi will be rehomed with all supplies and vet records. He is a laid back, very large and extremely affectionate cat that makes a wonderful companion.
Meet Mosi – 9 YO Male Tuxedo Tabby Cat For Adoption in Dallas Texas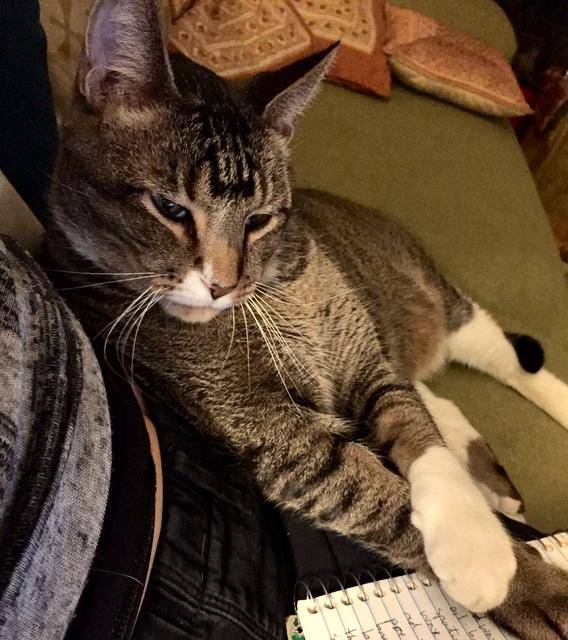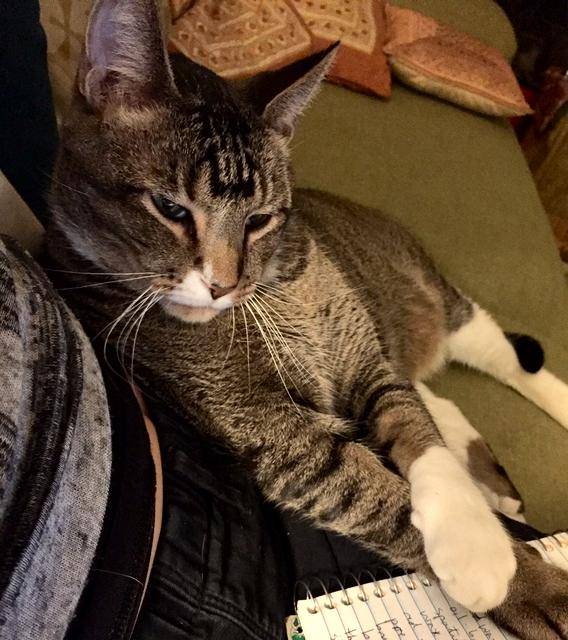 Hi, My name is Mosi!
[button link="http://pet-net.net/adopt-a-pet/" size="large" variation="hotpink" align="center"]Request to Meet Mosi Here![/button]
There is a $25 adoption/rehoming fee. All supplies will be included.
---
All About Mosi
[one_half]
Name of Pet:
Mosi
Location:
Dallas
, Texas, 75208
Type of Pet:
Cat
Breed of Pet: Domestic Shorthair Tabby
Sex of Pet:
Male[/one_half] [one_half_last]
Age of Pet: 9
Spayed/Neutered?: Yes
Health Problems: No
Up To Date on Vaccinations: Yes
Gets along with cats: Unknown
Gets along with dogs: No
Good with Children?: No
House Broken or Litter Trained?: Yes
Crate Trained?:
Accessories Included: One piece of cat furniture (if desired), a couple weeks worth of dry and wet food, a description of his normal eating routine, a toy or two, a Breeze System litter box, and complete veterinary records.
[/one_half_last]
Mosi's Personality
1. His beautiful green eyes
2. His exotic-looking fur and markings, as if he's part wild cat
3. How chill he is
4. How I can sweet-talk to him and he starts kneading the air with his front paws
5. How he likes to cuddle up beside me or on my lap (though it can be awkward because he's such a big boy!)
Mosi's Current Home Environment
Other than the last 2 months while he has been in foster care, Mosi has been sharing my small two-story house with me and my adopted female cat Gemma (who I adopted a few months before Mosi) since he was 6 months old. It's a fairly quiet setting, except when there's music going or a friend or two is visiting. He has not been allowed outdoors while I have had him. My partner is around about 25% of the time.
Mosi's Current Family:
I am not married and have no children. I am in a longterm relationship with my partner of 8 years.
Mosi's Favorite Toys, Foods, Activities?
Mosi is is very particular about toys. There are these mylar pompoms that he will bat around like soccer balls now and then (just don't' let him know you're watching!), and he may turn something else that you'd never guess into a toy…like a package of makeup sponges. Lightweight and just a little crinkly-sounding seem to be the common qualities there.
He likes his dry food, and he loves little crunchy treats (Temptations, Greenies and the like). I've never fed him human food.
Mosi isn't very active. His indoor lifestyle put some extra pounds on his big muscular frame, which makes him not very agile. He loves hanging out by the windows and looking at the world outside.
Why is Mosi Being Rehomed?
I am selling my house and basically uprooting. I will be moving to a small apartment and will be traveling much more frequently for my work than I have in the past. I really want Mosi to have more space to dwell in, and definitely more time with humans than I will be able to give him.
Mosi's Perfect Adoptive Home Will Be:
I am looking for a peaceful, relatively quiet home for Mosi that has no dogs and where he can be kept safe indoors, as he hasn't been indoor/outdoor since he was a kitten. A home that has good windows to look out of is key for him. He might adapt to the presence of other cats over time, as his early home was at a rescue house with 10 other cats; though he is quite territorial. He doesn't enjoy the erratic behaviors of children.