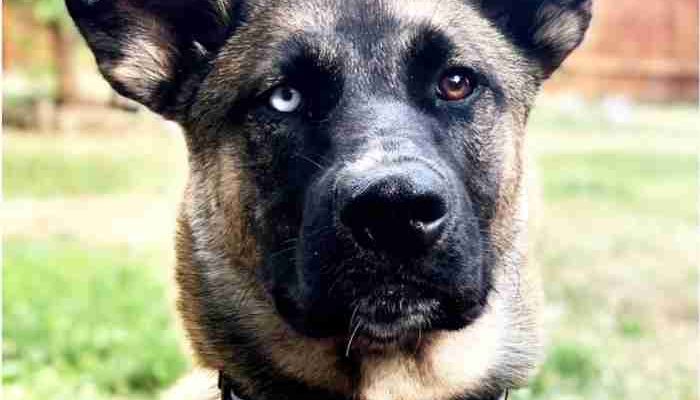 Obedience Trained Belgian Malinois Siberian Husky Mix For Adoption in Alameda CA – Supplies Included – Adopt Chief Fairman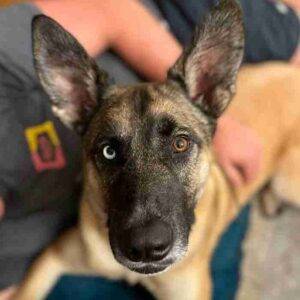 Belgian Malinois Siberian Husky Mix Dog for Adoption in Alameda, CA
Looking for a Belgian Malinois Siberian Husky Mix Dog to adopt in Alameda, CA? Just 2.5 yrs years old and weighing 75lbs, Chief Fairman has been fixed, fully vaccinated, housebroken, microchipped, leash trained, obedience trained, and crate trained, and is good with older children, new people, dog-friendly dogs, and dog-friendly cats.
Looking for a loyal, active, canine companion? Look no further than Chief – a handsome Belgian Malinois Siberian Husky mix with lots of love and cuddles to share. This beautiful boy is intelligent and social, fitting into any pack with ease. He thrives on physical and intellectual stimulation, so he will require a family who is dedicated to furthering his training and help quell his resource guarding behaviors. Chief is excited to hike, run, and swim with his forever family – will you be his best buddy?
Chief Fairman's owners are very sad to have to rehome their cherished Dog. They are hoping to find a new home for Chief Fairman where this special Dog will be cherished and kept safe, happy, and healthy for life.
If you have room in your heart and home for Chief Fairman, please complete our online meeting request form. Once received, our Alameda Dog Rehoming team will make arrangements for you to meet Chief Fairman and his owners. Adopt Chief Fairman today!
There is a $150.00 adoption processing fee. Supplies, accessories, and veterinary records will be included.
How To Adopt Chief Fairman
If you are interested in adopting this special Belgian Malinois Siberian Husky Mix in Alameda CA, please fill out our online meeting request below. Once received and reviewed, our staff will ask the pets owner to reach out to you and arrange a meeting.
Questions about adopting Chief Fairman?
Text ChiefAlameda to (888) 833-2128. We look forward to hearing from you!
---
All About Chief Fairman – Belgian Malinois Siberian Husky Mix Dog For Adoption in Alameda CA
♥ Name of Pet: Chief Fairman
♥ Location: Alameda, CA, 94501
♥ Type of Pet: Dog
♥ Breed of Pet: Belgian Malinois Siberian Husky Mix
♥ Color / Coat Type: Fawn
♥ Age of Pet: 2.5 yrs
♥ Size of Pet: 75lbs
♥ Health Problems: No
♥ Behavior Issues: Resource Guarding – Chief guards items he deems high value that he cannot eat quickly. He will bark you off the item he deems high value. We have been working with slip-leash and an e-collar to manage the training of this behavior
♥ Gets along with: Older Children, New People, Dogs, Cats
♥ Pet is: Fixed, Fully Vaccinated, Housebroken, Microchipped, Leash Trained, Obedience Trained, Crate-trained
♥ Food: Nature's Logic
Chief Fairman – Belgian Malinois Siberian Husky Mix Dog For Adoption in Alameda CA
---
Chief Fairman's Personality
Chief is a typical Malinois. Chief is incredibly loyal, loves his pack, is wildly intelligent, and is an outdoor aficionado (swimming, backcountry skiing, hiking, etc.). He has incredibly soft fur and ears, making him super cuddly. When he decides to guard an item, however, he requires a stern trainer. Chief will thrive in a household with Malinois experience and preferably with owners that understand how to use an e-collar. He thrives when he is both mentally and physically worked, so his new family would ideally be active.
Why is Chief Fairman Being Rehomed?
Up to this point, we have been successful in maintaining the level of training Chief requires; however, as our 1-year hits new developmental milestones, Chief's anxieties manifest as training regression and increased guarding.
We are at an impasse of capabilities where we do not have the bandwidth to parent our 1 year old (and welcome a second), while also providing Chief with the level of training and mental/physical exercise he needs.
Nearby Locations
Chief Fairman is located in Alameda, CA, close to the following towns and cities:
Oakland CA,
Piedmont CA,
Berkeley CA,
Albany CA,
San Francisco CA,
San Leandro CA,
Orinda CA,
Moraga CA,
Ashland CA,
San Lorenzo CA,
South San Francisco CA,
Richmond CA,
Tiburon CA,
Lafayette CA,
Cherryland CA,
Fremont CA,
San Jose CA.
Thank you for your interest in this deserving Belgian Malinois Siberian Husky Mix Dog for adoption in CA.