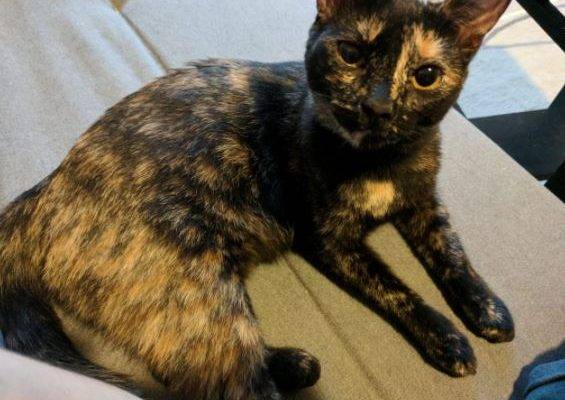 11 MO Female Tortoiseshell Kitten For Adoption in San Antonio TX – Pickles – Fixed Shots Healthy Supplies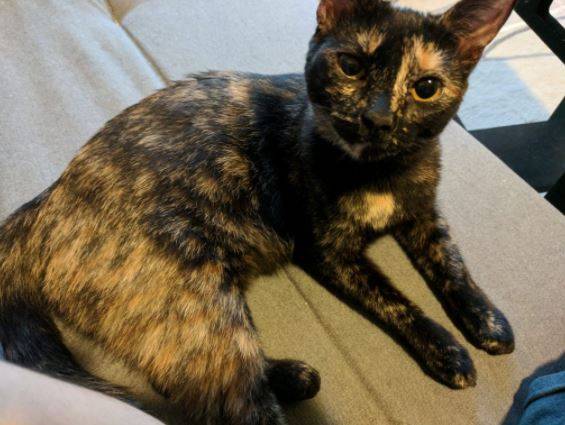 Meet Pickles, 11 Month Old Female Tortoiseshell Kitten For Adoption in San Antonio Texas
There is a $25 adoption/rehoming fee. Supplies and veterinary records will be included.
Questions? Please text "Adopt Pickles" to (210) 598-5002 or email [email protected]
If you have been looking for an absolutely exquisite female Tortoiseshell kitten for adoption in the San Antonio area, we are pleased to introduce you to Miss Pickles! This very sweet young female is just 11 months old. She is very healthy, fixed, up to date on shots and perfectly litter trained.
Pickles is playful, affectionate, smart and goofy. She is the life of the party – a perennial ray of sunshine! She loves to hang out with her favorite human, and has a delightful little mew that can bring a smile no matter how bad a day you have been having.
Pickles owner loves her so much, but due to unforseen circumstances is having to move to a residence which does not allow pets. He is dearly hoping to find Pickles a loving home in which she will be cherished and kept safe, happy and healthy. She is good with other cats, and would likely be fine with well behaved children and cat-friendly dogs.
Pickles will be rehomed with her supplies and vet records. Her owner would love to be kept up to date on how she is doing in her new home, but only if that is OK with her new owners.
Please offer Pickles a loving, forever home today. She can't wait to purr and play her way into your heart!
---
All About Pickles – 11 MO Old Female Tortoiseshell Cat For Adoption in San Antonio Texas
Name of Pet: Pickles a.k.a. Tresdin
Location: San Antonio, Texas, 78215
Type of Pet: Cat
Breed of Pet: Domestic Shorthair Cat Tortoiseshell
Sex of Pet: Female
Age of Pet: 11 months
Spayed/Neutered?: Yes
Health Problems: No
Behavior Issues: No
Up To Date on Vaccinations: Yes
Gets along with cats: Yes
Gets along with dogs: Unknown
Good with Children?: Unknown
House Broken or Litter Trained?: Yes
Crate Trained?:
Accessories Included: Two litter boxes (one top entry because Pickles will sometimes play in the fresh litter)
Two scratching posts
One of those S shaped scratching things
However much wet food I have left
Pet bowls for food and water
Couple of scoops for the litter
Random assortment of cat toys
Pickles's Personality
Cute as a button
Nice
Well trained
Quiet
Generally needs little attention
Pickles's Current Home Environment
One bedroom apartment with just myself to take care of them. They're extra friendly
Pickles's Current Family:
Just me. I live a pretty lonely life, am home for most of the day, usually (work from home).
Pickles's Favorite Toys, Foods, Activities?
These little mouse toys I got at the pet store that are about an inch long and have plastic beads inside of them. I don't know what it is, but she goes crazy for them.
Cute Pickles Story:
Sometimes when she falls asleep her tongue pokes out a tiny bit and she just looks so cute it's insane.
Why is Pickles Being Rehomed?
Moving to a place where I can't keep them.
Pickles's Perfect Adoptive Home Will Be:
Someone to take care of them, that's all.
Additional Comments:
Would just like monthly or weekly cat pictures. That's all! She also goes by Tresdin.
How To Adopt Pickles – Tortoiseshell Female Cat For Adoption in San Antonio TX
If you are interested in adopting this special 11 month old female Tortoiseshell kitten for adoption in San Antonio Texas, please fill out our online meeting request here. Once received and reviewed, our staff will ask the pets owner to reach out to you and arrange a meeting to determine for certain if Pickles is a good fit for you – and you are a good fit for Pickles.
Questions? Please text "Adopt Pickles" to (210) 598-5002 or email [email protected]
Pickles – Female Tortoiseshell Cat For Adoption in San Antonio Texas
Pickles is a Tortoiseshell cat for adoption in San Antonio, Texas, near Austin, and close to Kirby,
Leon Valley,
Converse,
Live Oak,
Universal City,
Schertz,
New Braunfels,
Pleasanton,
Seguin,
Canyon Lake,
Hondo,
San Marcos,
Kyle,
Kerrville,
Lockhart,
Olmos Park,
Phoenix,
Columbia Heights,
Terrell Hills,
Alamo Heights,
Salado Junction,
Balcones Heights,
San Jose,
Terrell Wells,
Bergs Mill,
Castle Hills,
Palo Alto Park,
Kirby,
Withers,
North Loop,
Palo Alto Heights,
Heafer, TX. Adopt this sweet Tortoiseshell kitten today.