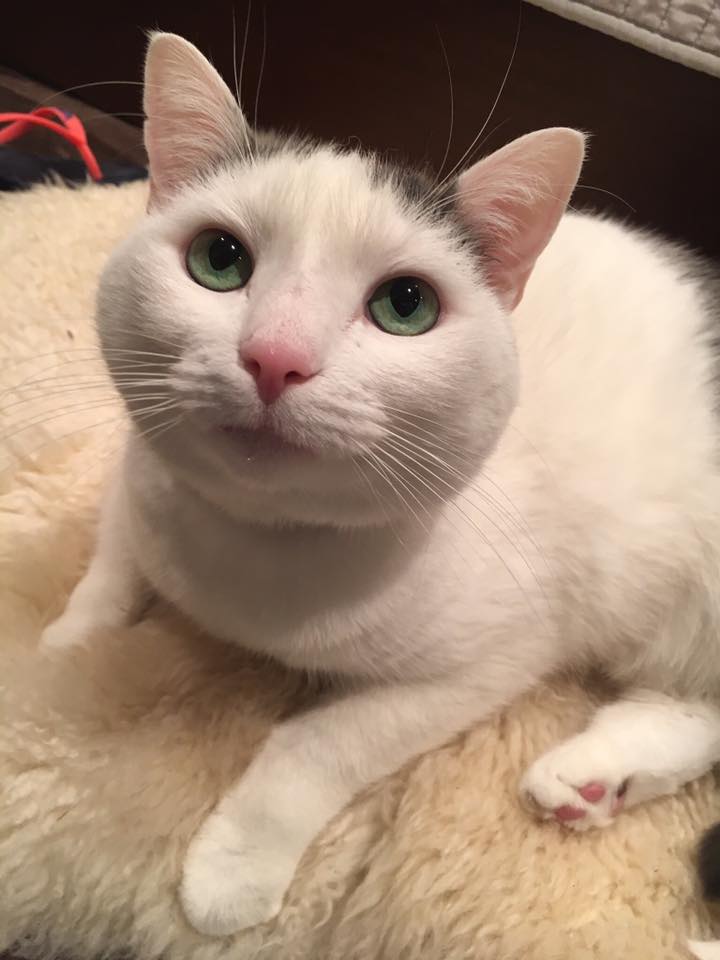 Meet Puma – Domestic Short Hair Cat For Adoption in Ellicott City MD
Puma is the ultimate lap cat. This sweet 8 year old female cat has a soft white coat with pretty grey accents. Her eyes are amazing – light jade in color. She is very healthy and super affectionate. She is like a furry baby and loves to cuddle on your lap. Puma will be adopted with supplies and vet records. Adopt her today.
There is a $25 adoption/rehoming fee. Supplies and vet records will be included.
Questions About Puma?? Text "Interested In Puma" to (888) 833-2128 or email AdoptPuma@pet-lover.us
---
Location: Ellicott City, MD, 21043 Close to Baltimore MD
Type of Pet: Cat
Breed: Domestic Short Hair
Age: 8
Color/Coat Type: white and gray, short hair
Size: 11.5 lbs
Health Issues: Occasional
Behavior Issues: no
Puma is:
Spayed, Fully vaccinated, Litter Trained, House Broken
Puma gets along with:
Adults
Personality
She is very lovable and sweet. She loves being a lap cat. She likes to chase reflections and shadows. If you give her a really soft blanket she will knead and suck on the blanket….shes a big baby. She greets me with hugs and drools on me after days of not seeing her. She has a lot of personality, she listens to most demands, and then at times has more selective hearing. She will talk to you and cuddle at night.
Food and Diet
Puma is currently on Hills Science Diet
Trader Joes Natural Cat Food and occasionally Hills Science Diet Urinary Health. I give her dry food in the morning and wet food at dinner. She likes Tuna.
Reason For Rehoming
My lifestyle has changed with my work, I travel several times a month and I work a lot of hours. Giving her the time and care that she needs is difficult with my schedule and is unfair to her.
How to Adopt Puma
If you would like to consider offering Puma a loving, forever home, please fill out our Request To Meet A Pet form here:
https://pet-net.net/adopt-a-pet/
Once received, we will contact you to discuss your request and set up a mutually convenient time to meet Puma and their owner in their home.
Questions About Puma?? Text "Interested In Puma" to (888) 833-2128 or email AdoptPuma@pet-lover.us
Puma is a white and grey female domestic shorthair cat For Adoption in Ellicott City MD near Baltimore. Adopt Puma today.