Are you a dog lover with room in your heart and home for a large and loveable Labrador Retriever mix?
Tank is a sweet boy. He is a 70 pound Labrador Retriever mix, aged 5. He is very well behaved, great with children, and good with other pets.
If you would like to offer a loving home to Tank, please fill out our online Foster Care Family Application form. Once received, our pet rehoming coordinator will be in touch with you to discuss your application and make arrangements for you to meet Tank and his owner.
Hi, My name is Tank!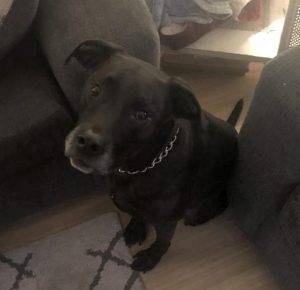 I am a black Male Lab Mix Dog. I am 5 yrs and weigh 75lbs. I live in Jacksonville Beach, Florida.
I am a very sweet, loyal, calm, loving and attentive dog. I am a fantastic companion and get along well with children and other pets.  I have been a support dog for an elderly gentleman for the past couple of years, but he recently had to move into assisted living, and I cannot live with him.
Please offer me a loving home today! I can't wait to meet you and show you the true meaning of "Man's Best Friend"!
[button link="http://pet-net.net/become-foster-family/" size="large" variation="hotpink" align="center"]Request to Foster Tank Here![/button]
---
All About Tank
Name of Pet: Tank
Location: , Florida, Jacksonville Beach
Type of Pet: Dog
Breed of Pet: Lab Mix
Sex of Pet: Male
Age of Pet: 5 yrs
Spayed/Neutered?: Yes
Health Problems: No
Up To Date on Vaccinations: Yes
Gets along with cats: Unknown
Gets along with dogs: Yes
Good with Children?: Yes
House Broken or Litter Trained?: Yes
Crate Trained?: Yes
Accessories Included: Crate, toys, Dog bed
Tank's Personality
Sweet
loyal
chill
loving
attentive
Tank's Favorite Toys, Foods, Activities?
He likes chew bones, rawhide bones, horns.. He is not picky about food or treats.
Cute Tank Story:
He was with my dad who is handicapped for 2 years until he had to move out of state. He would lay in bed with him and follow him around the house making sure he was safe and had companion ship. Tank knew that dad had trouble getting in bed so fitted with a harness Tank would get on the bed and with dad holding on to the harness help him in and out of bed.
Tank's Perfect Adoptive Home Will Be:
Tank needs a companion home some one needs/wants a dog around all the time. He gets along with kids but probably would do better with older kids.