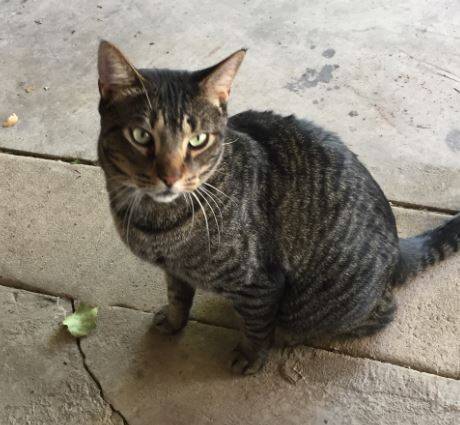 Meet Nicho – Handsome and Affectionate Brown Tabby Cat Rehomed in San Antonio Texas
San Antonio, TX – After their elderly owner was hit by a car, Thomas and Nicho, a sweet and healthy pair of neutered male Tabby Cats have been patiently waiting for their forever home to come along. Their owner has had to enter a care facility, and he is very concerned about the welfare of his precious pets.
He is dearly hoping to find them a home where they will be cherished and kept safe, happy and healthy.
Just 4 years old and about 10 pounds each, this handsome pair of healthy young male tabby cats are fixed, fully vaccinated and ready to love.
They are wonderful companions, and will give their new owners plenty of love, laughter, joy and companionship in exchange for a good home.
They can be placed together or separately. Adopt Thomas and/or Nicho today.
Supplies and veterinary records will be included.
Questions About Cat Rehoming in San Antonio? Please contact our San Antonio Cat Rehoming team. Text REHOMING to (888) 833-2128 We look forward to hearing from you.
---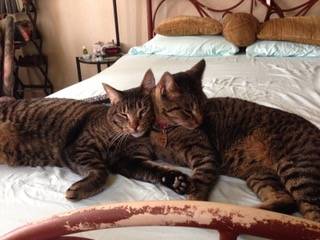 All About Nicho the Tabby Cat
[one_half]
Location: San Antonio, Tx 78253
Breed of Pet: Domestic Short hair cat
Sex of Pet: Male
Age of Pet: 4 yrs old
Size/Weight: 10 lbs
Pet's Color and Coat Type: 
Brown Tan and Grey Tabby Cat – Short Hair
Spayed/Neutered?: Yes
Up to date on vaccinations? Yes[/one_half]
[one_half_last]
Does this pet get along with cats?
Yes
Does this pet get along with dogs?
Would be OK with very cat-friendly dog.
Is this pet good with children?
Skittish around small children. Would be OK with kids older than 12.
Health Problems? No
Behavior Problems? No[/one_half_last]
---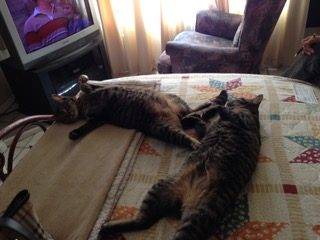 Nichos Personality
Nicho is a little shy, it will take him some time to feel comfortable around you but when he does he'll want to snuggle. He's very skittish with children and when too many people are around him.
Both cats get along with each other. They always clean each other and love snuggling.
---
Nicho is very special because he is:
Nicho: very sweet, playful, loving, loves the outdoors and loves to be petted
---
Nicho's Back Story:
Thomas and Nicho lived with my dad and my special needs sister, so the house is pretty quiet. They are mostly inside during the night and outdoors during the day.
Right now my nephew is living in my dads house in order to care for his cats. So he feeds them twice a day and brings them in at night. Since my nephew is gone all day for work the cats are not getting the attention they used to when my dad was there.
They are missing human contact and so when I come over they both run over to my car and as soon as I get off my car they come over and snuggle my legs and they just can't seem to get enough love.
---
Cute Nicho Story:
They seem to know when one of them is not feeling well because they become inseparable and its so nice to see them care for each other.
---
Reasons For Rehoming Nicho:
My dad was hit by a car while he was crossing the street in Feb 2017. Since then, he has been in and out of hospitals, rehab centers and in home caring where he is now.
His health is slowing diminishing and his biggest concern is his cats. For the past almost year I've been caring for his cats and recently my nephew has moved in to my dads home to look after his home and cats.
Mounting medical bills and home caring fees are getting to be too much so we are having to sell his home. His biggest concern is his cats. So we are looking for a forever home where they can stay together and spend the rest of their life in a loving home. This would be very comforting for my dad to know his cats are going to a loving home.
Nicho's Purrfect Home Will Be:
I hope to find them a home where they are not left alone all day and get plenty of human love. A home they can call their forever home.
Supplies and Accessories Included:
Collars, food trays, bag of food and a few toys that they have.
---
Location
Thomas and Nicho are a pair of affectionate brown tabby cats located in San Antonio, Texas, within a reasonble drive of Austin and Houston, and close to the following towns and cities in Texas:
[one_third]
Kirby, TX
Leon Valley, TX
Converse, TX
Live Oak, TX
Universal City, TX
Schertz, TX
New Braunfels, TX
Olmos Park, TX
Phoenix, TX
Columbia Heights, TX
Terrell Hills, TX
Alamo Heights, TX
[/one_third]
[one_third]Salado Junction, TX
Balcones Heights, TX
San Jose, TX
Pleasanton, TX
Seguin, TX
Canyon Lake, TX
Hondo, TX
San Marcos, TX
Kyle, TX
Kerrville, TX
Lockhart, TX[/one_third]
[one_third_last]Terrell Wells, TX
Bergs Mill, TX
Castle Hills, TX
Palo Alto Park, TX
Kirby, TX
Withers, TX
North Loop, TX
Palo Alto Heights, TX
Heafer, TX[/one_third_last]