Scottish Terrier Scottie Dog For Adoption in Sacramento CA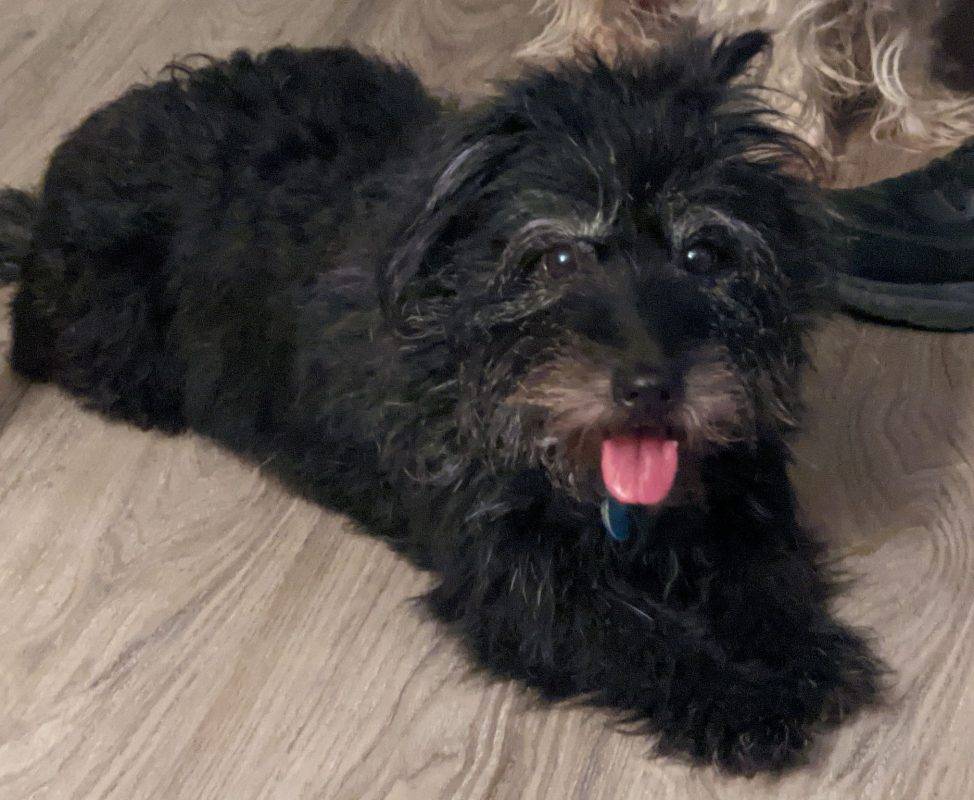 Meet Whitebeard, Scottish Terrier Dog For Adoption in Sacramento California
Whitebeard is a female Scottish Terrier Dog for adoption to a very loving home in or near Sacramento California. This very special Dog is 5 years old and weighs 18 pounds.
Whitebeard is quite the dog! This purebred Scottish Terrier (Scottie) has a cute and quirky personality that makes you smile every day.
Just 5 years old, this healthy and well-behaved Scottie is up to date on shots, fixed and micro-chipped. Whitebeard is good with people of all ages, but is best suited to a home with teens and adults, or an adults only home.
Whitebeard is so much fun. She likes to watch TV, but only when her shows are on. She aspires to climb trees, however to date, her attempts have not been successful. It's fun to see her try to climb a tree: she is an inspiration to all in terms of her single minded dedication. 🙂
All in all, this very affectionate, cute, funny and devoted little terrier would be a wonderful addition to any home in which she is cherished and where she will receive the love, care, attention, exercise and interaction that she needs and very much deserves. She would love to find a home with her best friend, Biscuit, a West Highland White Terrier (Westie).
If you have been looking for a really sweet little dog to add love, joy, laughter and companionship to your life and home, Whitebeard the Scottie would love to meet you. Adopt Whitebeard today
There is a $150 adoption/rehoming fee. Supplies and veterinary records will be included.
Questions about Whitebeard?
Contact our Sacramento Dog rehoming team today.
Text "Whitebeard" to (888) 833-2128 or email [email protected]. We look forward to hearing from you.
---
All About Whitebeard – Scottish Terrier Dog For Adoption in Sacramento California
Name of Pet: Whitebeard
Location: Sacramento California, 95841
Type of Pet: Dog
Breed of Pet: Scottish Terrier Scottie
Sex of Pet: female
Age of Pet: 5
Spayed/Neutered?: Yes
Health Problems: No
Behavior Issues: No
Up To Date on Vaccinations: Yes
Gets along with cats: Unknown
Gets along with dogs: Yes
Good with Children?: Best suited for an adults-only home
House Broken or Litter Trained?: Yes
Crate Trained?: Yes
Accessories Included: Crate, leash, collar, blanket
Whitebeard's Personality
Affectionate
Well potty trained
A bit "derpy" but in a good way, she's funny
can't get enough brushing and petting
Yes She likes to watch TV. Unfortunately she whines at the TV when it's on a show she doesn't like. (loves to watch it, have to put her in her crate to quiet her sometimes)
Whitebeard's Favorite Toys, Foods, Activities?
Not big on toys (or have yet to find one she loves) she loves all treats Cant get enough looking out the glass door window or chasing squirrels and staring at trees
Cute Whitebeard Story:
She thinks she's a squirrel, she tries to climb trees (she can't) and she munches on chestnuts
Why is Whitebeard Being Rehomed?
Moving internationally and can't bring pets
Whitebeard's Perfect Adoptive Home Will Be:
Someone who loves long walks in nature and who is looking for a cuddle buddy.
How To Adopt Whitebeard
If you are interested in adopting this special Scottish Terrier Dog For private rehoming in Sacramento California, please fill out our online meeting request below. Once received and reviewed, our staff will ask the pets owner to reach out to you and arrange a meeting.
Questions about Whitebeard?
Contact our Scottish Terrier Dog rehoming team today. Text "Whitebeard" to (888) 833-2128 or email [email protected]. We look forward to hearing from you.
Whitebeard – Scottish Terrier Dog For Rehoming in Sacramento California
Whitebeard is a Scottish Terrier Dog for private adoption by owner in Sacramento California. This pet is located close to the following towns and cities in California:
West Sacramento CA,
Rosemont CA,
La Riviera CA,
Florin CA,
Rio Linda CA,
Carmichael CA,
North Highlands CA,
Rancho Cordova CA,
Foothill Farms CA,
Fair Oaks CA,
Davis CA,
Elk Grove CA,
Citrus Heights CA,
Orangevale CA,
Roseville CA,
Sacramento CA,
Adopt this sweet Scottish Terrier Dog in Sacramento California today.