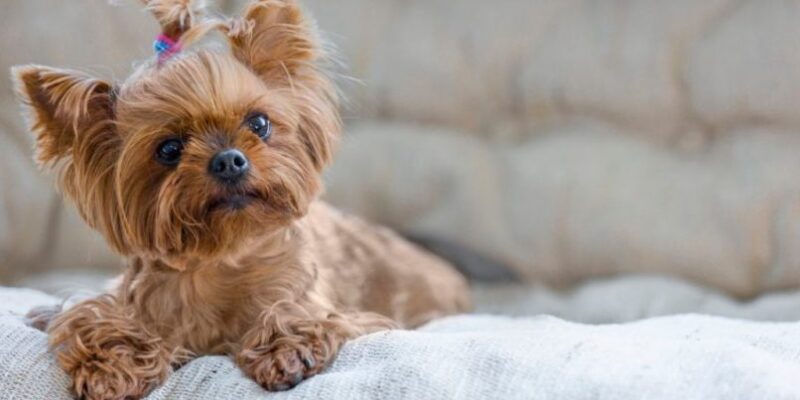 Teacup Yorkie Yorkshire Terrier For Adoption in Fort Bragg CA – Supplies Included – Adopt Tianna
Teacup Yorkie Yorkshire Terrier For Adoption in Fort Bragg CA
Tianna is a gorgeous gold and strawberry blonde colored Teacup Yorkshire Terrier Yorkie for adoption in Northern California, currently being fostered in Fort Bragg.This tiny 4 pound bundle of love has a tragic back story. She became separated from her owner during last Springs' wildfires and spent six months desperately trying to make her way back home.
Sadly, her owner died in the fires, and Tianna was found by a neighbor, along with other pets displaced during this tragic time. Tianna is in good health, despite having to be treated for extensive insect bites, scratches and burns.
Despite everything she has been through, this tiny Yorkie has not lost her spunk. She loves everyone and plays like a puppy with other dogs and children. Tatianna is looking for her forever family. She will fit in well into almost any home, providing she is cherished and kept safe, happy and healthy for the rest of her life.
Tatianna deserves the very best home after all she has been through. If you have room in your heart and home for this tiny canine hero, please offer her a loving home today. Tianna can't wait to meet you and show you the true meaning of hope, faith and courage. Adopt Tianna today.
There is a $150 adoption fee. Tianna will be rehomed with vet records and some supplies.
Questions about Adopting Tianna the Teacup Yorkie?
Contact our Fort Bragg Dog rehoming team today. Text "Tianna" to (888) 833-2128 or email [email protected]. We look forward to hearing from you.
NO PHONE CALLS, PLEASE
---
Facts About Tianna
♥ Name of Pet: Tianna
♥ Location: Fort Bragg, California  95437
♥ Type of Pet: Dog
♥ Breed of Pet: Teacup Yorkshire Terrier Yorkie
♥ Color / Coat Type: gold and strawberry blonde
♥ Age of Pet: unknown, young
♥ Size of Pet: extra small
♥ Weight: 3lb
♥ Good with cats?: Unknown
♥ Good with dogs?:Yes
♥ Good with small kids?:Yes
♥ Good with older kids?:
♥ Health Problems: Yes, No Unknown some watering in left eye. During 6 months of wondering in woods had to be shaved to stop flea,tick and hair matts. Skin is being treated daily with multiple bites. But no long term illness is detected thus far.
♥ Behavior Issues: No Loves attention. Craves constant affection and physical touch.
♥ Fixed: Yes
♥ Fully vaccinated: Yes
♥ House Broken: Yes
♥ Tattoed/Microchipped: Unknown
All About Tianna the Teacup Yorkshire Terrier
Tianna's Personality
Oh golly, she thinks s's a big dog. We have a boxer called Deuce who she loves to run around with. She is a fast learner. She learned commands sit,stay, to your bed and come even without a name. She is very good at signaling when she needs to go out to potty. Tianna is loyal to a fault and will shiver until you pick her up and wrap her in your sweater. Fearless. Adventurous. Sly. Silly. Great companion. Loves little kids and adults. Toe licker. Bed Cover stealer.
Tianna is not my pet, but she is a toe licker and likes to give you love. She is very happy to be cuddled up in your sweater. She is fearless even around big slobbering German boxers or Great Danes. S's a strong hearted teacup yorkie whom survived the hardest fire to hit Carfornia redwoods in years and out survived a brutal apocalypse by eating leaves and whatever she can find. She is a proper badass!
Tianna's Favorite Toys, Foods, Activities?
This dog doesn't like toys. She likes people and other dogs. She likes peanut butter dog treats. Favorite activity exploring everything.
Cute Tianna Story:
When we went to the local shelter in Ukiah to volunteer they told us covid19 has no access policy. My 12 year daughter Brookie loves and trains dogs (Germen Shepherd, Belgian Malinois, Germen Boxers, protection, PTSD therapy, search and rescue dogs) was so heart broken. A woman pulled up and was giving up some stray dogs from her property that where abandoned and clearly lived on the property prior with the now deceased prior owner.
She was in tears the shelter told her that they are a kill shelter and these dogs are beyond adoptable. They were very matted,malnourished,covered in bite marks, wood and leaves in there fur, eyes matted shut,they couldn't see etc.
My husband asked our daughter Brookie if she wanted to pet her dogs and out popped two yorkies. The shelter worker was very rude and annoyed about these two dogs. Claiming this woman couldn't give them to us trying to get her to sign over the dogs knowing they will be put down.
Our daughter Brookie jumped up and said she can do what she wants and she didn't want you to put them down so go away lady! The two Yorkies jumped right into get arms. And they have not left her side since. We made a exemption for our daughter to take in/foster the dogs if she shaves them, cleans them, feeds, medicates them,treats skin and open sores, bathes them 2x day, trains them and treats them as our own until we find them good homes.
I will never forget this moment in my life I always knew Brookie is amazing and loves dogs but without one peep our complaint she has given these dogs the opportunity to be loved again and a second chance after surviving so much hell amongst the fires without food, shelter, safety, vision ,or love for minimally the last 6 months. I can only imagine how brave and strong these dogs had to be to make it this far.
Why is Tianna Being Rehomed?
Both of these Yorkies were in desperate need of a foster home to regain their health with no time constraints to be given the opportunity to be rehomed with a good family who will love them forever.
Tianna's Perfect Adoptive Home Will Be:
I'm looking for a family of Yorkie enthusiasts or an elderly person who needs a best friend. A family that has a lot of cuddles & attention to give.
Questions about Adopting this Teacup Yorkshire Terrier in Northern CA?
NO PHONE CALLS, PLEASE!
Contact our Fort Bragg Dog rehoming team today.
Text "Tianna" to (888) 833-2128 or email [email protected]. We look forward to hearing from you.
Tianna's Location
Tianna is located near the following towns and cities in California:
Fort Bragg CA,
Ukiah CA,
Clearlake CA,
Healdsburg CA,
Windsor CA,
Fortuna CA,
Santa Rosa CA,
Roseland CA,
Eureka CA,
Rohnert Park CA,
Red Bluff CA,
Arcata CA,
Petaluma CA,
Anderson CA,
Chico CA,
Sonoma CA,
Adopt this amazing 4 pound Teacup Yorkshire Terrier in Fort Bragg California today.
How To Adopt Tianna
If you are interested in adopting this special Teacup Yorkshire Terrier Yorkie for adoption in Fort Bragg, California, please fill out our online meeting request form below. Once received and reviewed, our staff will ask the pets owner to reach out to you and arrange a meeting.
There is a $150 adoption/rehoming fee. Some supplies and veterinary records will be included.
Questions about Tianna? Contact our Teacup Yorkshire Terrier Yorkie rehoming team today.
Text "Tianna" to (888) 833-2128 or email [email protected]. We look forward to hearing from you.
Learn about Tianna's Breed
About The Teacup Yorkshire Terrier Yorkie Breed of  Dog
The Yorkshire Terrier is one of the smallest dog breed of terrier type, and of any dog breed. The breed developed during the 19th century in Yorkshire, England. Ideally its maximum size is 7 pounds. Wikipedia
Hypoallergenic Dog Breed?: Yes
Life expectancy: 13 – 16 years
Height: Male: 18 – 23 cm (Adult, At Shoulder)
Origin: England
Temperament: Bold, Intelligent, Independent, Confident, Courageous
Thank you for your interest in this stunning Teacup Yorkshire Terrier Yorkie mix Dog for adoption in Fort Bragg, California.