Siberian Husky Dog For Adoption by Owner in Galveston TX – Adopt Kirk Today!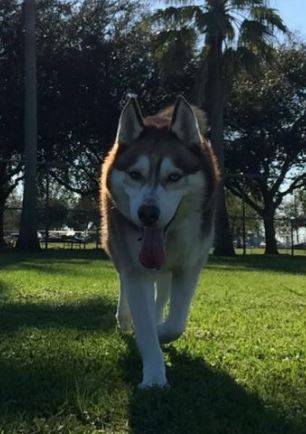 Meet Kirk, Siberian Husky Dog For Adoption in Galveston TX
Looking for a handsome and healthy Siberian Husky for adoption near Galveston, Texas? Experienced Siberian Husky owners will adore this 4 year old male. Kirk is a very special boy; so smart, affectionate and athletic. He almost seems human when he goes into "clown mode", acting silly and with a great big grin on his face.
Kirk was adopted from a local Husky Rescue by a well-meaning young man who had hoped to provide Kirk with his forever home. Like many Huskies, Kirk has some behaviors which make keeping him safe, happy and healthy while living in an apartment impossible. Kirk needs to be owned by a family with plenty of time and space for him. He also needs to be in a home without other dogs or cats, and with kids older than 10.
Kirk's ideal home will be with owners who are  very experienced with his breed and understand that his energy, exuberance and prey drive make it necessary to keep him away from cats and other small animals.  He would be so happy on an acreage, or at the very least, a home with a large, very tall and secure fence.
Kirk is a majestic young dog that deserves the very best home. He is full of love, life and licks! Please adopt this beautiful Siberian Husky today.
There is a $75 adoption/rehoming fee. Supplies and veterinary records will be included.
---
All About Kirk – Siberian Husky Dog For Adoption in Galveston TX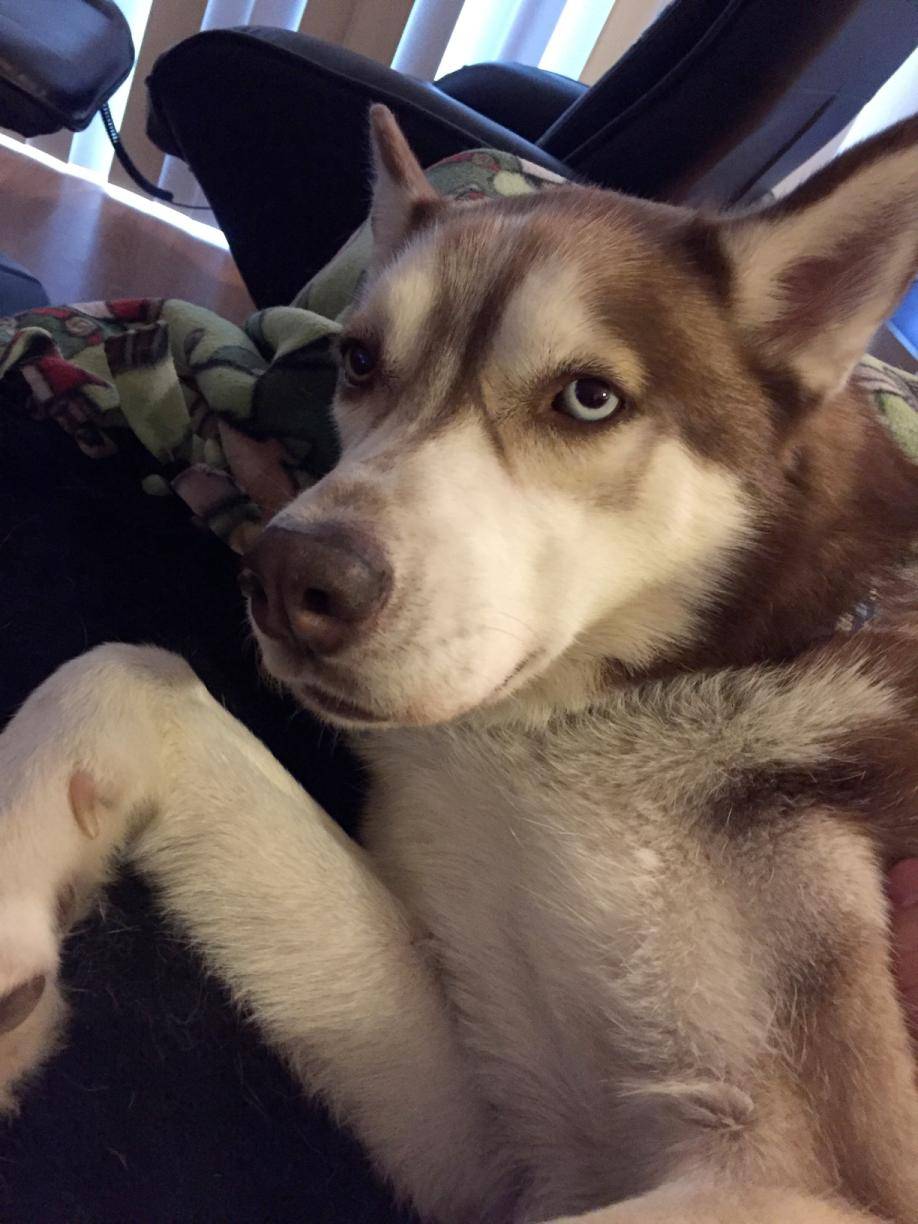 Name of Pet: Kirk
Location: Galveston, TX, 77550
Type of Pet: Dog
Breed of Pet: Siberian Husky
Sex of Pet: Male
Age of Pet: 4
Spayed/Neutered?: Yes
Health Problems: No
Behavior Issues: Yes and no. Kirk is a typical Husky and needs to go to a home with people who are very knowledgeable about the breed. Because of his prey drive, he is not a good fit for homes with cats or small dogs. He is best suited for children older than 10. Kirk needs enough exercise to keep him healthy and happy. This should include a couple of long walks each day.
Up To Date on Vaccinations: Yes
Gets along with cats: No
Gets along with dogs: No
Good with Children?: Children 10 and older.
House Broken or Litter Trained?: Yes
Crate Trained?: Yes
Accessories Included: Leash, collar, harness, stuffed Raccoon, dog food container, any dog food I have at the time, the remainder of his heart worm preventative (currently have 5 months left), and his food bowls. I can include his crate if absolutely necessary but would rather keep it.
Kirk's Personality
I love seeing him run at full speed looking like the happiest dog ever, I love the way that he will surprise me with affection by coming up to me unusually and giving me doggy kisses, I love how silly he is when he gets excited and the way he will smile huge when he's happy, I love how he wants to give me hugs when I get home but he knows not to jump up so I instead taught him to put one arm up and Ill lift him into a hug, I love that he is so smart and can learn new things very readily, although he is very stubborn in things he has already learned.
Kirk's Current Home Environment
I live in a condo with no backyard, but across the street is a large baseball field and a dog park that he gets to run in and potty in (I pick up after him of course). When I am not at home, he stays in his crate on a soft dog bed. He gets all the water he needs in the day, and eats once at night- very slowly for some reason and will only eat if you sit there nearby him.
Kirk's Current Family:
I live alone with Kirk in a condo without a fenced yard.
Kirk's Favorite Toys, Foods, Activities?
Kirk is not a huge fan of toys, only playing with them intermittently and typically gently. He has a stuffed raccoon that he will carry around sometimes, and will play fetch with it in the hallway. He loves to go running with me, and to run around in the dog park chasing me as I run in circles. He is very treat motivated and loves all food except vegetables.
Cute Kirk Story:
Kirk will sometimes jump up on the bed with me and curl up against my back or lay down on the pillow next to me and give me kisses. He is a very loving and sweet dog who loves to be loved.
Why is Kirk Being Rehomed?
Owner is in medical school and living in a condo without a fenced yard. Kirk needs to be in a different environment where he will be kept safe, happy and secure and get plenty of exercise.
I think that he will do much better in a more stable home where he does not have to travel as much or have a changing environment as often as happens with me. I want him to be happy and in a place where he will be well loved, and not stressed.  He definitely needs a home without small pets, other dogs, cats or small children.
Kirk's Perfect Adoptive Home Will Be:
I would like Kirk to live in a home where he is the only animal in the house with no small kids (under 9 is probably bad), somewhere that he could get the attention he deserves and an environment that does not change as often. Also having a large yard for him to run around in would be ideal, but it would be necessary for him to go to a home where people know how to care for an energetic breed like huskies.
How To Adopt Kirk
If you are interested in adopting this special Siberian Husky Dog For Adoption in Galveston TX, please fill out our online meeting request here. Once received and reviewed, our staff will ask the pets owner to reach out to you and arrange a meeting to determine for certain if b is a good fit for you – and you are a good fit for this pet.
If you have any questions about our careful pet rehoming process, feel free to get in touch.
Kirk – Siberian Husky Dog For Adoption in Galveston TX
Kirk is a Brown and white Siberian Husky Dog for adoption in Galveston TX, near Houston, and close to the following towns and cities in Texas:
Texas City, TX
La Marque, TX
Dickinson, TX
Santa Fe, TX
Seabrook, TX
League City, TX
Webster, TX
Alvin, TX
La Porte, TX
Friendswood, TX
Baytown, TX
Deer Park, TX
Pearland, TX
South Houston, TX
Pasadena, TX
Fort Crockett, TX
Fort Travis, TX
Port Bolivar, TX
Virginia Point, TX
Anderson Ways, TX
Village of Tiki Island, TX
Texas City, TX
Bayou Vista, TX
Texas City Junction, TX
Heights, TX
Texas City Terminal Junction, TX
Nadeau, TX
Bolivar Beach, TX
La Marque, TX
Jamaica Beach, TX
Elmgrove, TX
Hitchcock, TX
Adopt this sweet Siberian Husky Dog today.