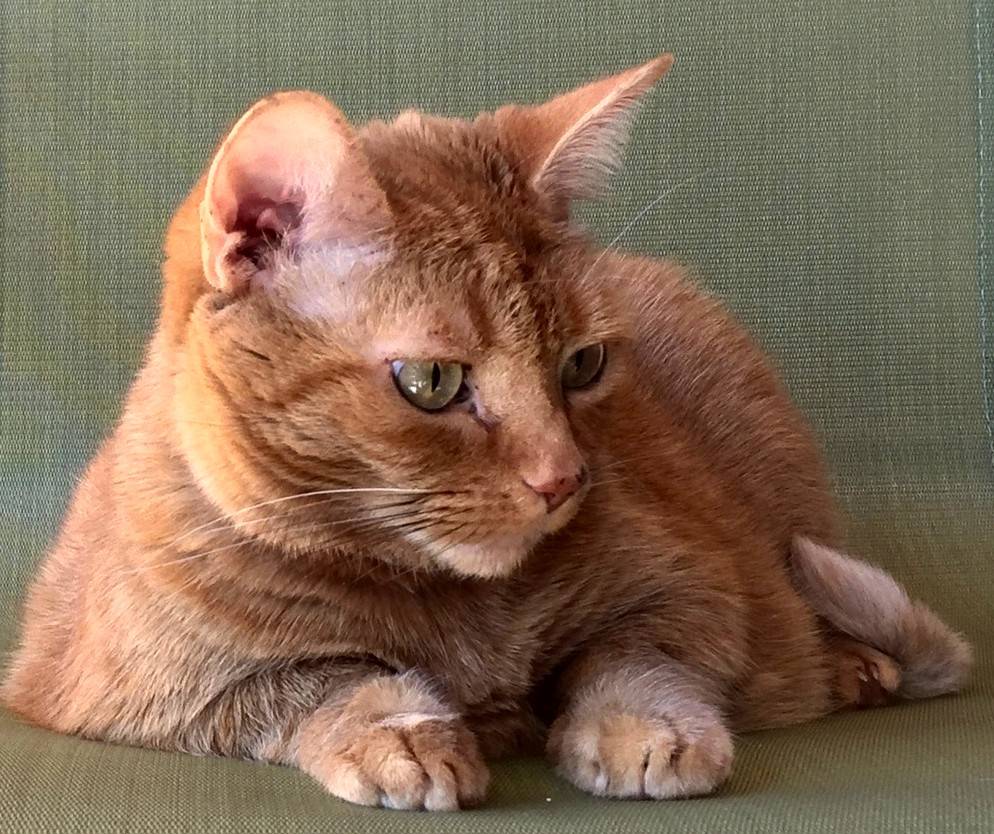 Meet Ravishing Roxy – A Tantalizing Tangerine Tabby Cat Looking For Love in St. Petersburg Florida
Dear Future Forever Humans,
My name is Roxie, and I would very much like to become your personal purring machine! I am a 12 pound bundle of love, with gorgeous light green eyes and a soft, shiny ginger coat. I am very healthy, spayed and up to date on shots. I adore my human, and I am well behaved, with impeccable litter box habits and a confident, affectionate nature.
My owner, who loves me so much, has recently developed very severe allergies to me. This is so tragic – cuddling with me makes her feel awful.
She and I are dearly hoping to find a new home for me with humans who do not have cat allergies, and who would welcome the presence of a special ginger tabby cat to add love, joy and laughter to life.
I am undemanding, so long as I get my tablespoon of delicious canned cat food in the morning, and plenty of tummy rubs and snuggles in the evening. I love to lay in the sunbeams from a sunny window, watching the world go by – when I am not being adored by humans.
As I mentioned, I am a confident cat, so living with a cat-friendly dog would not faze me. I would also enjoy the company of older, cat-friendly children.
If you have room in your heart and home for a very special cat, please offer me my forever home today. I can't wait to meet you.
Love and purrs,
Roxie
[button link="https://pet-net.net/adopt-a-pet/" size="large" variation="hotpink" align="center"]Request to Meet Roxie Here![/button]
There is a $25 adoption/rehoming fee. Supplies and vet records will be included.
Questions about Roxie?? Text "Roxie" to (888) 833-2128 or email AdoptRoxie@cat-lover.us. We look forward to hearing from you!
---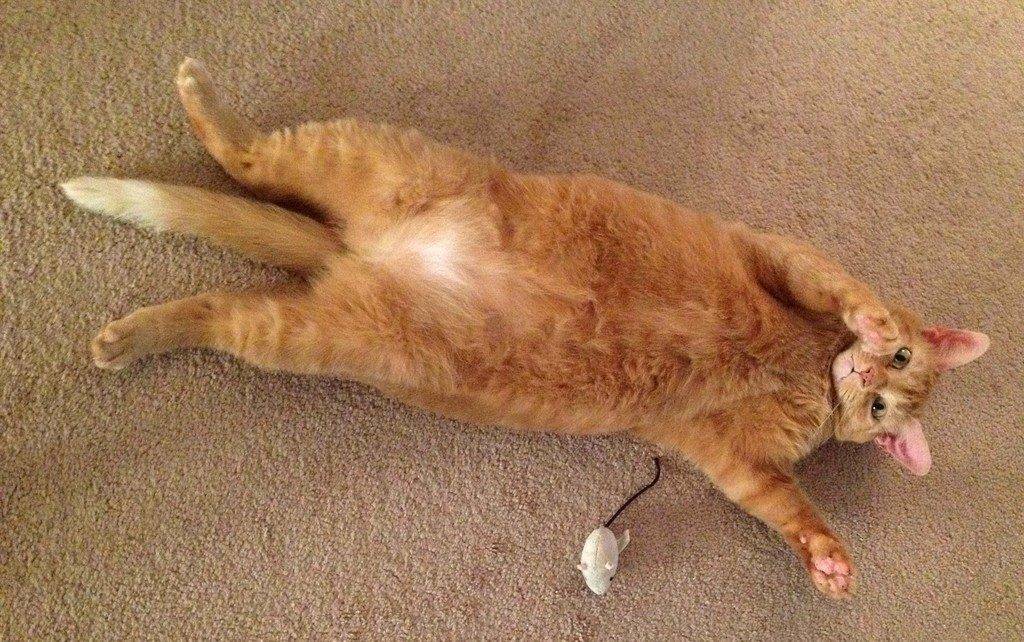 All About Roxie – Orange Tabby Cat For Adoption in St. Petersburg Florida
Location: St Pete's Beach, FL, 33706
Type of Pet: Cat
Breed: Orange tabby cat
Age: 8
Color/Coat Type: orange, short haired
Size: 11 lbs
Health Issues: No
Behavior Issues: None
Roxie is:
Spayed, Microchipped, Fully vaccinated, Litter Trained, House Broken
Roxie gets along with:
Older Children, Adults Only, Dogs
Personality
Very affectionate.
Somewhat obsessive about food.
Hates cat carriers (very vocal)
Food and Diet
Roxie is currently on Other
Roxie demands a Tbs of canned food in morning. Currently she is eating Publix Premium. She will eat dry food rest of day (she's not fussy).
She enjoys Whyskas Temptations treat once daily.
Reason For Rehoming
I (the owner) had increasing allergies and recent medical exam indicated severe allergic reaction to cat.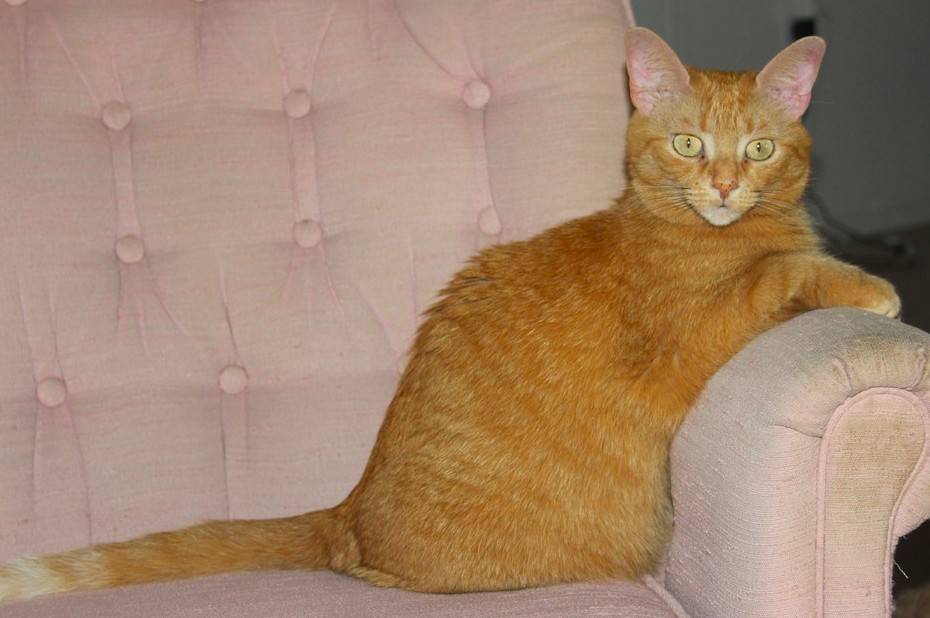 How to Adopt Roxie the Ravishing Ginger Tabby Cat
If you would like to consider offering Roxie a loving, forever home, please fill out our Request To Meet A Pet form here:
https://pet-net.net/adopt-a-pet/
Once received, we will contact you to discuss your request and set up a mutually convenient time to meet Roxie and their owner in their home.
Questions about Roxie?? Text "Roxie" to (888) 833-2128 or email AdoptRoxie@cat-lover.us. We look nforward to hearing from you!
Roxie is an Orange tabby Cat For Adoption in St Pete Beach FL near the following towns and cities:
Gulfport, FL
Saint Pete Beach, FL
Pinellas Park, FL
Seminole, FL
Largo, FL
Safety Harbor, FL
Clearwater, FL
Dunedin, FL
Tampa, FL
Oldsmar, FL
Palmetto, FL
Bradenton, FL
Egypt Lake-Leto, FL
Palm Harbor, FL
South Bradenton, FL
Gulfport, FL
Lakewood Estates, FL
Broadwater, FL
Pasadena, FL
Lealman, FL
West and East Lealman, FL
South Pasadena, FL
Kenneth City, FL
Point Brittany, FL
Bayway, FL
Bahia Shores, FL
The Jungle, FL
Saint Pete Beach, FL
Belle Vista Beach, FL
Pinellas Park, FL
Totstalahoeetska, FL
Sunset Beach, FL
Adopt Roxie today.
Orange Tabby Cat Rehoming