Handsome Staffordshire Bull Terrier For Adoption in Louisville KY – Supplies Included – Adopt Lucky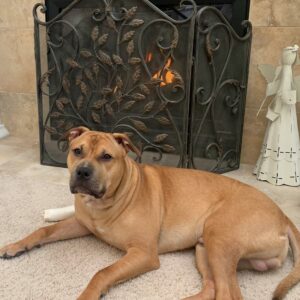 Staffordshire Bull Terrier Dog for Adoption in Louisville, KY
Looking for a Staffordshire Bull Terrier Dog to adopt in Louisville, KY? Just 2 years old and weighing 59 lbs, Lucky has been fixed, fully vaccinated, housebroken, microchipped, leash trained, and crate-trained, and is good with babies and small children, older children, and new people.
Lucky gives meaning to the term, "gentle giant." Lucky is a big cuddle bug who absolutely adores everybody he meets. Affectionate and friendly, Lucky has a personality that will make you fall in love. Despite his size, Lucky is amazing with children of all ages, and can often be curled up with the little ones. He is doing well with his training and is becoming more patient while on leash – he would be happy to work with you, so keep some treats nearby! It is unknown how Lucky would do living in a home with other pets, however his ideal home is one where he will be spoiled and loved immensely.
Lucky's owners are very sad to have to rehome their cherished Dog. They are hoping to find a new home for Lucky where this special Dog will be cherished and kept safe, happy, and healthy for life.
If you have room in your heart and home for Lucky, please complete our online meeting request form. Once received, our Louisville Dog Rehoming team will make arrangements for you to meet Lucky and his owners. Adopt Lucky today!
There is a $150.00 adoption processing fee. Supplies, accessories, and veterinary records will be included.
Adopt Lucky by Deborah Moore
How To Adopt Lucky
If you are interested in adopting this special Staffordshire Bull Terrier in Louisville KY, please fill out our online meeting request below. Once received and reviewed, our staff will ask the pets owner to reach out to you and arrange a meeting.
Questions about adopting Lucky?
Text LuckyKY to (888) 833-2128. We look forward to hearing from you!
---
All About Lucky – Staffordshire Bull Terrier Dog For Adoption in Louisville KY
♥ Name of Pet: Lucky
♥ Location: Louisville, KY, 40245
♥ Type of Pet: Dog
♥ Breed of Pet: Staffordshire Bull Terrier
♥ Color / Coat Type: Light Brown/Beige and short hair
♥ Age of Pet: 2
♥ Size of Pet: 59 lbs
♥ Health Problems: No
♥ Behavior Issues: Nothing that some time and a little attention to training could not fix.
Sometimes he may grab something (i.e. sock, paper out of trash) if he wants your attention. Can have brief episodes of being really excited for a few minutes and running around (usually when he has not had much activity for a couple of days). Since our last relocation, Lucky has run off when he has gotten out without his leash (we do not have a fenced yard at this time). He has come back home and was picked up by the pound once. We were told that the fact that he was not neutered may be contributing to this behavior. Therefore, we recently had him neutered. I also believe that a fenced yard might be helpful. When you come home and he has been in his crate, he has a cry barking response because he wants to see you (Note: he is not a dog that barks at anyone. He only barks to let you know he needs to go outside or if he were to hear a startling noise in the middle of the night or something like that)
♥ Gets along with: Babies and Small Children, Older Children, New People
♥ Pet is: Fixed, Fully Vaccinated, Housebroken, Microchipped, Leash Trained, Crate-trained
♥ Food: Other
We by him no grain food, which was the recommendation of the person who gave him to us. We have fed him the Blue Buffalo no grain food and Nature Recipe Grain Free food.
Lucky – Staffordshire Bull Terrier Dog For Adoption in Louisville KY
---
Lucky's Personality
He loves to play and loves attention. He loves to chew on really hard bones for dogs. He has several and we buy new ones when he needs them. He loves to lay outside in the sun on a day when its not too hot and if it is hot, he loves to lay in the shade. He likes to watch the people out and about in the neighborhood when he is outside. He has minimally been around other dogs and has never been aggressive. I have a 15 month old grandson that he will let crawl all over him (I have a video). We did have to teach him to not lick him like crazy. He does have a good temperament. He loves company and is very excited to see new people at first, but then he calms down. Sometimes, when he is playing and real excited he wants to jump up on you. This is something that we try to work. I know he could improve if someone will take the time to work with him. He is so smart and learns pretty fast. He likes to go for walks and there is still some work to be done with him pulling. Usually, after walking a few minutes, the desire to pull a little improves and he walks with you. He loves to lay by the fireplace in the winters, and will lay near you and sleep while you watch TV. At night, he sleeps in his bed in our room and sleeps all night (I take him out before we go to bed). On some rare occasion, if he needs to go to the bathroom, he will gently make noise to wake you up to let you know. Ultimately, Lucky wants to love and be loved. He wants to be a part of the family.
Why is Lucky Being Rehomed?
He was given to our teenage grandson (who lives with us) who is not dedicating the time needed to care for Lucky between school, work and other activities. I have a very high stress, time-consuming job, and my husband has been experiencing health issues. We recently relocated back to Kentucky, and we just have a lot that we are dealing with. Lucky is not getting the time and attention he needs and deserves , which is why I believe we see some of the minor behavioral issues noted above. Lucky is very smart and very trainable. He is treat motivated with his favorite being small cubes of cheese. Lucky responds to sit, stay (briefly), lay down, leave it (a lot of the time) and with a small treat and saying the word "kennel," he will run to his crate, open the door, and get in. He really is smart and a good dog. He loves to be loved on and he loves to love on you. It breaks my heart to give him up and the only peace of mind I will have is to know that he is in a loving, caring home.
Nearby Locations
Lucky is located in Louisville, KY, close to the following towns and cities in Kentucky and Indiana:
Jeffersonville IN,
Clarksville IN,
New Albany IN,
Shively KY,
Saint Matthews KY,
Newburg KY,
Lyndon KY,
Okolona KY,
Highview KY,
Jeffersontown KY,
Fern Creek KY,
Valley Station KY,
Shelbyville KY,
Radcliff KY,
Bardstown KY
Thank you for your interest in this deserving Staffordshire Bull Terrier Dog for adoption in KY.