Meet Vera, Grey Tabby with White Cat For Adoption in Boise ID
Vera is a Female Tabby cat for adoption to a very loving home in or near Boise, ID. This very special Cat is 11 years old and weighs about 15 pounds.
Vera is one of those special cats that can easily purr her way into the heart of any cat lover. At 11 years young, Vera carries a few extra pounds – but that just means there's more of her to love. She has a gorgeous, plush white coat accented with grey tabby markings. Her green eyes and adorable pink nose are so cute.
Vera has been spayed and is up to date on her shots. She is a healthy cat, but could stand to lose a little weight, since she is finding it hard to jump up like other cats.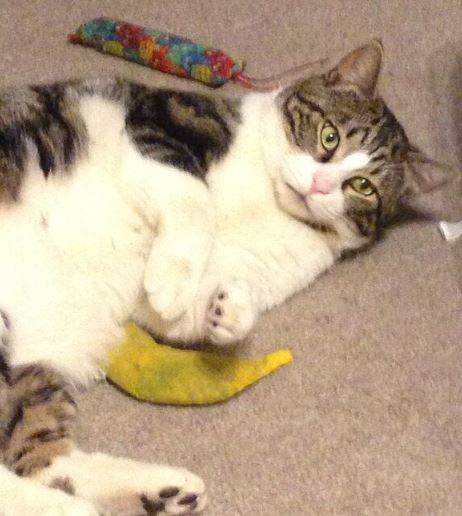 Among her many charms is Vera's desire to cuddle. She loves to snuggle up in bed with her owner each night, and is also a real lap cat. She has so many cute traits – a very special kitty indeed.
Vera's owner is going through a big change in her life, having met someone special to share her home with. Because Vera is nervous around other pets and any commotion, the best plan is to find Vera a quiet home where she can be the only pet. She is such a great companion, and will add so much joy (and cuddles) to the life of her new owner. She would be a great companion for a senior with mobility issues, since she is such a lap cat.
Vera will be rehomed with all supplies and veterinary records. All you need to add is a warm lap, lots of love, and a safe, happy and healthy home.
If you have room in your heart and home for this "extra-fluffy" cuddle cat, please reach out to us today. Vera can't wait to snuggle up with you!
Adoption fees waived for a very good home.. Supplies and veterinary records will be included.
Questions about Vera? Contact our Boise Cat rehoming team today. Text "Vera" to (888) 833-2128 or email [email protected] We look forward to hearing from you.
---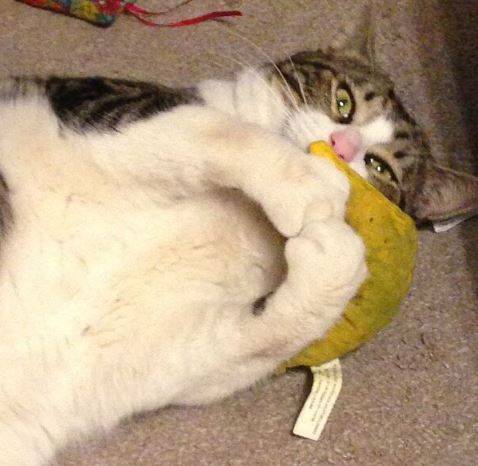 All About Vera – Cat For Adoption in Boise ID
Name of Pet: Vera
Location: Boise, ID, 83712
Type of Pet: Cat
Breed of Pet: White cat with grey tabby markings
Sex of Pet: Female
Age of Pet: 11
Spayed/Neutered?: Yes
Health Problems: No
Behavior Issues: No
Up To Date on Vaccinations: No
Gets along with cats: No
Gets along with dogs: No
Good with Children?: Yes
House Broken or Litter Trained?: Yes
Accessories Included: She has an open-top cat box that I think she prefers. She uses a cardboard floor scratcher, and loves catnip. She does love a cat tree. I am happy to provide what the new companions need to get her started.
Vera's Personality
She is a lap warmer. 1/2 hr of cuddle time/day in a comfy recliner with a blanket.
Her purr is perfect. Great for the calming effect when she is cuddling.
She likes to cuddle in bed: sleeps near me most of the time.
She lays on her back with her legs spread, feet up and cracks us up.
She doesn't beg to be outside — very comfortable indoor cat.
Vera's Current Home Environment
Quiet, comfortable, working most of the time. She loves to sit by open windows on sill shelves, by screen doors, on patios.
Vera's Current Family:
I am a 53 year old working widow (for 4 years) who is currently launching her two sons out into the world (24 and 20). I am newly in a serious relationship with a man, his 12 year old son and their fur baby brood. We are combining our lives–living under one roof. Vera and her brother Sam the cat are those who remain in my solo nest. Sam is going to live with my youngest son who is launching on his own this year. Vera needs a new home. She will be very unhappy with the new brood of fur balls.
Vera's Favorite Toys, Foods, Activities?
Floor cat scratcher. Cat nip. Sunning. Warming a lap. Wet food of all types.
Cute Vera Story:
Vera has this funny habit of laying on her back with all 4 legs up in the air, in indiscriminate spots. Her poses are daily comic relief.
Why is Vera Being Rehomed?
My new partner and I are integrating lives and have too many animals together. Vera is ideal in a single animal home. I know that a noisy animal home would not provide her a good environment to find peace. She has done it before (ours was once noisy) but she took to marking and chased other cats out. That all said, she would probably live peacefully with a slower older dog. She struggles with other cats and "chasy" dogs. A visiting black lab caused her to climb a tree in our backyard a few years ago.
Vera's Perfect Adoptive Home Will Be:
I would love to see Vera go to a quiet family or person. She would be perfect for senior looking for a loving companion and a lap warmer. A sedentary lifestyle suits her perfectly. She loves her routines and little glimpses of outside.
Additional Comments:
Most of Vera's records are at The Cat Doctor but recently she was seen by Linder Pet Medical because they do home visits and she does not like to go to the vet any longer.
Text is the best way to reach me at any time.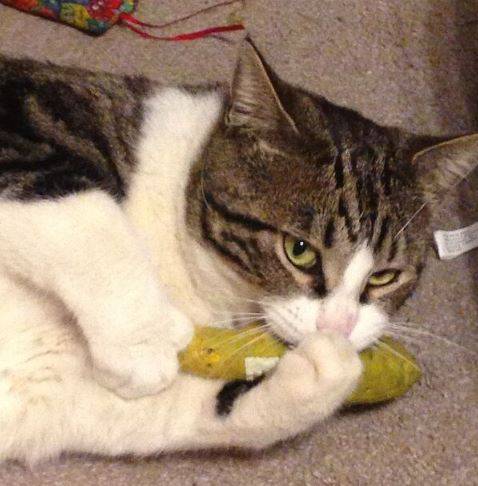 How To Adopt Vera
If you are interested in adopting this special White and Grey Tabby Cat For private rehoming in Boise ID, please fill out our online meeting request below. Once received and reviewed, our staff will ask the pets owner to reach out to you and arrange a meeting.
Questions about Vera? Contact our Tabby Cat rehoming team today. Text "Vera" to (888) 833-2128 or email [email protected] We look forward to hearing from you.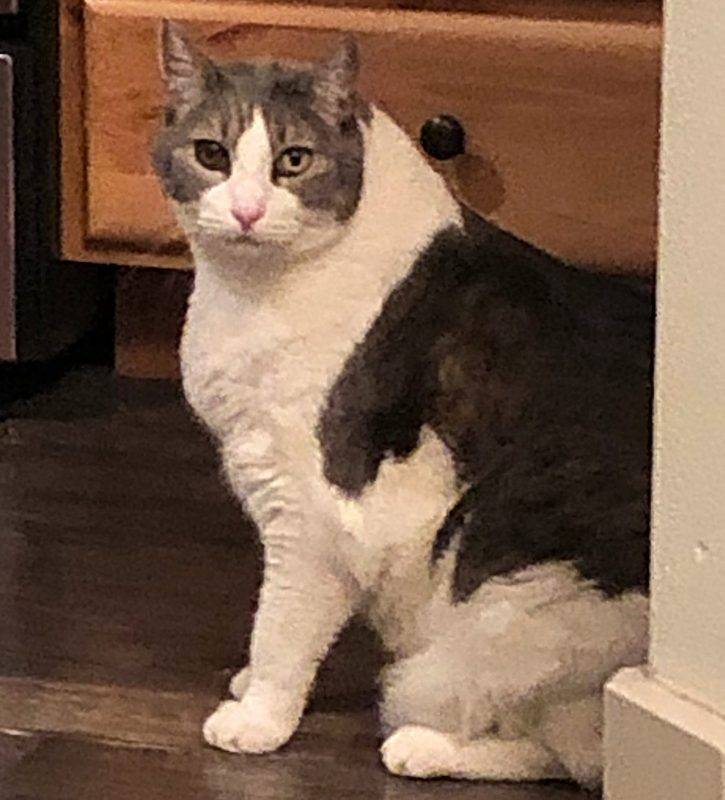 Vera – Cat For Rehoming in Boise ID
Vera is a Grey Tabby Cat for private adoption by owner in Boise ID. This pet is located close to the following towns and cities in Idaho:
Adopt this sweet senior White and Grey tabby cat in Boise ID today.