REHOMED – WEEDI – Handsome Labrador Retriever Mix Seattle Wa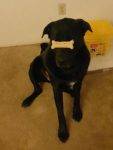 Weedi has found his forever home with Muriel and her family. We are so happy to have been able to help Weedi find his forever home, and give his family peace of mind in knowing that their precious dog was in the best of care.
From Yen, Weedi's owner:
The process was very clear and short. I barely had to do anything! Debbie Moore was fast and reliable, she made sure that everyone involved understood everything and my dog was far taken care of. It's great that a professional service like this exist for me because I'm very busy but also want to be absolutely sure that the adopters are the best for my dog and vice versa

Need to Rehome a Dog in Seattle?

Contact 0ur Pet Rehoming Coordinator, or Request Seattle Dog Rehoming services now.

---

Here is how our pet rehoming team presented Weedi to attract his new family:
Hi, My name is Weedi!
Weedi is a Lab/Chow Chow mix for adoption in Seattle, Washington. He is 3 years old and weighs 90 lbs. He is loving, smart, obedient, playful companion that loves children and gets along well with other dogs and cats.
He is neutered, vaccinated, micro-chipped and very healthy. Supplies will be included. Weedi has been obedience trained and is extremely well behaved. Weedi's owners are moving overseas and cannot take him along.
Adopt Weedi today!
---
Location: Seattle, WA, 98125
Type of Pet: Dog
Breed: Labrador Mix
Age: 3 years
Color/Coat Type: Black
Size: About 80-90 lbs
Health Issues: No
Behavior Issues: No
Weedi is:
Neutered, Microchipped, Fully vaccinated, Crate Trained, Litter Trained, Leash Trained, Obedience Trained
Weedi gets along with:
Babies, Toddlers, Small Children, Older Children, Dogs, Strangers
Personality
Weedi is very friendly to humans and other dogs. He loves being around humans and he sleeps next to my bed every night. He loves cuddling and very treat motivated. He is good on leash and very obedient. I can leave him at home all day without worrying that he would chew up my furniture. Weedi is a good boy, and he deserves a caring home to be with.
Food and Diet
Weedi is currently on Other
I feed him twice a day. 1 cup in the morning around 8 a.m. and 1 cup at night around 9 p.m.
Reason For Rehoming
I am moving out of the country and unable to take my Weedi with me. We've been together for 3 years since he was just a puppy. I'm looking for a new caring and loving home for him.