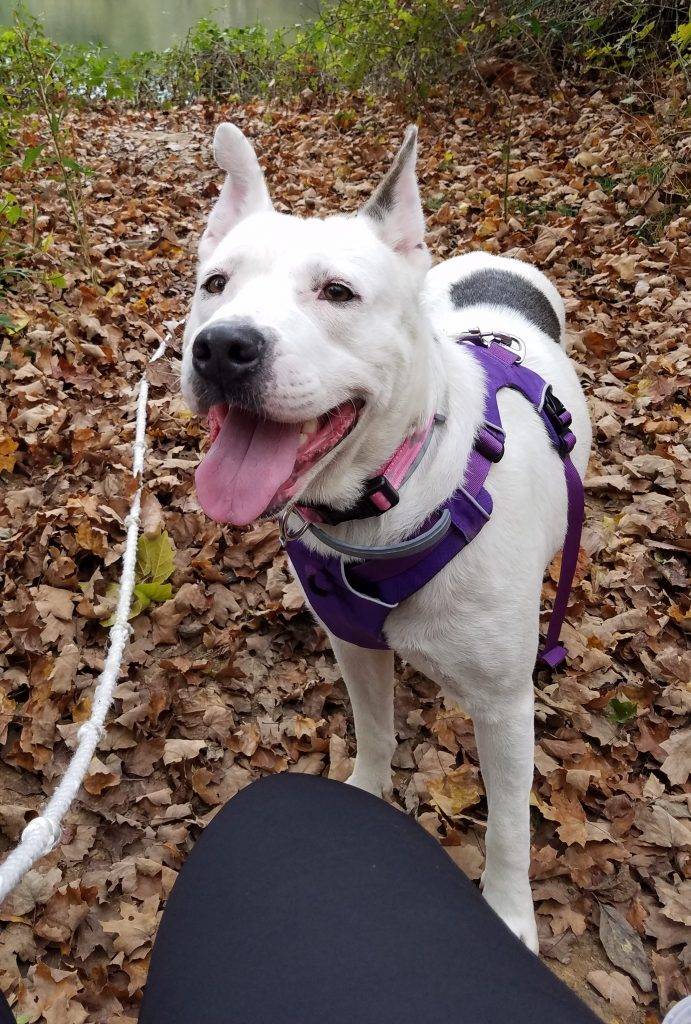 Meet Harley, White German Shepherd Labrador Retriever Mix Dog For Adoption in Sanford NC
Looking for a German Shepherd to adopt near Raleigh NC? Hoping to find a Yellow Labrador Retriever for your family? Harley is a delightful mix of both breeds – a happy, healthy 2 year old female Lab German Shepherd mix looking for a loving new home in Sanford, near Raleigh NC.
Harley has been fixed, is up to date on shots and micro-chipped. She is house broken and crate trained as well. Harley is very good with people of all ages, and particularly sweet and gentle with small children.
Harley does not do well with other pets, and needs to find a home where she can be the only pet, with owners who will cherish her and keep her safe, happy and healthy. She will be rehomed with all supplies and her veterinary records. If you have room in your heart and home for this beautiful female Yellow Labrador Retriever White German Shepherd mix, please request to meet Harley today. She can't wait to charm her way into your heart and home.
Questions about Harley? Contact our Raleigh NC Dog Rehoming team. Call or text our Harley Adoption Hotline at . We look forward to hearing from you.
There is a $150 Adoption Fee. Supplies and vet records will be included.
There is a $150 adoption/rehoming fee. Supplies and veterinary records will be included.
[accordion_group]
[toggle_framed title="All About Harley"]
All About Harley – White German Shepherd Labrador Retriever Mix Dog For Adoption in Sanford NC
Name of Pet: Harley
Location: Sanford, NC, 27330
Type of Pet: Dog
Breed of Pet: White German Shepherd Labrador Retriever Mix
Sex of Pet: Female
Age of Pet: 2.5 yrs (estimate)
Spayed/Neutered?: Yes
Health Problems: No
Behavior Issues:  She does not get along with other dogs or animals.
Up To Date on Vaccinations: Yes
Gets along with cats: No
Gets along with dogs: No
Good with Children?: Yes
House Broken or Litter Trained?: Yes
Crate Trained?: Yes
Accessories Included: Harley will come with some food, her crate, toys, medicine, heartworm preventative, collar, halter, leash.
Harley's Personality
Snuggly, affectionate, quiet, laid back, playful
Harley's Current Home Environment
Two night shift nurses, teenager, and A 10 year old. There are two other dogs besides Harley. New people come over often, friends of the kids.
Harley's Current Family:
I am a nurse and live with my older sister who is also a nurse. She has two kids and two dogs. Harley was a new addition to our crowd. I was told she was friendly with other dogs when I adopted her from the shelter, but she is not.
Harley's Favorite Toys, Foods, Activities?
Harley's favorite toys are small, soft squeaky toys, almost like the ones you would get a puppy. She also enjoys stuffed kongs and playing fetch with her loud squeaky rubber chicken. She loves to go for walks or jogs and poking her nose everywhere to smell all the smells. She'll do anything for a treat, even let you clip her nails easily.
Cute Harley Story:
When I take Harley out, she is so good with children. She nuzzles and licks their hands. She never tries to jump on them.
Why is Harley Being Rehomed?
We have to keep Harley separate from the other two dogs otherwise they will fight. It has become limiting having to have one or the others locked up. I do not feel it is fair to Harley or the other dogs. I have tried a trainer but it wasn't successful as Harley is not the whole problem, the other dogs would have needed training as well which I cannot afford. Harley would thrive in an only animal house hold. She is a fantastic dog and is quick to learn new training as she is very food oriented.
Harley's Perfect Adoptive Home Will Be:
Ideally, Harley's new family would be content to have Harley as their only furbaby. She would also have a fenced yard to play fetch in or many walks where she would have the opportunity to sniff. Harley would also love to learn new tricks, I just do not have the time to properly train her.
Additional Comments:
Harley does take trazadone to help reduce her stress since she is not the only dog. Once she is in her new home and well acclimated, she could be weaned off under the direction of a vet. She does sleep in her crate sometimes, but does not do well locked in it for long periods of time. She does perfectly fine loose in the house. She's never gotten into the trashcan or destroyed things.
[/toggle_framed]
[toggle_framed title="How to Adopt Harley"]
How To Adopt Harley
If you are interested in adopting this special White German Shepherd Labrador Retriever Mix Dog For Adoption in Sanford NC, please fill out our online meeting request below. Once received and reviewed, our staff will ask the pets owner to reach out to you and arrange a meeting to determine for certain if Harley is a good fit for you – and you are a good fit for this pet.
[/toggle_framed]
[toggle_framed title="Location"]
Harley – White German Shepherd Labrador Retriever Mix Dog For Adoption in Sanford NC
Harley is a White German Shepherd Labrador Retriever Mix Dog for adoption in Sanford NC, near the following towns and cities.
Fuquay-Varina, NC
Holly Springs, NC
Southern Pines, NC
Apex, NC
Pinehurst, NC
Carrboro, NC
Chapel Hill, NC
Cary, NC
Fayetteville, NC
Dunn, NC
Garner, NC
Raleigh, NC
Hope Mills, NC
Durham, NC
Asheboro, NC
37 miles to Raleigh, NC
39 miles to Durham, NC
54 miles to Greensboro, NC
95 miles to Charlotte, NC
186 miles to Chesapeake, VA
188 miles to Norfolk, VA
204 miles to Virginia Beach, VA
[/toggle_framed]
[toggle_framed title="Breeds Info"]
---
[/toggle_framed]
[/accordion_group]
Adopt this sweet White German Shepherd Labrador Retriever Mix Dog in North Carolina today.